There are few projects that feel as daunting as a website redesign. Determining the layout, navigation, how much copy needs to be on a page — there are many moving parts, and just getting the site to look how you want it to can be a headache.
If you're an inbound marketer (and you should be!) you've also got the goal of setting up your site in a way that will attract and convert users into prospects. It might be a pretty website, but is it actually performing?
Crank Up the Conversions: 5 Tips for an Inbound Marketing Ready Website
So when we help a client set up an inbound marketing-ready site, we aim to hit all of these guidelines so that we can ensure the site is performing in a way that brings in traffic and delights visitors.
Let's jump right in!
1. Your Value Proposition Shouldn't Leave Them Scratching Their Heads
Maybe you found the perfect shade of orange for your website template, but if your company website doesn't clearly state what your value proposition is, you're probably losing traffic that might otherwise convert.
Put yourself in your visitor's shoes – if they're looking at your site and visiting your company's "about" page, they want to know what you can offer them. They'll want to know that you're able to answer any questions that they might have about your industry and if you can deliver solutions to their problems.
If you can't address their needs or prove that you offer solutions for those needs, they won't stick around long. People want to know they're in the right place — assure them that they've found the answer they need.
So how do you do that, exactly?
Put it front and center — nail your value proposition and make sure it's on your home page.
A good value proposition is clear, concise, client-centric, and conversational. You should take time to develop your company's value proposition and edit it down to a digestible message so that it's jargon-free and transparent about what your company does well.
Think about the services or product features that you offer — then consider how those benefit your buyer. What will they get out of your service? You offer solutions, but craft a message that will address their pain point specifically.
Cobb Pediatric's website is a great example of showcasing the organization's value proposition: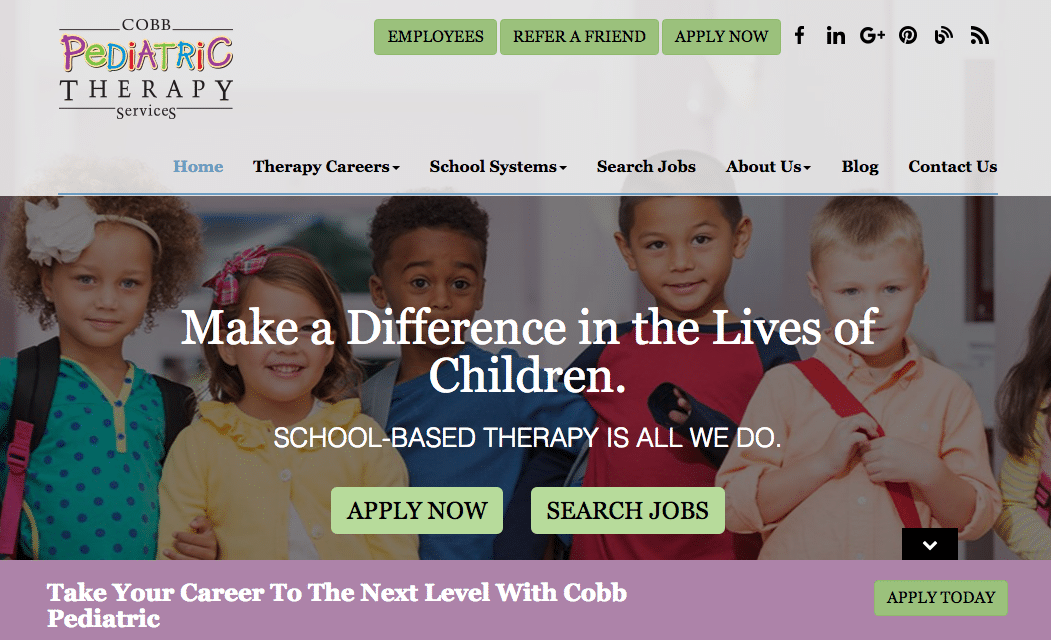 Cobb Pediatric is a job site that connects therapists with schools that need them. The language is clear and flows easily, and the CTAs (or calls to action, for the uninitiated) on the site are also front and center. Visitors looking for jobs or for therapists to work with know they're in the right place immediately.
2. Make Sure Your Site Loads Quickly
When it comes to getting your site inbound marketing-ready, site speed is crucial. In fact, if your site isn't loading quickly enough, you're probably losing more traffic than you realize.
In a recent report from KISSmetrics, researchers found that 47% of consumers expect a web page to load in two seconds or less.
If your site takes more than three seconds to load — 40% of consumers abandon the site. And even a one-second delay decreases client satisfaction by roughly 16%.
And if your site visitors are on their smartphones (this is increasingly more likely than not), you've also got to consider crappy cell reception.
Make certain that your site is loading properly and without any delay. Page load time can be affected by any custom code, videos, images sizes, and a number of other factors.
Monitor load time and site performance by checking Google Analytics – simply head to your Analytics page, click on 'Behavior', then 'Site Speed', and then start in the 'Overview' section. From there you can determine where pages might be loading more slowly.
Make sure your site loads images quickly — remove any unnecessary images, and optimize them so that they're the correct size and format (use web-optimized JPEGs or PNGs, avoid using BMPs and TIFF files).
3. Get That Site Mobile-Ready
In April of 2015, Google announced that mobile-ready websites will be ranked higher in search.
From their blog:
"Starting April 21, we will be expanding our use of mobile-friendliness as a ranking signal. This change will affect mobile searches in all languages worldwide and will have a significant impact in our search results. Consequently, users will find it easier to get relevant, high-quality search results that are optimized for their devices."
If you've ever had to scroll from side to side or "pinch" your smartphone screen to read a site, you know the frustration of visiting a page that isn't mobile-ready.
You can check to see if your site is already compatible with mobile — Google provides website owners with a free tool so that you can get your site up to date (and ranking higher). Check out the mobile-friendly tool.
Spending the time (and budget) on optimizing your site for mobile might not have been high up on your list of marketing tasks — but it should be.
In a report on mobile optimization from Adobe, they found that "companies with mobile-optimized sites triple their chances of increasing the mobile conversion rate to 5% or above."
So, not only is mobile optimization good for your visitors, but also your bottom line.
4. Speak to Each of Your Buyer Personas
Your website should always be set up with your customer in mind, but also consider which stage of the buyer's journey they're in. This is no easy feat — and requires personalization of your content so that you're speaking to the particular stage that your visitors are at in their decision-making process.
And those buyers' journeys are also dynamic because needs change throughout that process. It's quite the challenge, but determining what value you can provide your visitors at each of these different stages will help to show the customer that you respect the stage that they're in, and aren't going to rush them through the process of conversion.
If this sounds like an intensive process, you're not wrong. Start by focusing on the people who actually use your site (and your product), and this will help determine what your design looks like. Check out this guide from HubSpot for a deeper dive into personalizing your site's content for the buyer's journey.
5. Make Your CTAs Effective and Valuable
Give your visitors what they want.
That's easier said than done, certainly, but if you've nailed down your buyer personas and have an understanding of the kind of content that they're looking for, you'll know what to give them.
Let's take a look at Uber — the ridesharing service has exploded in popularity over the last several years, with more riders and drivers signing up for the service daily.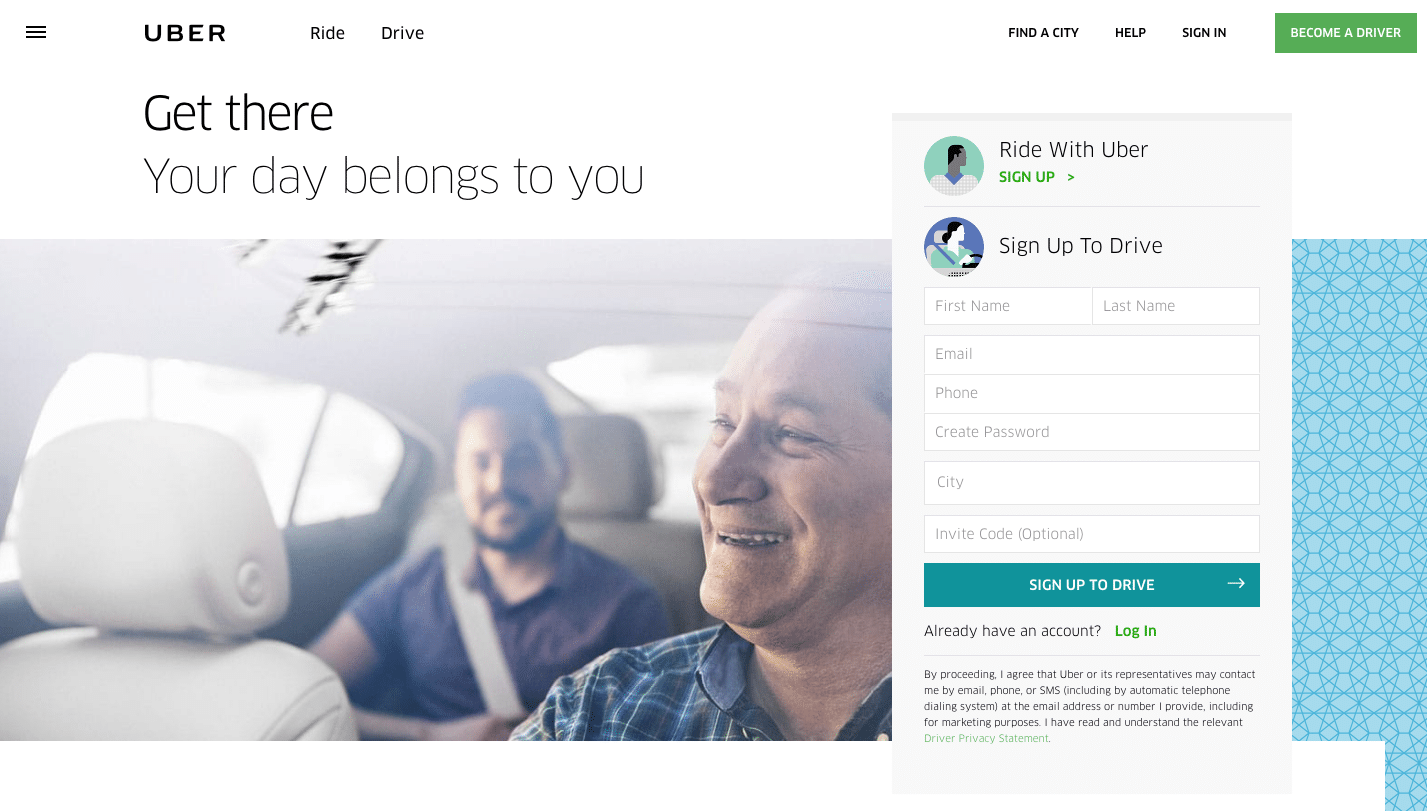 Uber also has two very different types of people visiting their website — riders and drivers. Two different buyer personas looking for entirely different things.
But the site addresses both types of visitors together very well — the background image shows Uber riders and drivers having a good time, and signing up to become a driver is quick and easy with the form displayed on the home page.
Note that the language in the CTAs on the homepage is clear and understandable — "become a driver" and "ride with Uber" are both easy to grasp concepts. Don't make your visitors guess what they'll be signing up for!
Conclusion
There are certainly other aspects of an inbound-marketing-ready website that you'll want to check off of your list, but what we've gone over here is a great start to optimizing your site so that it attracts and delights your visitors. So sit down and take an inventory of where your site needs work — the process can be lengthy, but the rewards can be great! Rest easy knowing that there are solutions so that you're getting the inbound traffic that you need!