Welcome to 2019! With the new year comes plenty of updates, policy changes, and updated features in the world of search marketing. However, today we are going to focus on a few often overlooked hacks – new and old – to squeeze that extra ounce of PPC goodness out of your search engine campaigns in order to drive more qualified traffic and results from your campaigns. We're showcasing hacks that are extremely actionable and can be implemented right away for real results.
Here are 6 search hacks to try right now:
6. Search Remarketing Bid Adjustments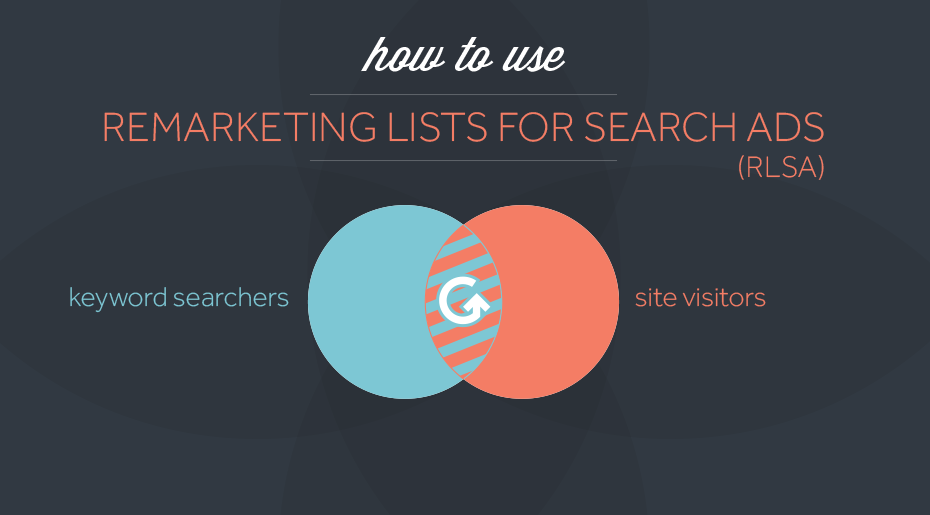 Display Remarketing has become a must-have for any online advertising campaign. Those quazi-creepy ads that follow us around, reminding of the products, apparel, or services that we've recently seen online most often come in the form of banner ads, social ads, or video. But there's more you can so with that remarketing list. Set up a remarketing bid adjustment in Google Ads or Bing to increase your Search PPC bid for those users who have been to your website recently. A 30%-50% big can help ensure that your ad will be at the top of the SERP (Search Engine Results Page) next time they query a targeted keyword.
Here's a handy guide from Google to help get you started.
Expected result: Higher bids and position placement for users who have already been to your website.
5. Check out Search Terms not just Keywords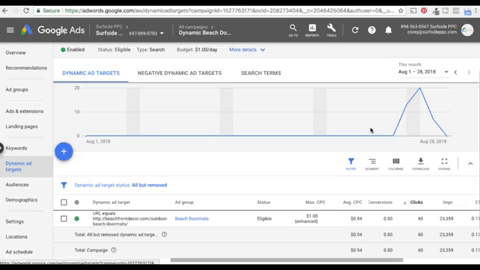 (Source: Surfside PPC)
Speaking of keywords, there's been a lot of recent talk about short-tail or long-tail keywords as they relate to Voice Search. Don't forget about that old trick of navigating to the Search Terms tab in your keyword panel to view the phrases users are actually using to trigger your targeted keywords. The results might surprise you and even inform some decisions about negative keywords. For example, a broad match keyword for "back surgery" might trigger on a search for "how to get back on the dance floor after surgery." In this case, changing the match type from broad or adding negative keywords for "dance floor" would help eliminate serving ads on irrelevant searches.
Expected result: Increased CTR (Click through Rate) and decreased CPC (Cost per Click) from targeting phrases more closely aligned with what your audience is actually searching.
4. Try Call-Only Ads
(Source: Aaron Witnish)
With mobile playing such an important role in search marketing, having a fast, efficient mobile site has never been more important. If your (or your client's) site doesn't make the cut, consider sending search ads traffic directly to their phone line with mobile call-only ads. Don't forget to set up ad scheduling so the ads only display when someone is ready to answer.
Expected result: Bypass your website and go directly to the phone lines.
3. Know How Visitors are Using Your Landing Page
(source: HotJar)
Ever wondered what your users are doing in those all-important minutes on your website after clicking your search ads? Depending on your tracking solution, there are a few options for getting better optics such as custom events and button tracking. One easy way to get up and running is with HotJar. This website plugin will track cursor movement and clicks to form informative heat maps and even screen recordings. Plus, you'll see how far someone scrolls down the website. These recordings can be extremely helpful for rearranging the site for better user experience.
Set up a free account at hotjar.com
Expected result: Better insight on website usability and identification of areas that need optimization.
2. Start Real Split Testing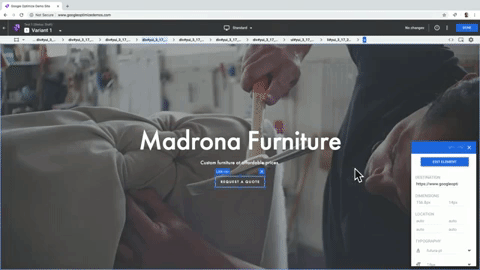 (source: Google)
There's no doubt that A/B testing has been a topic of conversation for your marketing team at some point this last year. There are a few easy ways to test two (or more) options within standard digital marketing flows such as loading in multiple images or pieces of copy into Google or Facebook ads sets. However, it's easy to forget about landing pages or lack the resources needed to set up multiple landing pages. There are several resources for split testing, such as Optimizely, Visual Website Optimizer, and Google Optimize. If you're already using Google Analytics, Google Optimize is easy to set up and has a few powerful tools for landing page testing.
Try Google Optimize for free at https://optimize.google.com
Expected result: Actionable split testing with an easy-to-use tool
1. Use Position-Based Attribution Models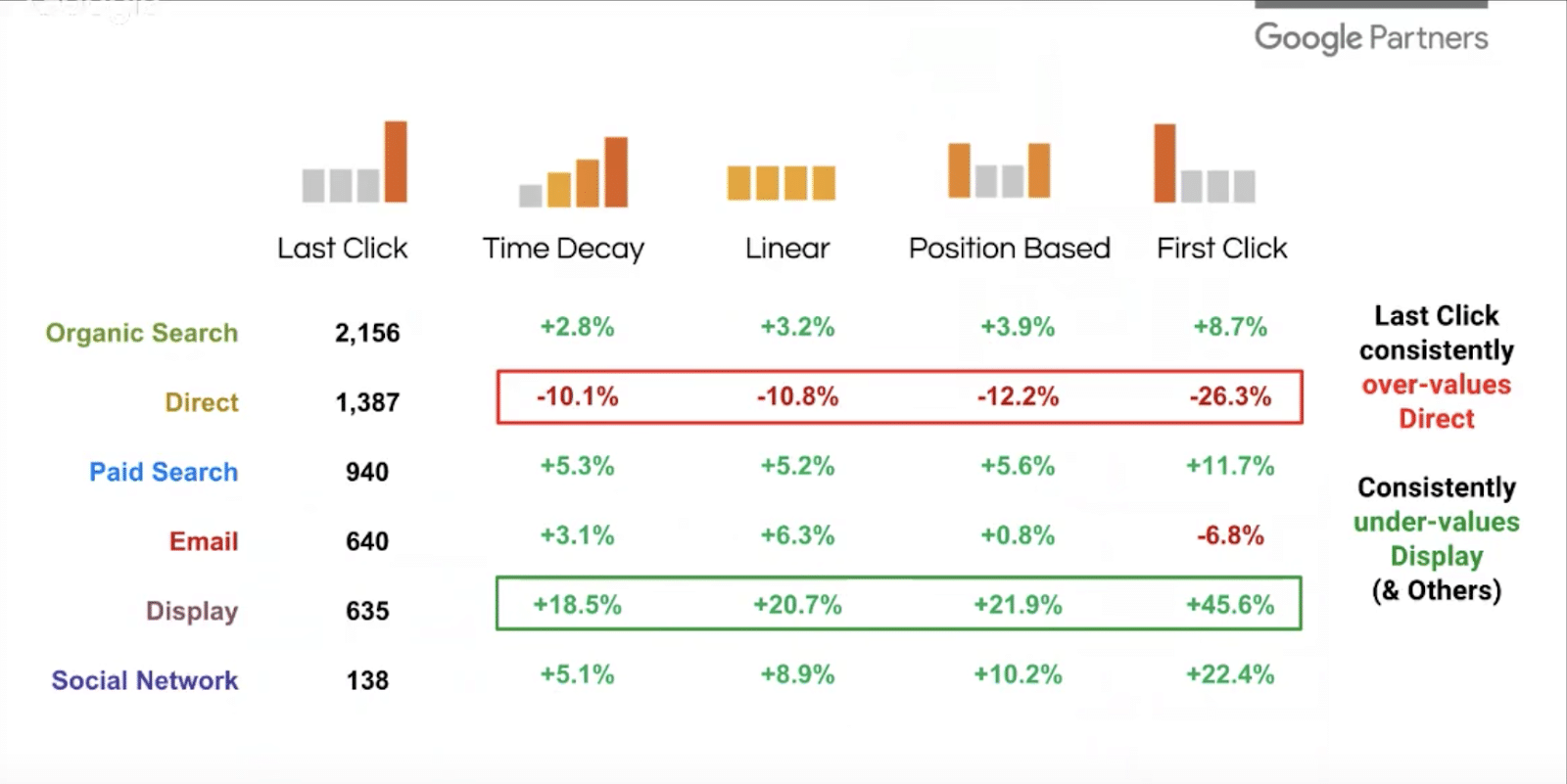 (Source: Google Partners)
We've saved the most boring, but most important hack for last! In 2018, Google reintroduced attribution models and substantially changed the way reporting works with them. The default selection for most advertising products, including Google and Bing Ads is "Last Click." With Last Click attribution, the source (ads, social, direct, etc) of the last click before conversion gets all the credit in Google Analytics. This means that when viewing reports, only the last visit counts for goal tracking, regardless of the other interactions your lead or customer may have had.
A much better attribution method is "Position Based" which gives increased weight to the first and last click source and an even weight to all the sources in between. With Position Based Attribution, you'll get a much better view of how paid channels like Google and Facebook are affecting your lead numbers throughout the whole customer journey.
At the very least, you should know what attribution model your ad campaigns are using and change from the default if you haven't already.
Expected result: Better tracking and insight on which sources attributed to your conversions.
For more information about search engine marketing, or to see some of these hacks in action, contact us here.
What was your favorite hack? Which do you plan to use right away? Let us know in the comments below or connect with us on Facebook.