Earlier this summer, at Google's Google Marketing Next event, the company announced plans to phase out last-click attribution by the end of the year, and bring focus to Google Attribution, a multi-channel, totalitarian model.
For marketers, this is a good thing. Really, it's a great thing. And, it is long overdue.
By eliminating a singular focus on the last consumer touchpoint, and taking into account the ENTIRE consumer journey with a brand, marketing campaigns can better gauge what marketing tactics spur continued brand interactions and consumer engagements.

How Does Google's Last Click Attribution Work Now?
For years, Google has provided data on Last-Click Attribution, where the last marketing source or link a consumer clicked on before making a purchase was credited as the converting factor. Google has also provided data on Assisted Conversions, which showed which marketing sources or links a consumer had interacted with at some point before eventually making a purchase. But never, until now, has Google provided a full-scale Multi-Attribution model that not only compiles all consumer-brand touchpoints and marketing interactions, but also takes the data and makes predictions on how likely that consumers, and consumers like him or her, are to make a purchase now or in the future.
Marketing attribution moves more toward mimicking how a consumer makes a purchase decision and less on a clinical, "one-single-event-caused-a-consumer-behavior" logic.
How Does the New Google Attribution Work?
Google Attribution will take into account any touchpoint a consumer has had with a brand – receiving or opening an email, watching a TV commercial, visiting a physical location like a restaurant or store – and, based on that consumer's continued behavior and cues, decide how likely or unlikely he or she is to a make a purchase. This takes marketing and consumer intelligence to a new level and makes all of us – you, us, and Google – better able to deliver marketing campaigns and messages to the right person in the right way, at the right time.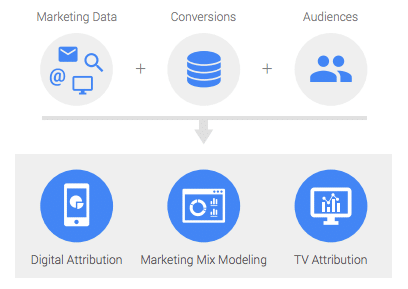 "The product uses machine learning, Google said, to assign a weighted value to every different touchpoint along consumers' paths to purchase. The goal is to make sense of ad dollars' effectiveness across different channels and devices. If a consumer's last action before buying something is a Google search, for example, an earlier email campaign may also get its share of the credit."
–http://adage.com/article/digital/google-moves-kill-click-attribution-sf-event/309129/
Why Is the New Google Attribution Better?
Think about the way you last bought a car. Chances are that you didn't see an online ad, click on it, and suddenly decide to make a purchase. It is much more likely that you thought about buying a new car for months – maybe read some review articles on different models, watched various TV commercials, visited local dealerships' websites to view inventory or look for deals, and probably even visited a few dealerships to test drive different options before ultimately making a purchase.
And, that's how marketers should think, too. Like consumers do when they make a purchase.
Every touchpoint provides value and either moves a consumer closer to a purchase or farther away.
Marketing isn't a single gunshot that spurs consumers to a quick purchase. Marketing is a long-term, brand and relationship-building effort that has to take into account how often consumers want to receive brand messages, on what media, and what provides the most value back to them.
Let Us Know What You Think
Wondering how you can better track and attribute your own marketing efforts? Give us a call or reach out today for a free consultation from our qualified team of marketing and analytics experts.