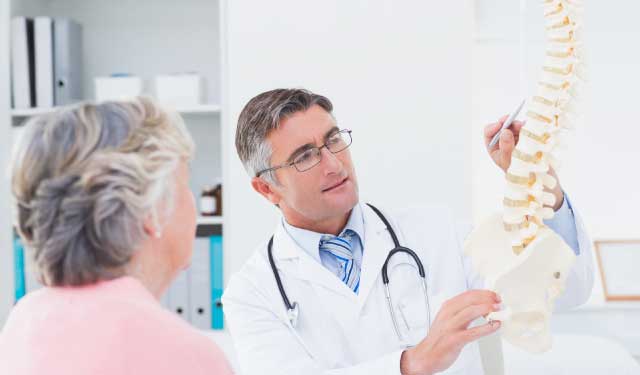 In 2020, we saw a tremendous shift in the way that spine and orthopedic practices operate and market themselves to weather the many ups and downs of the COVID-19 pandemic. 
In fact, the pandemic is being credited with accelerating healthcare's digital transformation. As a result, it's more crucial than ever for practices to ensure they have a solid foundation in place to grow and acquire more new patients—no matter what changes come next.
In this post, we'll explore 9 marketing strategies that will grow your spine and orthopedic practice in 2021. 
#1 Define Your Spine & Orthopedic Niches
Now more than ever, patients are performing their own research and educating themselves on conditions and potential treatment options. 
Many spine and ortho practices are still pursuing the most common conditions and treatments. We've found that understanding the niche conditions and treatments that differentiate your practice can often drive more patients and practice revenue. 
Need help defining your niche and refining your messaging? We've got you covered. 
#2 Offer Online Scheduling for Your Practice
Not only does allowing patients to self-book their appointments streamline and expedite the scheduling process, it's an integral part of improving the patient experience – it simplifies the process and gives patients the confidence and control they desire.
No more sorting through available dates and times over the phone, or losing patients due to delays in contact or lengthy back and forth communication. Now, in just a couple of clicks, patient information and appointment details are loaded into the EHR and/or CRM without any work for internal staff. 
Check out how these tools can easily tie into your marketing technology stack.
#3 Commit to Video Content
Video content is one of the best ways to create empathy with potential patients, as well as build trust for your practice and physicians through education—all of which can have a dramatic impact on lead generation and ROI. 
Not only is video great for website, blog and social content – it's a highly-engaging form of content for digital ad campaigns. In fact, in a recent advertising campaign we saw 3.3 times more leads come through video ads vs. text ads. 
The best part? There's no need to fear video creation anymore. Expensive, time-consuming video shoots are a thing of the past. With the right agency partner, you can quickly and easily produce standout video content that aligns with your marketing strategy to help your marketing dollars go further, faster.
#4 Explore New Patient Lead Conversion Pathways
Conversion rate optimization (CRO) involves finding ways to improve how many of your website visitors become patient leads. 
The days of solely relying on "contact us" form submissions and phone calls are long gone. 
Now, the best way to attract quality leads is by adding new "conversion pathways" for them to become patient leads. Conversion pathways like chat, SMS, exit-intent popups and downloadable content are great ways to ensure you're capturing as many potential leads as possible. 
#5 Buy Search Engine Ads
Search engine advertising should still be the foundation of marketing efforts for your spine and orthopedic practice because it is designed to target those who are in-market and actively searching for the treatments you provide. Keep in mind, proper tracking setup for search ads is required in order to understand exactly which search terms are driving leads and patients, and establish a return on your investment. 
#6 Run Paid Social Ads 
Paid social advertising can be extremely lucrative for spine and orthopedic practices and should be considered just as important as your search engine advertising spend. 
Specifically, Facebook and Instagram ads – because they allow you to target your specific geographic area for people who are willing to come in for treatments, as well as re-market to the visitors you're already getting to your site through organic and paid search efforts. 
Important to note, your paid social ads must be visual and educational, but still within Facebook's guidelines for spine and orthopedic practices. You don't want to risk wasting time and money with ads that get disapproved. The best way to achieve this is to work with an agency partner who is extremely familiar with marketing for medical practices on these channels. 
#7 Launch Patient Nurturing and Re-Engagement Campaigns
One of the easiest and low-cost ways to increase your patient volume and revenue is by nurturing and re-engaging leads at key points in the funnel. The following campaigns should be a cornerstone of your spine and orthopedic marketing strategy:

Automated lead nurturing campaigns

— Often done via email and SMS, these campaigns are triggered immediately upon conversion (in most cases, form fills) and provide your leads with a more streamlined patient experience, while simultaneously supporting your call center or office staff in the process. From providing more information about the follow-up process to offering education materials to opening up a new line of communication, lead nurturing is a critical element in solidifying that your leads have come to the right place for help.




Re-engagement campaigns

— Unless your practice is heavily involved in pain management, most spine and orthopedic practices can't rely on repeat patients to help with practice growth. However, that doesn't mean you can't invest in re-engagement efforts. In fact, we've found that email and SMS campaigns for "cold" leads that didn't convert the first time around—meaning, they didn't officially close out as a hard "no"—is a great way for incremental growth.




If you're looking to ensure you're maximizing revenue for traffic and leads you've already paid for, you can't ignore the opportunity here. 
#8 Take Advantage of the ASC Environment
COVID accelerated the migration of minimally invasive surgeries to ASCs, and spine and orthopedics practices with their own ASCs performed far better than those without.
As a result, it's a necessity for spine and orthopedic surgeons who have not already invested in their own ASC, or partnerships with ASCs to do so in order to secure their availability and secure the opportunity to perform procedures. 
If you're building your own ASC, you MUST make sure you have a marketing plan to drive the patient volumes needed.
#9 Prepare Your Website: May 2021 Google Update
In an extremely rare move on Google's part, they're released an advanced warning of an algorithm update—a whopping six months ahead of time. 
For once, we have plenty of time to prepare for the Google Page Experience Update coming sometime in May 2021. Per Google, this major algorithm update that will focus on the user experience of your website using Google's "Core Web Vitals" signals, which includes 3 primary dimensions:

Largest Contentful Paint (LCP) – how long it takes the largest element of your page to load.

First Input Delay (FID) – how long does it take for a user to be able to scroll and click.

Cumulative Layout Shift (CLS) – how stable is the page layout when loading.
These dimensions are particularly important for sites using large images and elements that are not properly optimized. In order to properly prepare for this update, it's critical that you do everything possible to optimize your site and create a SEO-friendly approach to website design & development.
Choosing Growth in 2021
With 2020 officially in the rearview, it's time to get you set up for growth in 2021. You need a marketing expert who understands the unique needs of medical practices, and spine and orthopedic practices in particular—so you can focus on what matters, your patients.
RUNNER is here to help you put together a plan that makes sense for your goals and aligned with your resources. Call us at (214) 396-8500 or schedule a free consultation.