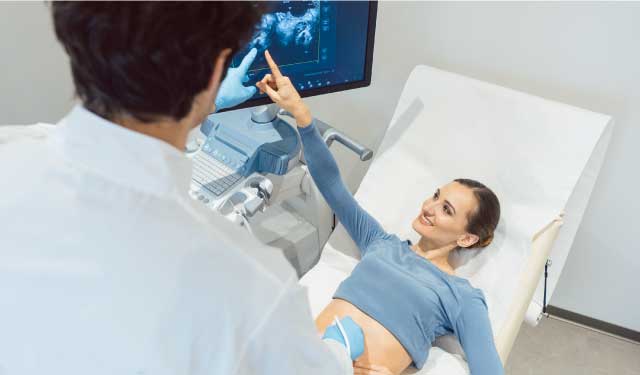 Fertility practices that are willing to invest in marketing are poised for growth in 2021. Potential patients are primed to interact with your practice through digital channels and more willing than ever to research and find a physician online. Do you have a plan to acquire new patients for your fertility practice?
In this guide, I'll explore 10 digital marketing strategies for Fertility Practices in 2021. Some of these are essential to the growth of any fertility practice, while others are designed specifically for those practices looking for above-average growth.
1. Invest in Your Fertility Practice Brand
Relative to other practice specialities, building a strong brand and reputation for your practice, doctors, physicians and staff is key. Your logo, photography, site design and messaging all have an opportunity to build your brand promise and create credibility, authority and trust.
Some key tips include the following:
Use real photography, rather than stock, wherever possible

Create

empathy

in your copy

Make your patient the hero, not your physicians

Make information about your physicians accessible, and talk about their motivations, not just their experience
2. Maximize Your Paid Search Advertising Spend
Paid search engine advertising is still the most targeted way to drive new patients for your fertility practice. It targets ONLY those actively looking for fertility treatment and you pay only when they click on your ads. Patients are extremely active in researching fertility treatments, so the amount of search volume for these terms is very high. 
Key tips for fertility practice search ads include:
Buy search terms specifically for the treatments you're looking to drive

Send all search ads to landing pages targeted towards those keywords

Spend enough budget to maximize your impression share for those keywords

TRACK everything so you understand which keywords turn into patients
Check out how we helped Dallas IVF get 41% more qualified traffic with NO CHANGE in ad spend.
3. Expand Social Media Efforts
Social media is more important for fertility practices than many other medical specialties. This is because there is more patient sharing around positive outcomes. 
A foundational strategy would include both a solid organic and paid social media efforts. This includes regular organic social posting and engagement on your Facebook and Instagram profiles, as well as paid advertising on Facebook and Instagram.
However, practices looking for opportunities to grow should explore the following:
Increasing paid advertising spend on Facebook and Instagram

Engagement with Fertility Facebook Groups

Creating a practice or physician Youtube channel

Exploration of organic and paid strategies on new channels like Tik Tok
4. Showcase More Fertility Success Stories
Patient testimonials are a key for any fertility practice to show potential patients what life could look like. Yet many practices don't do a great job showcasing these testimonials or bringing them to life. Here are a few considerations to better showcase your fertility practice testimonials. 
Bring testimonials to life with video

Create a higher volume of testimonials and update them more often

Create testimonials targeted towards different patients and services: example, egg freezing, sperm freezing, IUI, IVF, LGBT, etc.

Showcase testimonials on your homepage

Distribute testimonials to other channels – Facebook, Google My Business, etc.
Need help putting your testimonials to work for your fertility practice? We've got you covered.  
5. Prepare Your Site: May 2021 Google Update
Early in 2021, one must-have strategy for every fertility practice is preparing for the Google Page Experience Update happening in May 2021. This is a major algorithm update that will focus on the user experience of your website using Google's "Core Web Vitals" signals. It includes 3 primary dimensions:
Largest Contentful Paint (LCP) – how long it takes the largest element of your page to load.
First Input Delay (FID) – how long does it take for a user to be able to scroll and click.
Cumulative Layout Shift (CLS) – how stable is the page layout when loading.
Fertility practices are at risk with this update because they generally have lots of photography and big images. You must spend time understanding the above three Page Experience dimensions closely and optimize your site specifically to address any challenges.
We get it. You're busy running a fertility practice. We can handle the impacts of this massive Google update for you. 
6. Find Ways to Compete With Online Fertility Brands
With the telehealth opportunity we've also seen new competition. In recent years, there have been a number of new fertility brands competing for your patients. No longer are you competing against just other local fertility clinics, you're also competing against many other online brands for diagnostic testing and other fertility services.
This trend has been accelerating, and will continue to grow. 
Are you protecting searches for your brand name with advertising?

Are you investing in paid ads to grow brand awareness?

Are you clearly differentiating your fertility practice from these new competitors?

Are there opportunities to innovate your service model to future-proof your business?
7. Partner With Influencers
Your patients are your most important influencers, but a growing social media advertising opportunity that many medical practices are not taking advantage of yet is influencer marketing. Fertility practices have an opportunity to partner with influencers to educate potential patients or showcase experiences with treatment and distribute this content through social channels.
8. Explore New Lead Generation Pathways
A phone number and a contact us page aren't enough. You're missing out on new patient leads that can be driven through a variety of other means, including things like:
Schedule a Callback

Website Chat

Online Booking
Check out how we helped Dallas IVF get 25% more website conversions.
9. Move Fertility Education Events Online
It's common for fertility practices to use educational seminars to educate potential patients about fertility treatments. If you haven't been conducting these educational events online, you're missing out on a unique opportunity to drive leads. It's easier than ever to conduct a virtual event online and patients are more willing than ever to participate. Plus, after these events, you have leads that are far more likely to convert into patients.
Choose Growth in 2021
Growing patients and revenue for your fertility practice is simple when you're working with a marketing partner that understands your business inside and out. Request a consultation with a RUNNER digital marketing expert and create your growth plan for 2021.