Messenger marketing has become a hot topic in the industry. Both HubSpot and Salesforce have put their conversation and real-time marketing tools front and center. In this blog post, we discuss why messenger marketing is important, and how to get started utilizing messenger marketing for your brand.
A Missed Opportunity in Messenger Marketing
While more money has been flowing into social media marketing, the dollars haven't followed consumer behavior. In fact, as consumers have flocked to messaging apps and away from text messaging, there are now more daily active users on messaging apps than there are on social media platforms. Yet very few businesses are actively engaging with customers on these channels. We think that's a missed opportunity, and some businesses are starting to pay attention.
Why Messenger Marketing Works
Email marketing has been and will continue to be a foundational inbound marketing tactic for almost every brand. According to MailChimp benchmarks, the average open rate for email is only 20% and the average click-through rate is 2%.
The performance of messages sent through messenger platforms is much higher. Mobile Monkey CEO Larry Kim says messenger campaigns are seeing 70-80% open rates in the first 60 minutes and click-through rates as high as 20%. This is because the messenger inbox isn't treated the same as the email inbox. Messenger users receive notifications on their phones.
As a testament to the power of messenger marketing, for a recent client, we implemented a messenger campaign and saw a 23% increase in weekly lead volume solely from messenger, becoming their second-highest source of leads.
How to Think About Messenger Marketing
There are a few mistakes brands make when they think about messenger marketing. The first is they think of it as "live chat" and are concerned about having the resources to staff and respond to messages in real-time. While there are tools like HubSpot Conversations that can be used to have 1-to-1 conversations on your site, that's not what we're talking about.
The second mistake is believing that you need a "bot" in order to do messenger marketing, implying an expensive, sophisticated software to completely automate any response.
In reality, we should consider messenger marketing more like email. Mass communication to list that can be personalized. You can do many of the same things, but the end result is much more engagement.
The Facebook "Chat Blast"
The foundational marketing tactic of messenger marketing is the "chat blast." It's essentially a single message that's sent out to your entire "list" of messenger contacts. In messenger, like in email, these messages can include both text and media – photos, videos, and animated GIFs.
Like email, these chat blast messages can be personalized through the segmentation of your list. As with any marketing medium, you'll see a better response when the messaging is targeted. Smart segmentation is often built through engagement with content. This is where messenger automation and third-party tools come into play. In addition to text, images, and video, messages can contain triggers and actions like buttons that provide options for users to choose, lead forms, and much more. These messages provide ways for your contact to self-service and provide you with segmentation that better identifies what will resonate with them. Here are a few examples: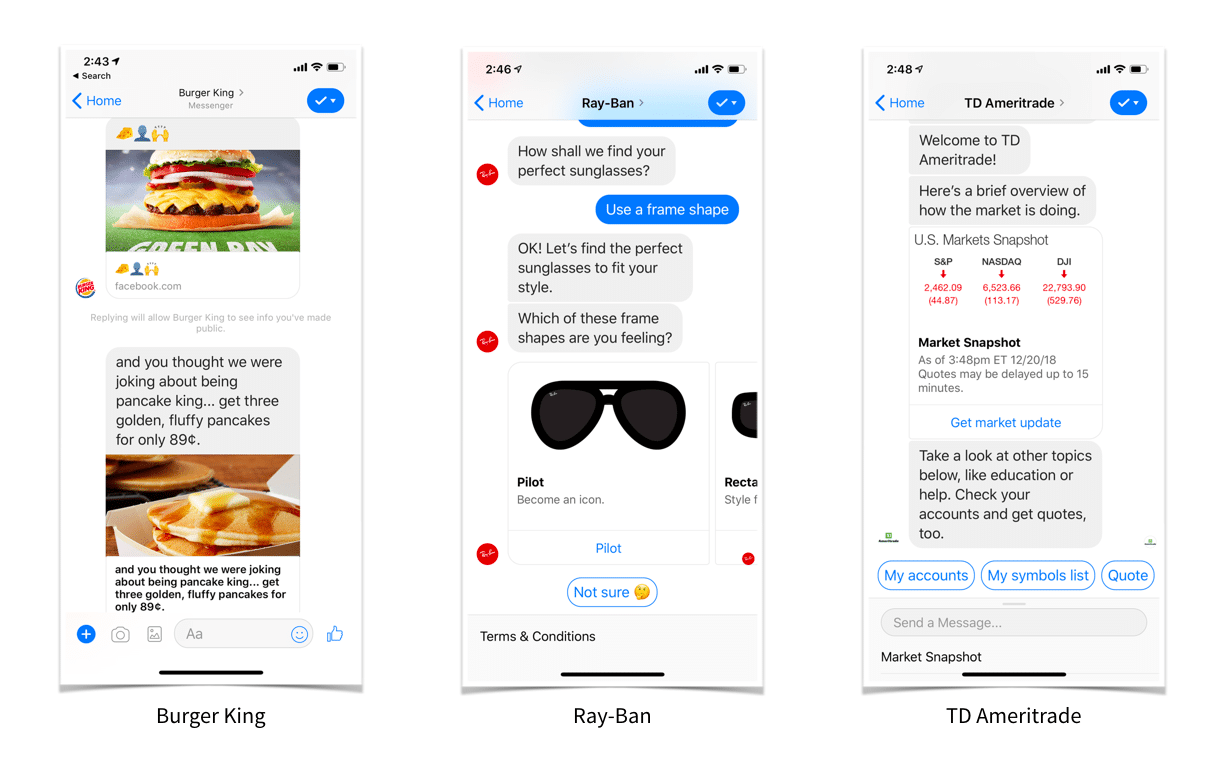 However, a key difference is that messenger messages should be much more succinct and to the point. There's no reason to build an elaborate design or in-depth copy. Your messages must provide value and be clear in your ask. It is far easier to unsubscribe to a list via messenger than by email. You must have a solid content marketing strategy.
Building a Facebook Messenger List
There are several ways to build your contact list. If we look at Facebook messenger, there are several ways to do this. The first is that anyone who messages you directly from your Facebook Page is added to the list. It's hard to scale your list in this way since very few people visit a brand's Facebook page. One of the best ways to build your messenger list to run Messenger Ads on Facebook. These are ads that include a call to action to "message" your brand. In addition, you can implement a Messenger call to action directly from your website.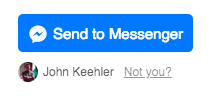 Once someone messages your brand on Facebook they are added to your list. However, it's important to keep in mind that Facebook has limitations on how often you can message and they distinguish between promotional and non-promotional messages. This is known as Facebook's 24 +1 rule. You must build a messaging strategy that can keep your list engaged with non-promotional content so you can send promotional content at key times.
Getting Started
You'll need to select a third-party tool to send out messenger marketing campaigns in order to support media files and make your campaigns dynamic. There are several key players that have to build best-in-class tools for messenger marketing that are fairly affordable. The two we recommend are MobileMonkey and ManyChat.
More importantly, you need to put together a messaging marketing strategy and start building your list. It's important to have a plan in place, or you may end up with a list that isn't big enough or engaged enough to impact your business. Reach out to RUNNER to request a free messenger marketing consultation and we'll put together a proposal to help you take advantage of this emerging opportunity.