It's no matter of opinion: online reviews hit more than your ego; they impact your bottom line. A study published by Harvard Business School found that a 1-star increase in ratings can equal a 5-9% increase in revenue; adversely other studies have found a single negative review can drive away up to 30 potential customers on average. Harnessing praise and handling critiques takes a system and a strategy to steer it all successfully. Whether good or bad, reviews move the dial for your business, and managing their needs to be an integral part of your digital marketing strategy… unless, of course, you don't care if your business is profitable and growing. In that case, carry on.
How Review Management Promotes Business Growth
More Revenue: Positive Reviews Attract More Customers
By the numbers, online reviews impact how the buyer behaviors. Studies find that initial brand awareness is dominated by its influence with 90% of consumers reading online reviews before visiting a business, leading to over 57% eventually buying from a business they researched online.
With more and more research done, reviews are more important than ever: higher ratings increase the likelihood of purchase and the number of online reviews is often the tipping point when deciding between two options with the same rating.
Even negative reviews can add a positive balance to a business's online reputation: studies find that more than half of consumers trust a business's online reviews when they see both good and bad. It's clear that reviews matter for credibility and profitability, making it critical for a business's marketing strategy to include review monitoring and management.
Repeat Business: Monitoring and Responding to Reviews Leads to Happier Customers
Do you know who buys from your business a second, third, and fourth time? Happy customers. And how do you quickly address those unhappy customers? You keep a strategic finger on the pulse of online reviews, that's how.
Companies should closely monitor feedback, but keeping up with incoming reviews from all the various websites (Google, Facebook, Yahoo, etc) can be daunting, let alone responding to negative ones. It's an unsettling thought for a business to have bad reviews stacked against them for weeks or months unaddressed out there for their audience to read. Companies can potentially turn negative reviews around – if responded to promptly. Responding to negative reviews makes a difference: consumers say that they're more likely to visit a business if it responds to negative reviews quickly.
Online Review Management Platforms help prevent negative reviews from sticking out like sore thumbs and support consistent monitoring of multiple sites. Management systems automate collecting reviews and send platform administrators alerts, especially for negative ones. Businesses can quickly address poor reviews and even highlight positive reviews through social media with the right strategy and system.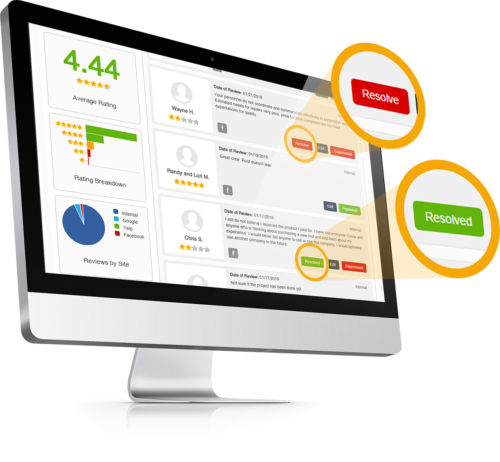 Higher Star Reviews Will Increase Sales
Online reviews turn into revenue boosters the more positive feedback is being shared. Excellent service and quality goods make a positive customer experience, enough to spark a good review – but often that praise doesn't make it online unless you directly ask. Unsolicited for feedback, 21% of consumers say they are more likely to leave a review over a negative experience over a positive one, so start proactively asking for feedback from all customers.
Soliciting for reviews and feedback can be automated through Online Review Management Platforms with email and text requests, plus reminders and thank you messages. Minimizing the number of clicks through the process also makes it easier for customers to leave a review in the direct prompts from automated emails or texts.
Encouraging happy customers to leave positive reviews can greatly influence potential customers.
The Bottom Line for Your Bottom Line
Your business's online reviews will continue to grow regardless of your involvement, but with the right strategy to monitor, appeal, and manage this feedback you can cultivate an online reputation bound to increase sales. Driving engagement online to create profit offline requires an organized process, with online tools and platforms aiding in automation.
Suggested Read: Online Reputation Management for Doctors Your 2022 Guide
Ready to see what a proactive review management system can do for your revenue? Contact RUNNER Agency to learn more about how implementing these strategies can help your bottom line.