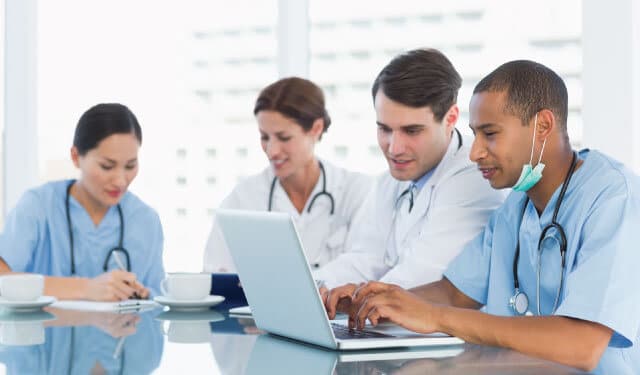 While the laws that limited advertising in medical professions was overturned back in 1977, many healthcare providers are still slow to embrace marketing, especially digital marketing.
Gone are the days when you could rely only on word-of-mouth or referrals from other physicians. Yet many practices still do.
The stakes have become higher during the COVID-19 epidemic. If your referring physicians aren't seeing as many patients, they aren't sending them to you. What's more, as much as 38% of patients are continuing to delay treatment, which means you're competing for a much smaller pool of patients.
If you don't have a plan to reach new patients, another practice will.
5 Medical Marketing Myths for 2022
So, today, we are going to set the record straight and uncover the myths that are holding you back from continued practice growth, even in these challenging times.
Myth #1 – Being a Good Doctor is Enough to Acquire Patients
Being good at what you do is great…  but it's the patient you already have that knows and benefits from this. To leverage your talent as a physician to grow your practice, you have to get the word out.
How do you do that? Through word-of-mouth.
Today word-of-mouth is digital, specifically online reviews. In fact, 83.3% of patients say they trust online reviews more than they trust personal recommendations. 
Recent studies show that patients' first step when searching for a new provider is to read online reviews. In fact, online reviews are so influential that 43% of patients would consider going to out-of-network providers if they have a history of positive reviews.
Physician and practice reviews on Google are key. However, niche healthcare directories are hotspots for patient reviews, too.
Directories that offer healthcare-specific business listings include elements such as medical specialties, credentials, and accepted insurance. Popular healthcare-focused directories for online reputation management include:
Your online reputation is a potential patient's first impression of you and your practice, which often comes from reviews. You can leverage online reputation management strategies to take control of your online image and grow your practice.  
We recommend setting up a review generation and reputation management engine to help you continually curate reviews and distribute them. Use email or SMS (text message) to contact patients asking them how likely they are to recommend your brand to others on a scale of 0 to 10. This will give you a Net Promoter score.
Then reach out to the patients who left you a positive Net Promoter score, asking them to leave a review about their experience with your brand on the sites that have the most impact like Google or Facebook.
RUNNER's Review Management service includes a custom dashboard to monitor your brand's online reputation, review generation campaigns, instant notifications for new reviews, and, most importantly, the ability to publish the great reviews and address the bad ones before they become public.   
Myth #2 – My Patients Aren't Online
This just isn't true. Even if your patient demographics skew older, the growth of the internet has impacted everyone. According to a Pew Internet & American Life Project study, 80% of Internet users have searched for health-related topics online.
Furthermore, older adults are not the technophobes they are often portrayed to be. Internet adoption among seniors was just 14% in 2000. By 2017, this surged to 67%, according to Pew Research Center. Older adults are integrating social media into their daily lives, too. 
Even if you think your patients don't use the internet, those that care for them do. That same Pew study showed that 50% of people have conducted searches for someone else such as a spouse, child, parent, or loved one. 
If you're still not convinced, spend some time looking through Facebook groups. Many of your potential patients are turning to these groups to educate themselves or do research for loved ones. Users create groups around topics like Back Pain & Sciatica Sufferer Support or Degenerative Disc Disease and Living with Chronic Pain. 
Myth #3 – I Can Grow My Practice Through Physician Referrals Alone
If it were 20 years ago, this wouldn't be considered a myth. But in a world where patients are taking more and more ownership of their healthcare decisions, referrals from physicians can no longer be your only strategy. 
Here's something you likely already know – physician referrals are fraught with challenges.
Physician Referrals Take Time
You have to take the time to build the relationship before you can even attempt to see any ROI (if you ever do). 
You Are Not the Only Option
Physicians commonly give their patients multiple specialist options. You are taking a gamble that they will choose you. 
Patients Don't Always Follow Through
33% of patients never even go to the referred specialist, and the referring physician never even finds out. 
COVID-19 Has Changed Patient Acquisition
The pool of potential patients is much smaller than pre-Coronavirus. Plus, this pandemic has changed what patients value most in a provider. How a practice is mitigating the risk of contracting COVID-19 is playing a much larger role in choosing a provider than a physician referral. 
If fast practice growth is your goal, why passively rely (and wait) on other physicians to send patients your way? 
Patients are turning to the internet to research their health options, so why not take advantage of that; be where your potential patients are.  The only predictable way to scale practice growth is through digital advertising and paid media. Channels like Google, Facebook, and programmatic offer data-rich advertising solutions that can help you make the most of your marketing budget. 
Myth #4 – Branding Doesn't Matter Because Everyone Already Knows Us
When many people think of branding, they think about the basics — a logo, a few colors, maybe a font. It's one of those things that every business needs when they're starting out, but all too many quickly forget about it once the business cards are printed.
The truth is that branding is so much more than a simple logo; it's a set of promises that you make about your office, your services, and the quality of care that you offer. Branding is a way to communicate your practice's value and, most importantly, tell people how you're different from any other medical practice in your community.
Good branding will help your practice look great and be memorable, while at the same time being authentic about the reasons why you do what you do.
The first step is messaging — you need to find out what you want to say before you start worrying about how to say it. This is key to making sure that your branding work will highlight your key differentiators and help you stand out. 
Once your messaging is established, you can bring that to life through logos, colors, websites, marketing materials, phone scripts, and voicemail greetings. All those things are communicating with your patients, and all of them need to be cohesive and accurate. 
One thing to remember for physicians: your practice's branding is not a reflection of you, as a doctor. Think about your practice as its own entity — it ought to match up with your personality and goals, but should also be much more than just a reflection of you. Think about a large legacy company. They certainly want the CEO to reflect their brand, but the brand itself is much larger than an individual person. 
Myth #5 – The Front Desk Can Handle Digital Marketing
Your front desk staff plays a crucial role in your medical practice. They are commonly responsible for answering phones, preparing charts, checking patients in and out, handling billing and insurance, and a million other practice management tasks. They are ingrained in the day-to-day operations of running your medical practice.
That's why it's not a good idea to ask your front desk to also handle your practice's marketing in their spare time. For starters, they probably don't have much spare time, but more importantly, they don't have the skills or experience needed to run a high-functioning, efficient, holistic marketing program that will perform the way that you need it to, especially if you have aggressive growth goals.
We know this firsthand because RUNNER Agency also manages a patient contact center that serves many of the same roles as a typical office's front desk — answering prospective patient calls, scheduling new appointments, insurance verification, and serving as a sales department that can guide new patients through the process and see them convert from a "lead" to a "patient." We do not also ask these sales and scheduling experts to be the ones who direct the marketing efforts to bring leads in — these are separate teams, working in tandem toward the same goal for maximum efficiency.
Just like your patients deserve an attentive and capable staff to help them, your practice deserves digital marketing that is executed by someone with the time (and experience) to make every dollar you spend worth it. 
The Right Medicine For Your Growth Aches
The truth is that you wouldn't create a treatment plan or diagnose a condition without the proper tests, imaging, or consultation with the patient. In the same way, you can't grow your practice if you don't have a plan in place, especially in the competitive landscape of healthcare today. 
You need to be able to turn self-referring patients into predictable, scalable growth. You need a strategic plan cultivated off of your unique practice, specialty, and goals. 
Every practice, just like every patient, is unique. So, your first step needs to be to have an honest conversation with a medical practice marketing expert who can make sense of your unique situation and help you formulate a plan. RUNNER is that expert, and we want to help you.
Call us at (214) 396-8500  or fill out the form here to schedule your free consultation and proposal.