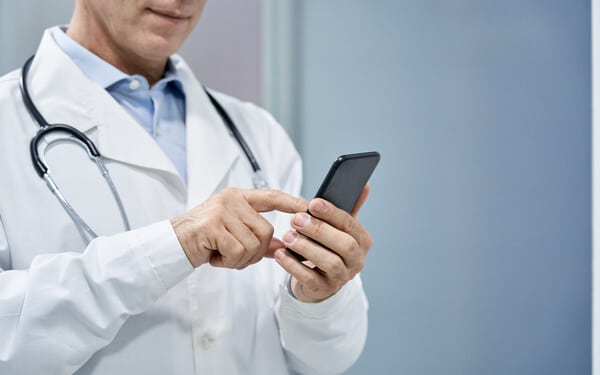 Implementing text messaging into your medical practice is a great way to communicate to patients quickly and efficiently.  According to a survey conducted by SlickText, 92% of adults in the U.S. carry phones that are able to text with 98% of smartphone users texting regularly. The survey also found that only 14% of companies text their consumers.
As more and more healthcare organizations opt into communicating with their patients via SMS messaging, many still have questions about how to do it in a secure manner. In this guide, I will share a few considerations prior to implementing texting into your medical practice.
Ask For Consent First
It's critical that prior to sending communication via text to patients that they opt in to receive health information and reminders from you. Patients have to first agree to receive messages prior to communication being sent. If a patient does not opt in to receive text messages, you cannot communicate via text with them. Verbal consent is not sufficient enough. Patients can opt in through signing paperwork or electronically.
If you fail to ask patients for consent prior to sending text messages, you could face severe fines for violating the Telephone Consumer Protection Act (TCP.) 
Make Sure The Platform You're Using Is HIPAA Compliant
A HIPAA compliant SMS platform provides secure messaging that allows healthcare organizations and providers to meet privacy and security standards when communicating via text. Healthcare organizations are able to communicate various things such as appointment reminders, rescheduling appointments, sending out patient-satisfaction surveys and much more. 
At RUNNER, we offer a HIPAA compliant marketing platform that allows you to send and receive text messages securely to both potential and existing patients. Request a free consultation if you'd like to learn more.
More like this: HIPAA Compliant CRM: Why Your Medical Practice Needs This 
Implement a Clear and Defined Privacy Policy 
The best way to avoid HIPAA conflicts and put patients at ease is to put safeguards in place that define how you will communicate with patients through text messaging. Implement a privacy policy that is clear, detailed, and shares how you will communicate with patients. Make sure to seek legal counsel if you have questions about it or need a privacy policy drafted for use in your marketing efforts.
Educate Your Team on Best Practices
When it comes to implementing texting into your medical practice, make sure you educate your team on best practices.  They should never share critical data via text such as financial information. Sharing this type of information can put your medical practice and patients at risk.
Know When To Transition To A Call
When you're speaking with a potential patient or existing patient, it's important to know when a phone call is required. You may be surprised how much patients are willing to share via text, but when it comes to transmitting sensitive information, you should know when to tell them it's time for a call to collect sensitive information you need.
The Text Message Imperative
Text messaging is important because you have to meet your patients where they are.  When done properly, implementing texting into your medical practice can decrease no-shows and free up office staff to focus on more complex tasks. But it needs to be done in the right way – and done securely.
If you're curious about how to use text messaging for your medical practice, the team at RUNNER Agency can help.  Request a consultation to speak with one of our medical practice marketing experts.