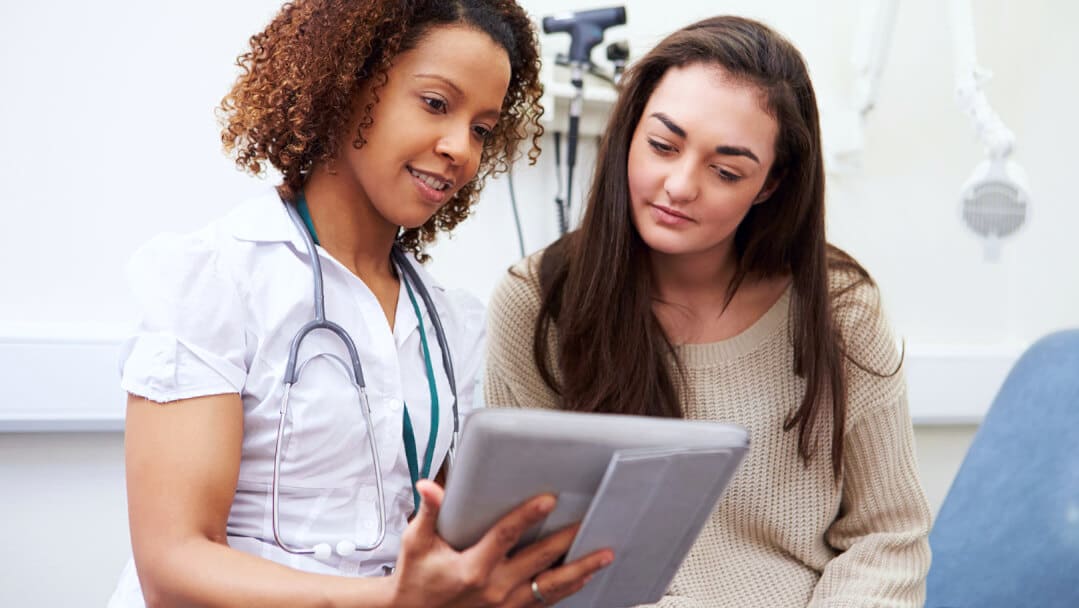 Introduction
As digital marketing becomes the primary strategy for how practices build their reputation and attract new patients, many practices are still not treating the data they generate in marketing as sensitive health information. But, it is possible to do great digital marketing for your practice and still be HIPAA compliant.
At the center of this strategy is a HIPAA-compliant CRM. This post will break down what a CRM is and how it's different from your practice EHR, why it's an integral part of your marketing strategy, and some of the options you have in the market.
Know what information you're looking for? Click the link to jump to that section, or keep reading.
What is a CRM?
A customer relationship management platform, or CRM, lets your practice store potential patient leads generated from inbound phone calls and form submissions on your site.
It also provides a central location for you to track where these leads came from and the status of those leads.
This status might include:
How many calls you've made to them.
If someone booked an appointment.
Reasons why they may not have decided to become a patient, such as distance
or insurance that wasn't accepted.
Suggested Read: 5 Beautiful Things a Good CRM System Can Offer Your Business
How a CRM Is Used With an EHR
Your practice's CRM is distinct and different from your electronic health report (EHR). Think of the CRM as a system that can track everything before someone becomes a patient, which then hands off to the EHR after scheduling.
While all practices have an EHR, not many have a CRM. Yet potential patient leads also share a good amount of medical information through marketing interaction – which is why it's crucial to have a HIPAA compliant CRM for your medical practice.
Suggested Read: Without a CRM, You're Losing Deals and Wasting Marketing Dollars
Why Your Medical Practice Needs a HIPAA Compliant CRM in 2022
The answer to this is not just about secure data. Here are five reasons why a HIPAA compliant CRM is a MUST for any medical practice that's serious about digital marketing.
1. Emailing Form Submissions Isn't HIPAA Compliant
We frequently see medical practices, even large practices, that simply email potential patient lead form submissions to their front desk.
This is NOT a HIPAA compliant way to handle sensitive information that may be shared through forms.
If this is how you're currently handling patient leads submitted on your site, you need to find a HIPAA compliant solution quickly.
More like this: Beyond Default Forms: Better Lead Generation Tactics [Video]
2. You Should Track How Many New Patient Leads You're Getting
In addition to keeping data secure, a CRM also helps your practice track the leads that are coming in more efficiently. So instead of being buried in someone's inbox, the number of leads you're getting is clearly visible.
3. It's Important to Understand How Your Marketing Is Working
If you connect your call tracking to your marketing campaigns, you can see the number of calls and form fills you're getting and understand where they're coming from. Are your leads coming from your website? Ads? Social Media?
A well set-up HIPAA compliant CRM provides you insight into how your marketing is working and what's most effective. Once you've set it up, you can focus on the medical marketing KPIs that are most important to grow your practice and get more patients.
Suggested Read: Marketing Frameworks To Help You Get More Patients
4. You Should Have Insight Into How Leads Are Being Worked
Setting up your HIPAA compliant CRM for your front office to use as they call back leads and set up appointments can provide visibility into how potential patient leads are being worked. We've often found that the front office is so busy that leads aren't being called back quickly enough or contacted enough times. The front office is the last mile to generating new patients from marketing, and you should have as much visibility as possible into how they're handling leads.
More like this: 3 Easy Ways to Automate Your Medical Practice Front Office
5. New Patient Leads Should Be Nurtured With Automation
Chances are, if you're like most practices, your front office is calling people back a few times. But potential patients increasingly prefer digital channels for communication.
Have you heard about the hiker who was lost on Colorado's highest mountain and ignored calls from rescue workers for 24 hours because it was from an unknown number?
Patients are beginning to prefer communication through channels like text messaging. An adequately set up HIPAA compliant CRM will allow you to automate digital communications from your front office and better convert leads into patients.
Suggested Read: Best Practices for Secure Patient Marketing and 3 Easy Ways to Automate Your Medical Practice Front Office
Comparing 7 of the Best CRMs for Medical Practices for 2022
If your medical practice is not using a CRM or doing a hard look at your own to see if it is the best CRM software for physicians, we broke down the top seven CRM's so you can make the right decision for your practice.
Image by Salesforce.com
1. Salesforce
There are many searches for "is Salesforce HIPPA complaint," which may be how you arrived here today. So, to answer the question, yes, they are.
Salesforce is an obvious choice as an industry-leading CRM used across many different industries. In addition, Salesforce is HIPAA compliant and will sign a BAA agreement.
However, there are a few things for medical practices to consider.
Salesforce's HIPAA compliance software is built to service MANY industries and is often customized through other products or add-ons to achieve your practice needs.
There are costs associated with many of the additional products, add-ons, or development, making it potentially more expensive than other options.
Front Office Helper

HIPAA compliant
Full suite of marketing tools for new patient acquisition

Salesforce's HIPAA compliance database is not built specifically for healthcare.
Image by Hubspot.com
2. Hubspot
While Hubspot is an industry-leading CRM and marketing tool, Hubspot is NOT HIPAA compliant. As you can see by the official statement below from Hubspot, their service terms also prohibit the "storage or processing of sensitive health or financial information," making it NOT an option for any medical practice to save such data.
As of February 2022, we have seen no update to indicate a change in this policy.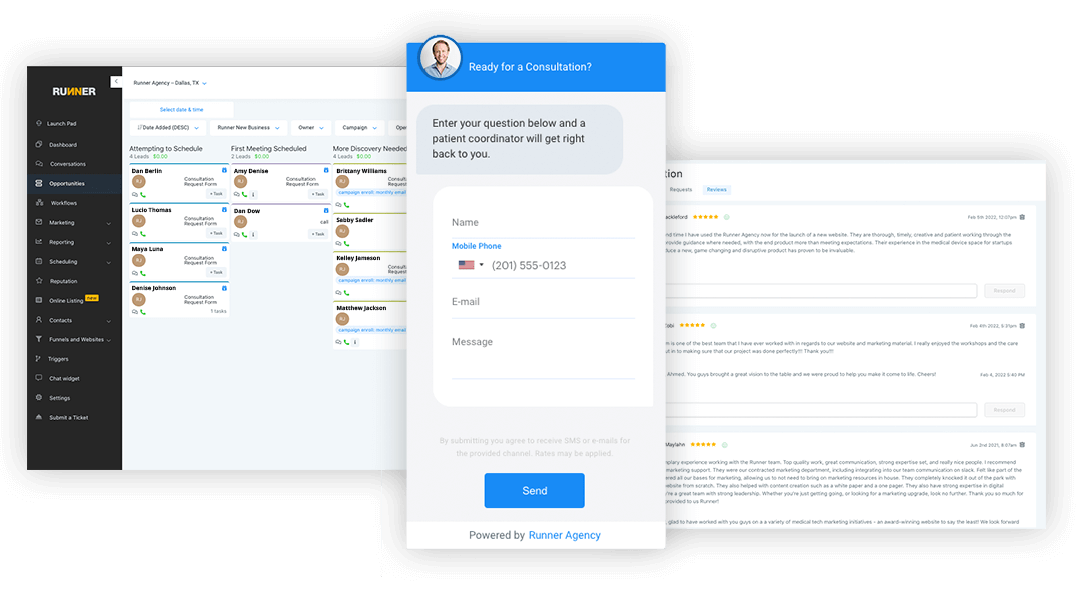 3. Front Office Helper
Because the above industry-leading CRM tools didn't make sense for many of our medical practice clients, we developed our own HIPAA compliant CRM explicitly made for medical practices.
In addition to being a HIPAA compliant CRM, it also includes a full suite of marketing tools for new patient acquisition, including:
A CRM to store new patient leads
Call tracking and call recording
Form creation tool for your website
Chat-to-SMS widget for your website
Two-way messaging via text and email
Pre-recorded voicemail drops
Missed call text back
Email and text message nurturing
Image by Nexhealth
4. NexHealth
NexHealth provides a HIPAA compliant CRM, but the tool is focused primarily on booking from a marketing perspective. Many of the platform's other features include existing patient communication, like reminders and payments. This may be a fit for a medical practice that just wants to allow self-booking.
Image by Leadsquared
5. Leadsquared
Leadsquared provides a HIPAA compliant CRM, as well as marketing automation. Like Salesforce, Leadsquared services many different industries, so it's not built specifically for healthcare. Instead, their focus is on credit unions, automotive, real estate, and other use cases are referenced on the site. In addition, the marketing automation plans are separate from the sales CRM and are tiered based on the number of contacts.
Image by Monday.com
6. Monday.com
Monday.com is HIPAA compliant, but only at the Enterprise level. In addition, the platform is very focused on the organization and management of team tasks and not as much around marketing.
Image by Enquire
7. Enquire CRM
Enquire offers a HIPAA compliant CRM and marketing automation tools but is explicitly built for subspecialties in Home Health, Senior Living, and Skilled Nursing. Enquire CRM is not made for the use cases across other medical practices.
Conclusion: HIPAA Compliant CRM for Marketing
It's clear that having a HIPAA compliant CRM is important to make sure potential patient data is secure, but not all HIPAA compliant CRMs are created equal.
Many are not built specifically for medical practices, and quite a few are made with existing patient experience and not new patient marketing in mind.
Medical practices today should have the advantage of the same marketing tools that other industries enjoy, but with the peace of mind that they are approaching it in a compliant manner. That's why we built Front Office Helper — RUNNER's HIPAA compliant CRM.
In fact, our CRM sits at the center of our Practice Marketing Method, a system we built to focus on the most common challenges we see in medical practice marketing.
Establishing a foundation for a brand through a high-converting website, practice & physician listings, and a HIPAA compliant CRM.
Building your reputation and engaging with potential patients through reviews, educational content, social media engagement, and search engine optimization.
Accelerating how fast you can get new patients for your practice with online advertising.
If you're ready to investigate a HIPAA compliant CRM for your medical practice, or learn more about our Practice Marketing Method, request a consultation to speak with one of our marketing experts.
More like this: 41 Ways to Attract New Patients to Your Practice in 2022
Blog Updated: 2/22/2022