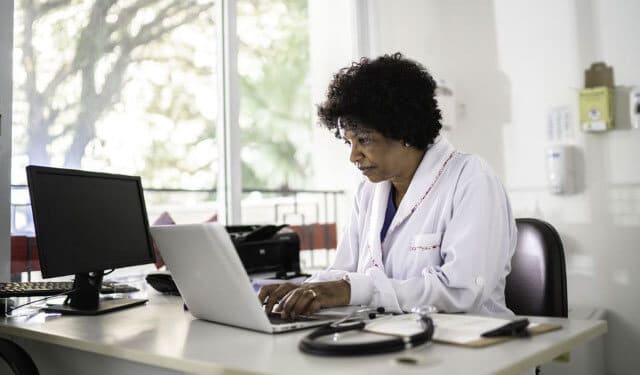 For medical practices, finding new patients can be as simple as looking where consumers spend the most time. That's why for years, marketers have been telling you that your practice needs to be active on social media. Yet not every practice is successful in its approach. Some never put the right strategy in place, and others give up too quickly, believing it "doesn't work" for their practice.
The truth is that the best social media marketing strategies include not only the right tactics but the right mindset. In this article, I'll offer a few key tips that I've seen help practices be successful.
Don't Get Stuck On Followers
Your brand might think about social media as building a community — because at one time it was possible to reach many of your followers. Now, social platform algorithms have limited how much brand content users see in the feed. Meaning, even if you had a million followers tomorrow, only a handful would be able to see your post. 
Your social media marketing objectives need to shift. Instead of focusing on followers, medical practices should view social media as accomplishing two primary objectives.
The first and foremost objective medical practices should have for social should be educating and engaging with potential patients. Start by understanding the key questions patients want answered, which will generally take the form of content about conditions, treatments and FAQs.
A close second objective is building the reputation of your practice, physicians and staff. This is essentially a byproduct of doing a great job with education and engagement. Your social content should embody the same things that build trust with patients: establishing your authority and expertise, expressing empathy, and quick-response interaction with patients.
Use Video
Social content is a game of attention. According to Facebook, for example, the average time spent looking at a post in the feed on mobile is
1.7 seconds. This is because people scroll quickly through social feeds, stopping only for content that catches their eye. 
Video is one of the best ways to get people to stop scrolling and consider your content. It's also better than static images at doing something that's extremely important for healthcare providers: creating empathy. As I explained in my previous article about empathy, video can build trust like no other tactic and can tap into the emotions that drive decisions. A great video, for example, can show that your practice understands patients' fears and that you provide education that helps ease those concerns.
Build a Strategy You Can Execute 
One of the easiest ways to begin your content strategy is to start with a handful of content pillars or themes that you can consistently create content about. For example, most medical practices might have the following content pillars:
Conditions: Conditions patients are actively researching.
Treatments: Treatments you provide to resolve those conditions
Philosophy: Your unique point of view on patient care.
Focus on Doing One Platform Well
Many medical practices overextend themselves and try to post on too many channels. This makes it harder to build the discipline to consistently post new content.
My advice is to figure out which platform is most relevant to the patients you're targeting and start by doing that one really well. For example, if you run an orthopedic practice that primarily sees older patients, start with Facebook. Why? Because you're more likely to reach older patients on Facebook. If you run an aesthetic practice that's targeting people in their 20s and 30s for lip injections, you might want to start with a more visual platform like Instagram.
Once you feel like you have gotten into a consistent schedule and are seeing some engagement, expand into a new channel. But give it some time — consistency is what builds results.
Invest in Paid Advertising
Quite simply, social media has become "pay to play" on most social platforms. You need to dedicate at least a small budget toward targeted paid social advertising. With a small paid advertising budget, you can ensure that your content reaches the right potential patients.
Unlike organic posts, which have no targeting at all, paid advertising allows you to target things like the specific age, interests and behaviors that signal someone might be seeking treatment, as well as being a good fit for your practice.
Measure Everything, But Understand the Role of Social
It's important to make sure you're properly tracking your social media efforts. This includes things like including trackable links on your social profile pages, as well as in the content you post.
But perhaps the most important tracking principle is how you measure the impact of social. It's fundamentally different from other marketing channels you might be using (such as physician referral programs). You should be measuring your paid ads based on outcomes like phone calls and office visits, but remember that your objectives also include patient education and brand reputation. These are almost impossible to measure but are invaluable to the growth of your practice.
As you can see in the strategies above, social media doesn't have to be difficult. In fact, most practices overcomplicate social by getting stuck on the wrong metrics or taking on too many platforms. By following the strategies and principles above, you can focus on what matters to make your practice successful.