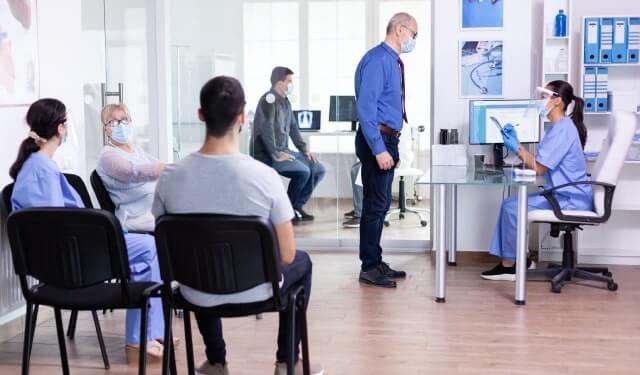 With hundreds of millions of active users in the US, Facebook continues to be an important platform to consider for your marketing.
The question for medical practices is no longer, "Should we use Facebook?" Instead, the question is, "How do we use Facebook?"
In order to get the most out of the channel, medical practices must be strategic and focused in their efforts. It's critical to invest in campaigns and tactics that further your goals. Your time and money are at stake.
How to Get More Patients With Facebook Ads
In this post, we'll discuss the 5 smartest ways to use Facebook in your current, medical practice marketing to get more patients.
#1 – Combine Lead Ads With CRM Follow-up to Get Patients
What are Lead Ads? Well, they're a specific type of ad format on Facebook. Here are a couple of examples: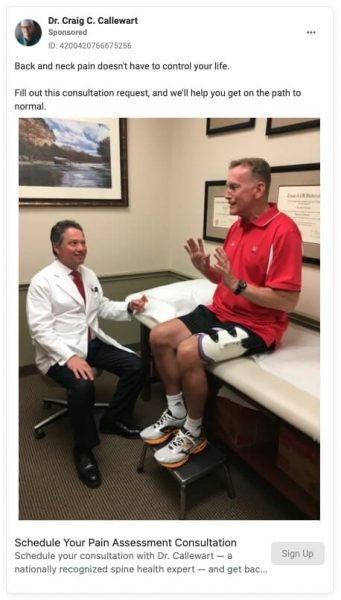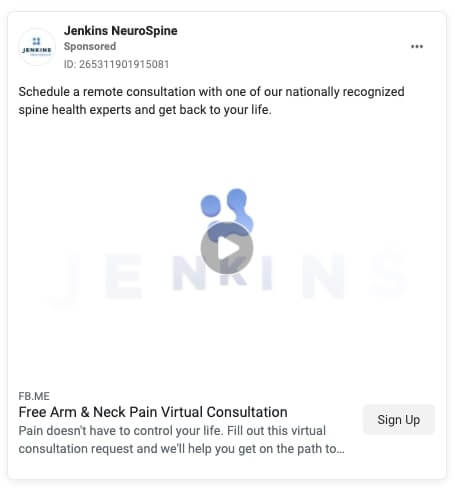 As the name implies, Lead Ads are unique because they are designed to gather Facebook lead information – name, phone, and email, primarily (plus additional fields, if you choose to request additional information from users).
These ads can appear throughout the Facebook ecosystem – including Instagram. Conveniently, lead information is gathered directly on the platform for both users and advertisers. This leads to higher lead conversion rates and more overall new patient leads.
While effectively managing a Lead Ads campaign by itself could drive decent ROI – we actually recommend taking your campaign a step further. Do this by having your Facebook leads flow into a HIPAA compliant CRM system.
This way, your leads can enter a nurturing automation sequence more quickly. When we grease the wheels and start conversations with leads more quickly, we see better appointment booking rates.
More like this: HIPAA Compliant CRM: Why Your Medical Practice Needs This
#2 – Boost Organic Posts Inside a Larger Facebook Ad Campaign
Unfortunately, organic reach on Facebook has been lackluster … for a long time. The average reach for an organic post these days is around 5% of page followers.
If your medical practice is 1) diligent with organic Facebook content, and 2) has an active Facebook page, then consider leveraging the 'boosted post' option. This can help combat underwhelming organic reach.
Notably, boosted posts are visible on the business page. They also retain engagement stats from the boosted exposure. While these metrics won't directly translate into patients or revenue, they can encourage longer-term page activity.
We don't typically recommend clients choose 'boosted posts' over a coordinated Facebook ads strategy.
We've found it's best if you use 'boosted posts' as part of a three-pronged approach:
Higher budget, more targeted, multi-placement Facebook ad campaigns.
Regular organic social posting of unique and engaging content
Strategic boosted posts to provide more reach for your best organic content
More like this:
#3 – Launch An Always-On Remarketing Campaign
We think Facebook's placements are excellent for re-engaging previous website visitors.
Remarketing unlocks incremental potential from website traffic. It allows you to get extra mileage out of your marketing efforts, including paid campaigns.
For most healthcare practices, a valuable remarketing campaign on Facebook shouldn't cost you an arm and a leg either. We find most private medical practices can run effective remarketing campaigns for approximately $1,000 / month.
Additionally, when it comes to creative – make sure those remarketing ads are appropriate for the audience. And by that we mean – don't address the audience in the exact same way you would an audience that is new to your brand.
Consider using the following types of ads on your remarketing audience:
Social proof video, such as a patient testimonial
High quality, downloadable guide to a treatment
Link to an engaging assessment on your website
Lastly – while it's important to realize that Apple's iOS updates will impact remarketing audience size in the long run, we recommend continuing to use them in the meantime.
More like this: Stale Facebook Ad Creative Could Be Costing You Clicks
#4 – Create Compelling Video Ads
Video content continues to grow in popularity and effectiveness. The time is now to invest heavily in quality video assets!
Videos have the unique advantage of being both engaging and easy to digest (compared to static, text-based content). But the real reason to incorporate video into your ad strategy is that it increases attention, interaction, and conversions. All this to say – we highly recommend using video to amp up your Facebook posts.
For example, when we added video to a recent client's Facebook ad campaign we saw some remarkable results when compared to the previous static image ads:
Video produced a 300% increase in leads
And a 65% decrease in cost-per-lead
Additionally, video is incredibly versatile. You can have a doctor discuss a cutting edge treatment, a former patient recount his or her positive experience, a nurse tout the practice's commitment to health and safety, etc.
Lastly, some bonus tips about creating quality assets:
Be sure to have subtitles. The vast majority of Facebook video content (up to 85%) is viewed with the sound off.
Shoot in a clean, professional setting. While clinical settings work, you could also shoot in an office or waiting room.
Create good lighting. We notice quality lighting can have a big impact on perceived production quality.
More like this: Guide to Video Marketing for Doctors: How to Get Started and 16 Types of Medical Marketing Videos
#5 – Leverage First-Party Data
When appropriate, we recommend creating target lists from your CRM.
Time and again, we've seen superior engagement and lead conversion from first-party data targeting. In addition, first-party data is becoming more important for targeting as the industry evolves away from cookie tracking.
In addition to directly targeting your contact list individuals, you should leverage Facebook's ability to create lists of similar users. These are called lookalikes.
Keep in mind that your lists should contain at least a few hundred contacts. Inevitably, Facebook won't be able to match all contacts to a corresponding Facebook profile; this means your final, matched list will be smaller than what you originally uploaded to Facebook.
Lastly, while it likely goes without saying, be sure to respect HIPAA and other data privacy considerations as you procure your lists.
More like this: Without a CRM, You're Losing Deals and Wasting Marketing Dollars
Get More Patients on Facebook – The Right Way
Following these 5 Facebook strategies will set you apart from competitors, and create a more effective way to reach new patients. While most medical practices don't put much thought into their approach, you'll have strategies for targeting and ad creative that is more likely to result not just in clicks, but calls and appointment requests.
It's important that you execute these strategies well. If you'd like to work with Facebook marketing experts that are focused only on healthcare, request a consultation to speak with one of our marketing strategists.
What to read next: