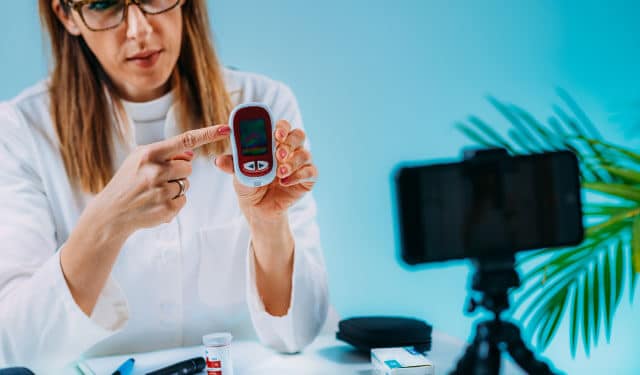 The time we spend in digital is increasingly dominated by video. Most physicians know that video should be a part of their marketing strategy, but where do you start? 
What type of video should you be creating? How can you create them? Where should you be posting them? How frequently? 
In this article, we'll answer these questions and more – all the key elements you need to build the foundation of a video marketing strategy that helps you build your reputation and attract more patients.
Why Should Doctors Create Videos for Marketing?
Two of the most important things your marketing must do is educate patients and build trust, and video is far superior to text at both. Potential patients will process and recall educational information better via video, and because a video is the next best way for them to meet a physician, video is ideal for building trust. 
In addition to being a better way to educate and build trust, video is just more noticeable than static images, especially in paid advertising. When doctors ask us how to get more patients, paid advertising is a key strategy we rely on. A recent client of ours saw a 300% increase in new patient leads from video compared to static image ads.
How is Healthcare Video Marketing Unique?
The educational element of healthcare video marketing is what makes it different. As a physician, you have to explain very complex conditions or treatments in a way that is easily understood and still engages the viewer. This is a challenge that marketers in other industries don't face. 
What Types of Videos Should Doctors Create? [With Examples]
Here are a few of the most common types of video marketing for doctors:

Physician introduction videos: Introduction from a doctor to establish her authority and build trust

Educational videos: Educate potential patients about the conditions and treatments that are most relevant.

Patient testimonials: Establishing social proof from patients about their experience.

While these are the most common, there are a number of overlooked videos that doctors could create for their practice. 
Physician FAQ videos

Practice Tours

Video Ads for Facebook and Youtube

TV Ads for Traditional TV or OTT Streaming (ie, Hulu)

Videos for Email

Videos for Recruiting

What Common Video Mistakes Do Doctors Make? 
The most common mistake is not investing in video at all, but when doctors do try to create video, there are a number of issues we commonly see:
Low Quality Audio
This is the issue that viewers are the least forgiving about because it keeps them from understanding the story or message you are trying to deliver.
Poor Lighting
Visually, poor lighting is most often the culprit. This is also one of the areas where doctors can most easily increase the quality of their videos.
Unnecessarily Long Videos
One thing we see commonly is physicians creating videos that are unnecessarily long. While it's ok to have a long video if you're, say, posting the replay of a 45-minute IVF seminar. However, it's not ok to post a 10 minute bio for a physician. Attention spans on digital platforms are short and ALL videos, short or long, must grab and hold attention.
No Distribution Plan
The most grave error we see is not having a distribution plan for your videos. If you plan to spend time and money on creating a great marketing video, you need to have a plan to distribute it. I can't tell you how many times I've seen an awesome video that had no views because it was added to a buried page on a website. 
How to Create Doctor Videos – Understanding Your Options
There are a number of options you have for creating videos for your practice.
Option #1: Shoot & Edit it Yourself
Unfortunately many doctors take this approach with predictably bad results. Simply put, your internal staff lacks the equipment and expertise to produce quality videos. 
Option #2: In-Person Shoot With a Traditional Video Production Group
While this process usually results in high-quality video, it's also the most expensive option for your practice. Due to the cost, you may only be able to afford a single video, rather than the amount you need.
Option #3: Remote Video 
Remote video is a new option that allows you to create high quality videos without an in-person shoot. The benefit is that you can create high-quality video at a fraction of the cost of a traditional in-person shoot. We offer a turnkey "done for you" remote video production service that even includes the audio and lighting equipment you need to separate yourself from other practices. Here's an example of a remote video we created.
Learn more about our remote video service and reach out with any questions you may have.
Creating a Video Distribution Plan
Before you create a single video, it's important to have a plan for how you're going to drive views and what the objective of your video is.
Below, we've included 4 primary methods of distribution you should consider for the doctor videos you create.
Video for Your Practice Website
One of the primary places that most doctors use the videos they create is on their websites. A quality video added to your website can have a big impact on the amount of new patient leads you generate. For a recent client, we saw an increase of 25% in the site conversion rate after adding video.
It's important to make sure the video content you create is tailored to the page you add it to. For example, an educational video about a particular condition should be added to the specific page on your site for that condition. Most physicians should have a plan in place to create videos for all of the conditions and treatments they offer.
Video for SEO
Video can have a big impact on the free, organic search traffic you receive. One of the biggest reasons this happens is due to something called "dwell time." It means how long a visitor stays engaged on your site and is one signal that search engines use to determine rankings. We saw an increase in dwell time of 26% for a client we created and added video to the site. This translated into an increase in search engine visibility for those pages.
In addition, 65% of searches on Google are now "zero click", meaning that Google is trying to answer questions without making people click. The videos you create and upload to platforms like Youtube can be indexed by search engines.
Video for Your Practice & Physician Listings
Many practices often overlook the importance of their listings, including both Google My Business and healthcare directories like Healthgrades and Vitals. In many cases, medical practices will see the highest number of leads coming from these channels.
We recommend distributing video to these listings to separate them from competitors.
Video for Social Media
One of the easiest ways to distribute the video you create is through social media platforms like Facebook and Youtube. However, it's important to understand that when you post "organically" (without paid ad spending) your reach will be limited and will not be targeted towards only those you want to reach. You should not expect your video to go "viral", which is why we also recommend allocating a paid advertising budget for the video you create.
Video for Paid Advertising
The best way to drive views of your video content that are targeted towards your ideal potential patient is through paid advertising. We recommend social media advertising on Facebook and Youtube – they're two of the most effective ways to drive new patients to your practice.
Video is key to this strategy. We've found that video ads drive a much lower cost per new patient lead than static image ads.
How Frequently Do You Need to Create New Content?
There are no rules for how often you should be creating content. What we recommend is that you create a strategy for the types of videos you want to create and where you'd like to distribute them. This will guide the number of videos you need.
A high-quality video that's important to potential patients can last you for several years.
Getting Started
The strategies above will help you decide if video marketing is right for you and how much video content you think you might need. Once you're ready to build a plan, it's important you have the right partner. Request a free consultation with one of our video marketing experts to help guide you through the process.