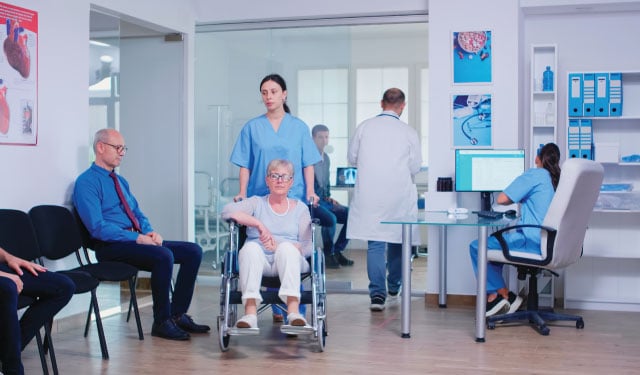 The goal of every medical practice is to convert website visitors into leads and eventually patients. Yet many medical practices don't know if they're doing a good job getting new patient leads, or if their patient conversion rate is below average.
In this article, we'll explore what medical practices expect new patient lead conversion rates to be, what they actually are and some key strategies for increasing conversion rates on medical practice websites.
More like this: 3 Challenges to Marketing a Medical Practice
Expectations vs. Reality
According to research from Unbounce, the average lead conversion rate across all industries was 9.8%. Yet more than 70% of marketers said they would only be happy with more than 10% conversion rates.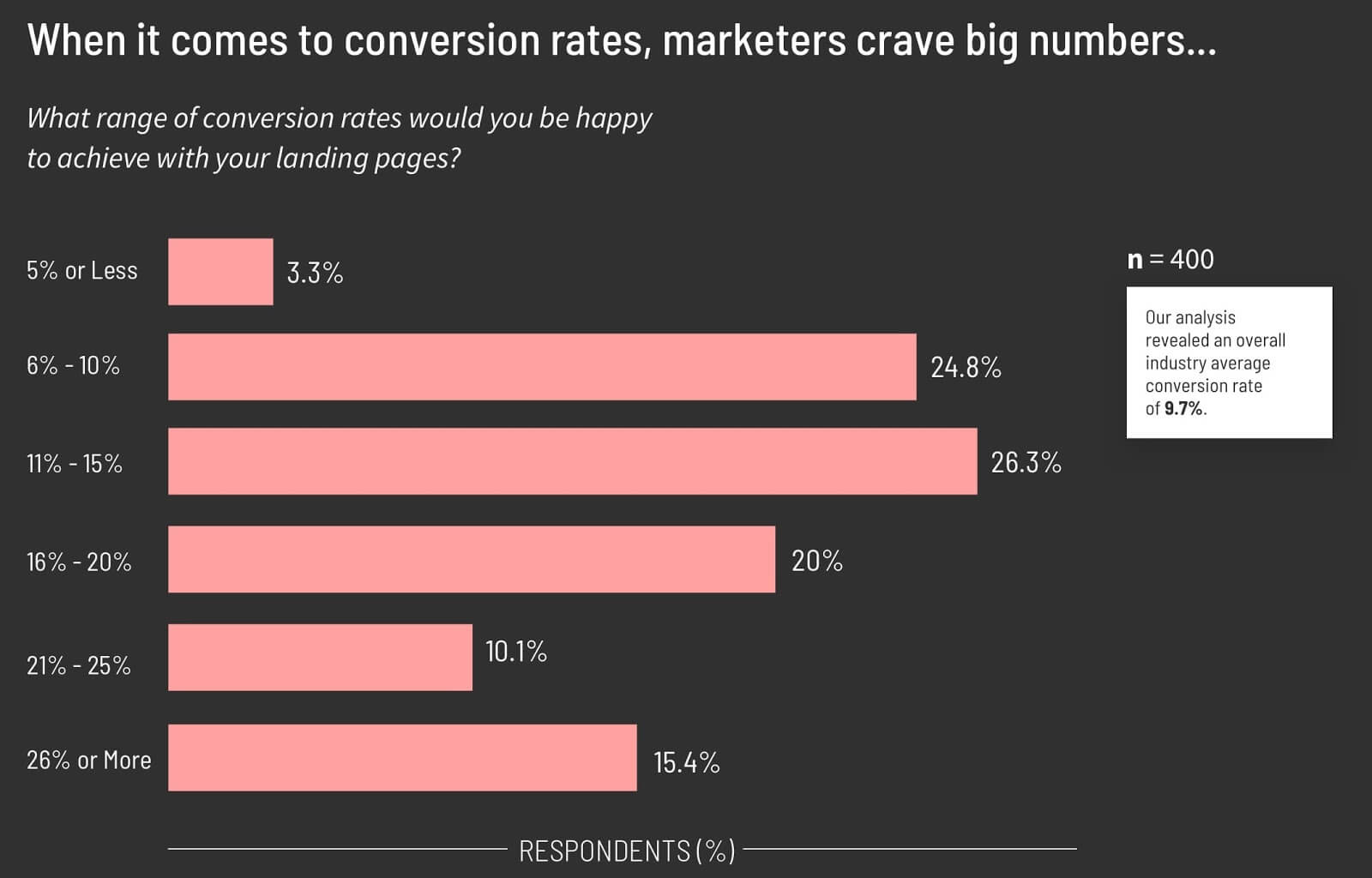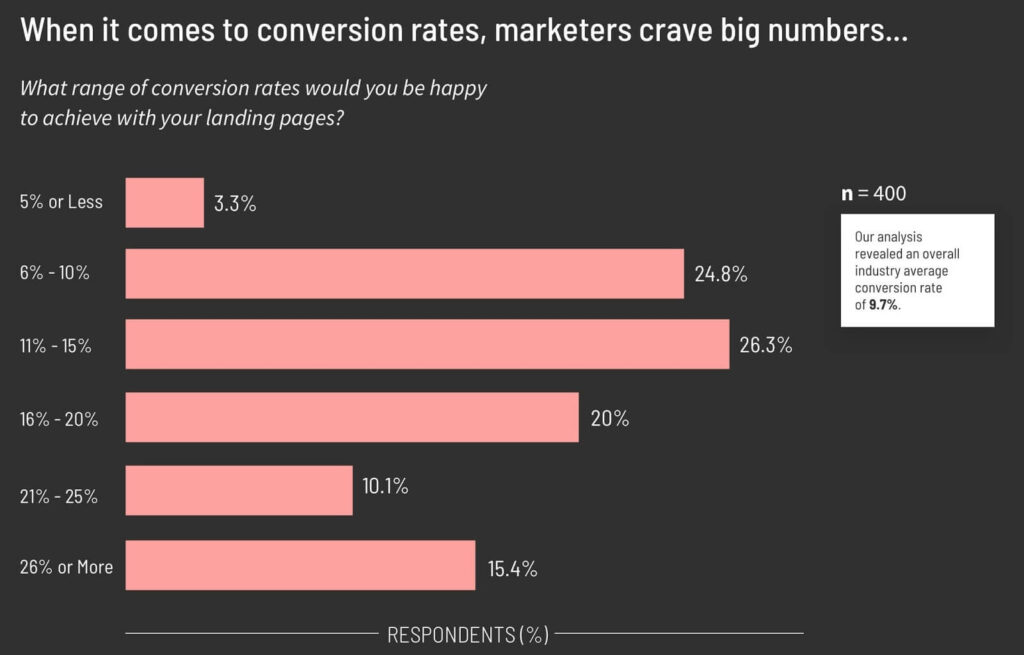 Why is there such a disconnect between the desired conversion rate and reality? 
It's because most marketers simply haven't been measuring conversion rates, so they don't have the right frame of reference to start. But the reality is – even if they're measuring conversion rates, they don't have the industry benchmarks to provide a context for how high or low those conversion rates are.
What's A Patient Conversion In Healthcare, Anyway?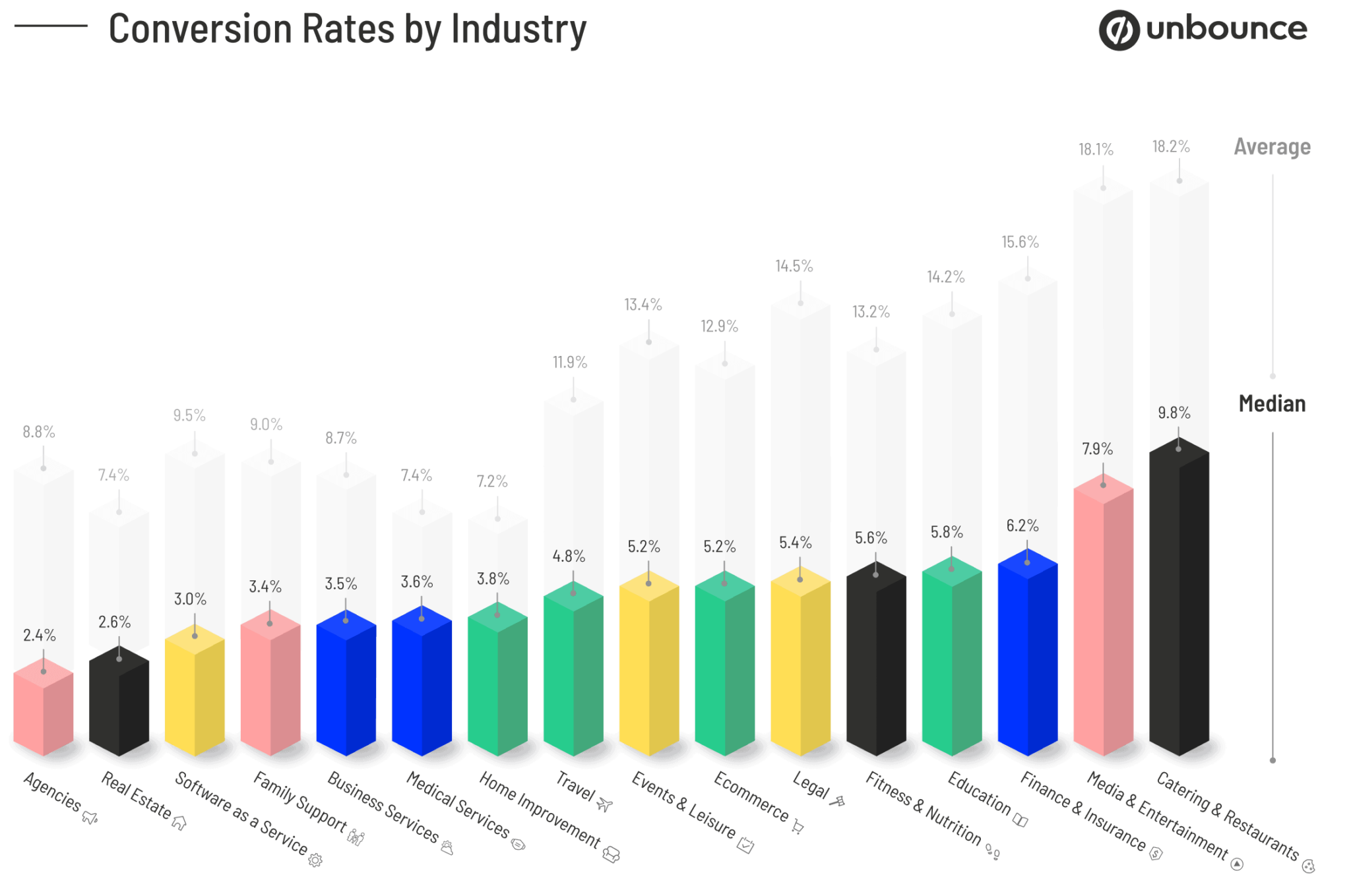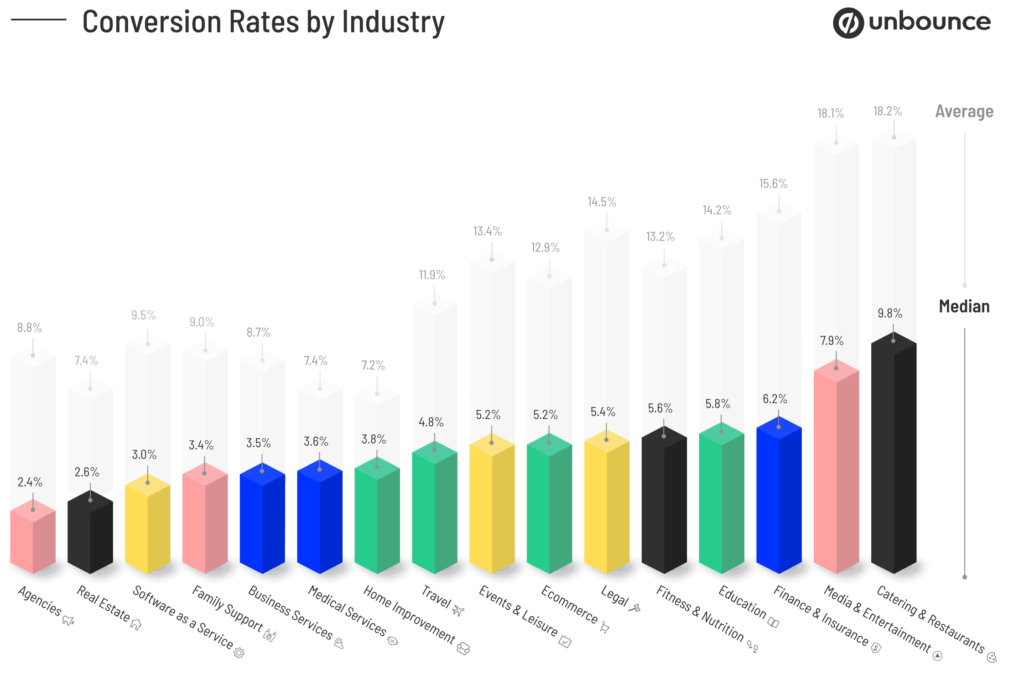 Patient conversions for medical practices occur when someone makes a phone call, or submits a form, like an appointment request. So the conversion rate is what % of medical practice site visitors resulted in a conversion.
In the same Unbounce report, the 'Medical Practitioners' industry median patient conversion rate is 3.6%, but the average is 7.4%. 
What is the difference between the two, and why highlight the difference?
The top 25% of healthcare-related landing pages average an impressive 20.4% conversion rate, which is why the average conversion rate statistic skews so much higher than the median conversion rate statistic.
Similar to how the top 1% income bracket skews the average American income to be inflated, the same goes for landing pages: It's important to understand the difference between the average conversion rate and median conversion rate because the median conversion rate gives a more realistic picture of average healthcare conversion rates.
So most medical practice websites are seeing less than 4% of site visitors result in a conversion.
More like this: Building A High-Performing Medical Practice Website in 2022
Strategies For Increasing Patient Conversion Rates
If you want conversion rates more like the top 25% of healthcare marketers, then there are a few best practices you'll want to develop.
1. Build patient trust with your website content.
You need to be both authoritative and continue to educate visitors to your landing page. If you simplify your content too much, you'll either be wasting their time with information they already know, or you'll fail to build trust as an expert. That doesn't mean you should use complicated, scientific jargon. Maintaining a college-level of reading comprehension on your landing pages will keep your visitors engaged and motivated to take action.
The best way to build trust is to educate new patients in your own voice. Make sure to showcase your physicians in content – this could be through adding videos of your doctors speaking about conditions and treatments, or even creating Q&A style interviews.
More like this: 4 Must-Haves in a Healthcare Content Marketing Strategy
2. Create patient marketing funnels.
Identify what information you need to provide on a landing page based on where the patient is at in their journey.
Your objective is to guide patients from learning about your practice for the first time through your marketing funnel to becoming a new patient lead and then an office visit.
Developing a marketing funnel means thinking about the questions patients have when they arrive at your practice site, and then marketing to them after they've visited if they didn't become a lead. 
You can build remarketing campaigns to reach site visitors who haven't converted to patients on platforms like Facebook, Youtube, other websites and apps to stay top of mind. Remember – it often takes multiple site visits before someone becomes a patient.
The three-pronged sales funnel below illustrates the segmentation of marketing tactics and KPIs based on where the user is in their patient journey and your marketing funnel.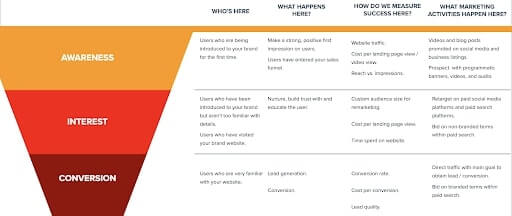 3. Develop diversified content (downloadable tools, interactive tools, videos, lead forms, blogs).
Of the 80% of Internet users who have made a health-related search, most frequently people went online to look up information about a specific disease or medical problem (63%) or a particular medical treatment or procedure (47%). 
In order to make your content about conditions or treatment stand out, you have to find ways to differentiate and provide value beyond what a patient might find on WebMD.
If you're writing blog content, find ways to bring a unique point of view or answer a key question that you find patients frequently asking about a treatment.
Explore different ways to encourage engaging and educating potential patients. For example, interactive tools and quizzes can be a great way to drastically improve your patient conversion rates. They can help the potential patient start getting answers and create new lead types beyond a "contact us" form submission.
Videos increase the time spent on your site, which can also have a positive impact on your conversion rate. 
The common thread between the highest converting sites in the healthcare industry is those pursuing a greater variety of lead generation options than a single phone number or a single lead form submission.
More like this: 4 Must-Haves in a Healthcare Content Marketing Strategy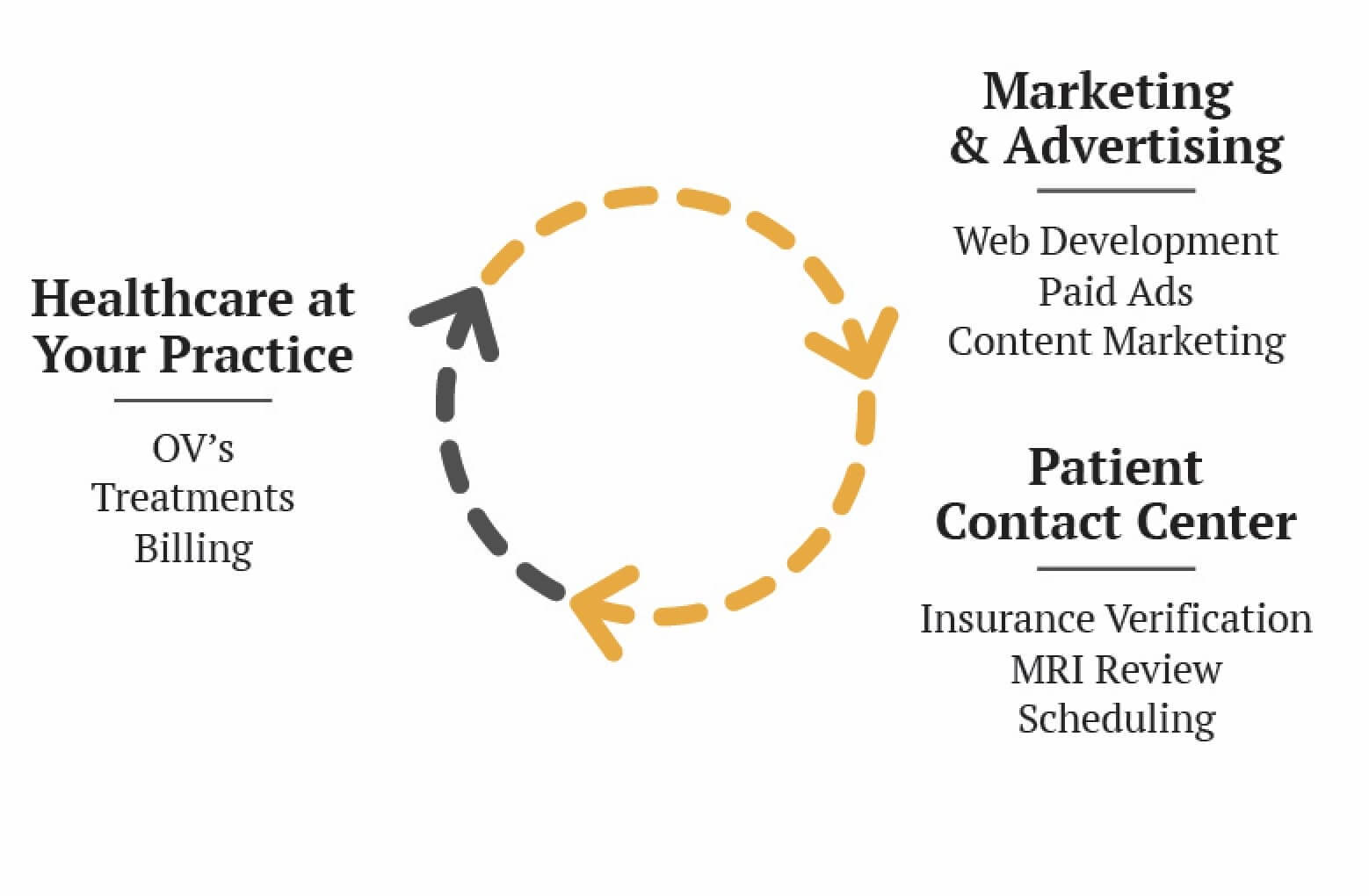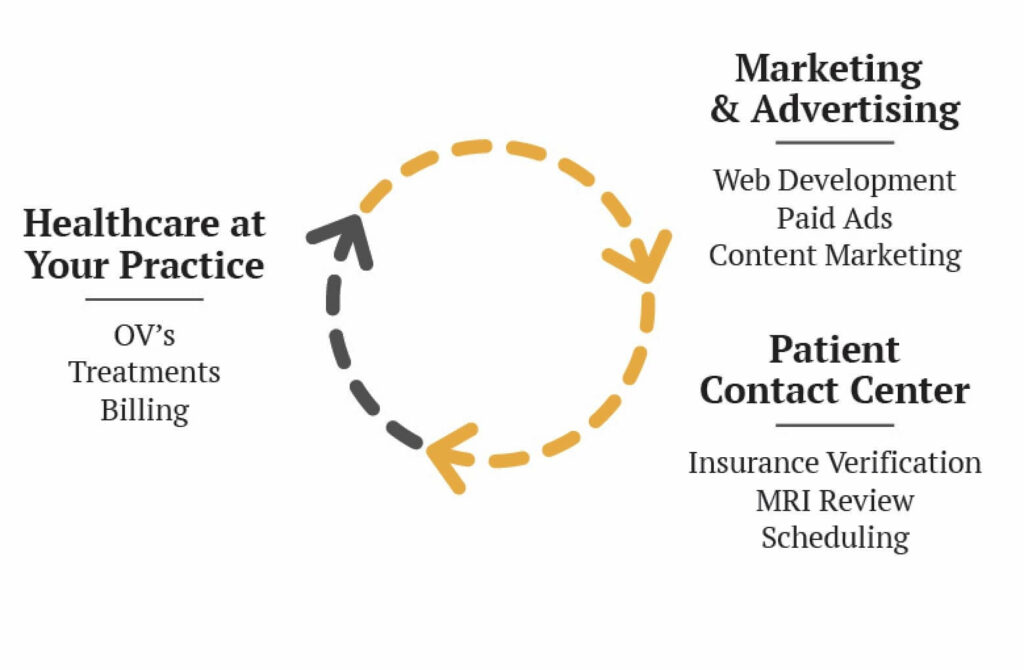 4. Unify Marketing Teams & Your Front Office
To generate patient leads and drive growth for your practice, you must cater to patients that are becoming savvy researchers. They are empowered by digital information and are highly aware of their provider options.
One of the biggest breakdowns we often see is a disconnect between patient marketing efforts and the front office. They are your sales team. Here are a few scenarios:
New patient appointment requests aren't followed up on quickly enough
Front office doesn't follow up enough times with new patient leads
Inconsistent messaging from the site vs. those answering the phones
All of the above can cost you, patients.
It's part of why we created RUNNER's Practice Marketing Method:
Hyper-targeted advertising and messaging for every campaign.
Content creation to educate patients, increase awareness and create engagement.
Website that converts traffic into leads using medical marketing best practices for patient conversion
Well-orchestrated front office communication
Follow up messaging such as text and emails to encourage feedback, referrals, and repeat visits
Measurement of metrics, insights, and reporting at every level
We believe it's the preferred model of what patient acquisition should look like, with integration between marketing and patient advocates.
5. Experiment With Social Ads
According to the Unbounce conversion report, the median conversion rate for traffic from social channels was higher than paid search for medical practices. This points towards the potential for paid social advertising to increase the number of conversions for your practice. Experiment with social ads and compare the conversion rate and cost-per-conversion to other channels.
Remember that with social advertising, creative and targeting are key. Make sure to leverage video where possible in your social ads, and prioritize targeting that reaches your best potential patients, including website retargeting and lookalike targeting based on your site visitors.
More like this: Think Your Content Doesn't Need Paid Social Promotion? Think Again. and Facebook Ads for Medical Practices [14 Best Examples]
6. Use Trust Language
One really interesting finding in the Unbounce conversion benchmark report for medical practices looks at the language of "fear" vs. language of "trust."
In fact, they found that trust words such as "proven" and "recommended," increased average conversion rates while fear words such as "harmful" and "illness" were correlated with lower conversion rates.
It's an important reminder that what we're often doing in medical marketing is building trust and that we must focus more on the hope that treatment offers.
Don't forget to also add empathy to convert potential patients. We've written before about the power of empathy in medical marketing and how empathy helps medical practices convert more patients and differentiate your practice.
More like this: The Power Of Empathy In Medical Marketing
Bringing It All Together
The first step is to understand what your current conversion rate is, and set realistic expectations.
Once you've done that, implementing the strategies outlined in this article will not only improve your landing page conversion rates but also can push you to set higher benchmarks as you improve. Conversion rate optimization is an ongoing process that's never done. You should always challenge assumptions and keep pushing.
Would you like to learn more about optimizing your landing pages and improving your conversion rates? Request a consultation or schedule a call with one of our digital marketing experts. We'll help you strategize, implement and optimize specific tactics based on your needs to outperform your expectations.
More like this: 44 Ways to Attract New Patients to Your Practice in 2022