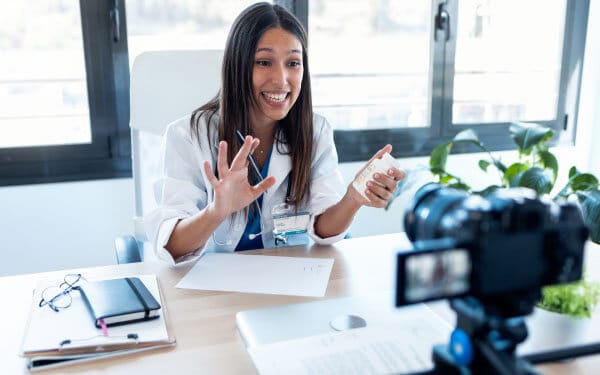 Video marketing has become an essential way for medical practices to attract more patients and build a reputation. One of the key elements of your medical practice video marketing strategy is the types of videos you create. This article will explore 16 types of videos that physicians should be created to promote their practice.
16 Types of Medical Marketing Videos
1. "About Me" Physician Videos
These videos should provide an introduction from your physicians to establish authority and build trust with the patient. The best videos will also build empathy with patients. Try to keep them under 2 minutes, and make sure every physician in your practice has a video. 
Suggested Watch: Make Your Messaging Stand Out With Empathy [Video]
Suggested Read: The Power Of Empathy In Medical Marketing
2. "About Us" Practice Introduction Video
Introduce your practice with a short video that clearly explains the services you offer and most importantly, differentiates you from other practices potential patients may be researching.
3. Office Video Tour for Google My Business & Directory Listings
One way to separate yourself from competitors is to have more than photos for your office. A video tour of your office is a great addition not only to your website but for your practice listing on Google as well as other healthcare directories like Healthgrades.
4. Physician FAQs
Provide answers to common questions that patients may have about conditions and treatments, what to expect during a visit and why they should choose you. These should be videos with a number of short, concise answers rather than in-depth education.
5. Condition Education Videos
For in-depth education, start with educating potential patients about the conditions they are researching. Make sure you're not just telling patients what they could already find on WebMD. These educational videos should reflect your physician's expertise.
Our advice – don't rely on 3rd party video libraries you license to educate patients, as it's a missed opportunity to build the reputation of your physicians. These videos can be some of your longest videos.
6. Treatment Education Videos
These videos are similar to the condition videos but focus on the treatments you provide rather than conditions. The same principles that apply to conditions apply here.
7. Animated Videos
While most of the videos your practice creates should come from a physician, sometimes a concept you're trying to explain needs animation to be effective. Consider when condition or treatment videos might need animation.
8. Facebook/Instagram Video Ads
When you're creating videos for ads on Facebook and Instagram or other social media channels, you'll need to create much shorter videos (less than 60 seconds) that are focused on a single message you want to deliver, such as asking potential patients to schedule a telehealth visit.
In case you're interested, here are 6 social media tips for medical practices.
9. YouTube Video Ads
Like video ads on Facebook, YouTube video ads should be focused on a single message. Ad formats include skippable ads, as well as non-skippable 15 second and 6-second ads.
You can learn more about YouTube video ad types here.
10. YouTube Channel Videos
Outside of YouTube video ads, you can also create videos that are distributed organically through a YouTube channel. It's important to remember that you can't just post videos to Youtube and expect views – this is a mistake we commonly see with medical practices. Success on Youtube organic requires consistent video creation over a long period of time. 
11. Potential Patient Webinars
For medical practices that provide complex or expensive treatments, webinars can be a great way to deliver in-depth education and field questions from potential patients at the same time. We see these frequently used by fertility practices, for example, and can result in driving more qualified patients. This is something we can help practices create to offer live or on-demand.
More like this: Fertility Clinic Marketing in 2022 – 9 Growth Strategies
12. Live Videos
Live video broadcast on social platforms can be easy to create video. Keep in mind that it's difficult to get potential patients to tune in for the live broadcast, and you'll see more views when you offer playback of the live video after the event. Facebook, Instagram, Youtube, and TikTok are all examples of social platforms you can broadcast live on.
13. Email Videos
Videos can also be included in emails you send to potential or existing patients. Personalized 1-to-1 video messages work particularly well here.
More like this: Why Email is (Still) Your Single Greatest Determinant for Inbound Marketing Success
14. Thank You Page Videos
One very effective type of video to create for your medical practice website is thank-you page videos. These videos appear after someone submits a form such as "request appointment", and can provide a nice message to help them understand what steps are next, or perhaps convince them to call you right away.
15. Videos for Recruiting
Videos are also effective for your recruiting efforts and can be a nice addition to job listings you post or on a careers page to help potential hires understand roles, responsibilities, and the work culture you've built.
16. Patient Experience Videos
Lastly, we don't often think about how videos can be used in the patient experience. One example where video can be valuable – providing expectations or instructions prior to a consultation appointment or a procedure.
Conclusion 
As you can see, video can be used throughout your marketing campaign across many different channels. What's more, the variety of formats, content, and length are diverse. It's important to understand what kind of video you need to create and how to distribute it properly.
We often see practices creating videos that get no exposure because they haven't created a distribution plan.
Suggested Read: Guide to Video Marketing for Doctors: How to Get Started
We can help. Request a consultation with one of our video marketing experts about how we can help you plan, shoot and distribute video.