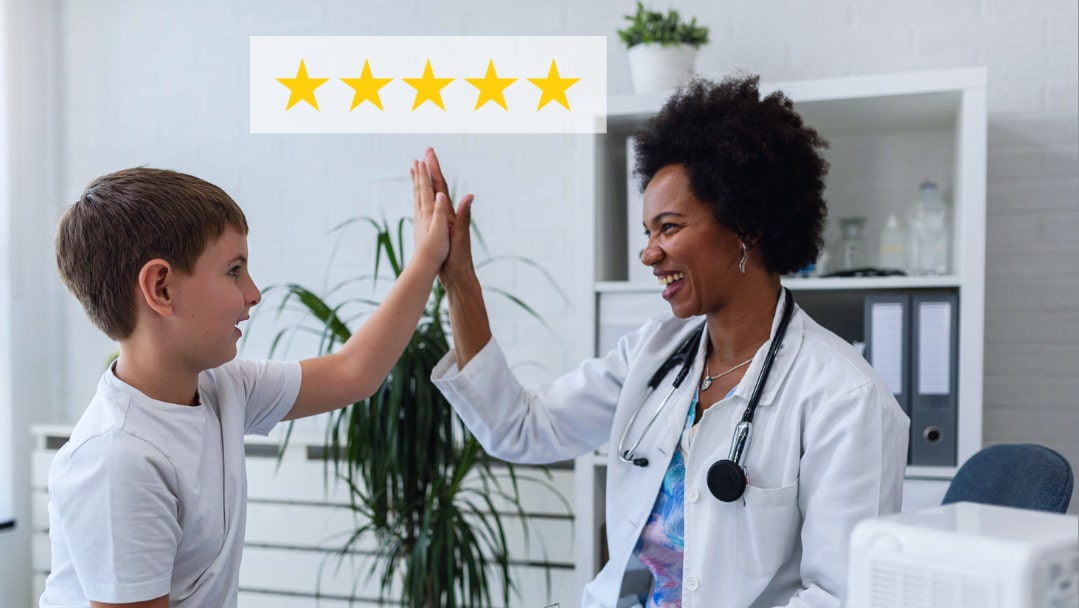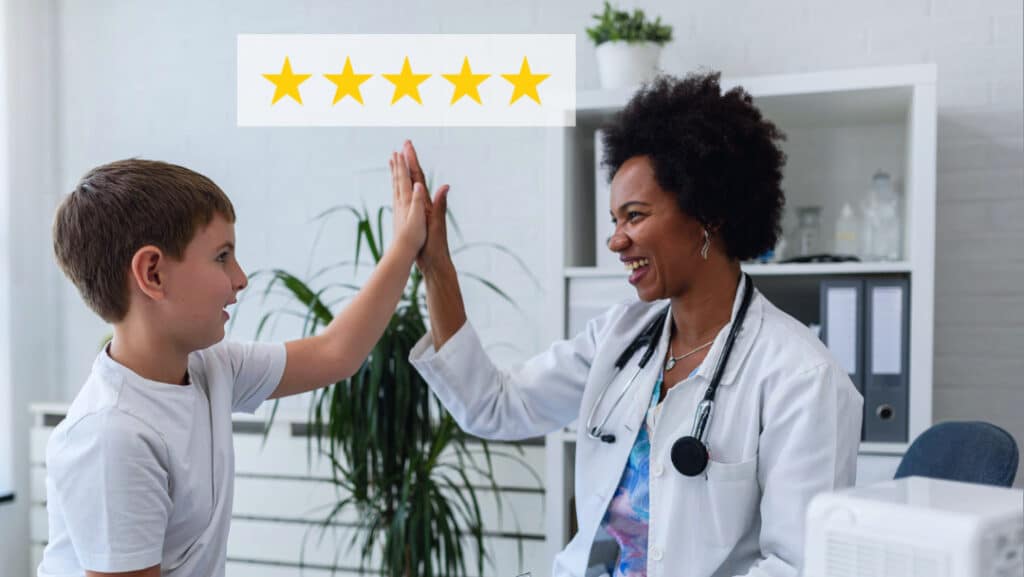 Introduction
As a physician, you've been building your reputation for years. Online reputation management for doctors is also a long-term strategy, but it should focus on your practice. Online, your reputation is built by patient reviews.
This guide will show you how doctors build a reputation online, which we have mastered over the past decade. Learn why you should care about online reviews and 7 key strategies for growing the number and quality of reviews.
Know what information you're looking for? Click the link to jump to that section, or keep reading.
How Do Doctors Build a Reputation Online?
Your reputation is how people online judge your skills and quality of care. They do this by doing research and examining your digital footprint. The most common elements of building that reputation include:
Having a Website Presence
Your practice's website is the front door for your brand online. Essential items to consider:
Does the quality of your website match your quality of care?
Are you showcasing patient testimonials that cast a vision of success?
What are you doing to educate patients on your site?
Have you made it clear how you're different from other practices they could choose?
Our custom medical practice websites are built to get more qualified patients in the door to your practice. Click here to learn more.
Creating Educational Content
The content you publish is essential for educating potential patients and building trust. Your patients are looking for answers about conditions and treatments – are you helping them find solutions?
More like this: 4 Must-Haves in a Healthcare Content Marketing Strategy
Practice and Physician Listings
Practice and physician listings have become the primary way people interact with your practice, especially Google, when not on your website. Essential items to consider:
Do you have listings for BOTH your practice and physicians?
Is the information in these listings accurate?
Are you building out these listings as much as possible?
Online Patient Reviews
Your online patient reviews are arguably the most important way to build a reputation because they are the modern equivalent of word-of-mouth. Essential items to consider:
Can you easily find reviews for your practice?
How many reviews do you have?
How good is your overall star rating?
Are the reviews overly negative and not an accurate representation of your practice?
Do you respond to reviews?
More like this: Managing Your Online Reviews: Get More & Better Business Reviews and How To Grow Your Patient Reviews
Why You Should Care About Practice Online Reviews
Simply stated, patient reviews are perhaps THE most critical factor in choosing a physician.
This is because potential patients are shopping around when deciding on a provider. Not only are patients doing significant research on symptoms, conditions, and treatments before seeing a physician, they are actively comparing physicians before making a decision.
Patients Are Actively Shopping Across Search Engines
They visit healthcare review sites (such as Healthgrades and Vitals), medical information sites, and other healthcare provider websites.
Did you know that, on average, consumers use three different websites during their healthcare research process and read 5½ reviews before making a decision?
Online Reviews Are the New Word-Of-Mouth
Potential patients place the most trust in the word of other patients dealing with the same conditions.
Even Physician Referrals Will Research Your Reviews
According to a Press Ganey Healthcare Trends survey, 84% of patients said they would NOT see a referred provider if they were rated under 4 stars.
Online Reviews Are Important to Local SEO
Having online reviews helps you attract more patients seeking out practices and comparing physicians.
More like this: SEO for Medical Practices: 12 Strategies for 2022
Online Reviews Help You CONVERT Leads Into Patients
This is the most crucial element. It's those reviews that convince them they've found the right physician.
More like this: Boost Revenues with a Proactive Approach to Online Review Management
7 Ways to Grow Your Patient Reviews
When building your online reputation, the goal should be to increase both the number of your reviews and the quality of your reviews. Here are 7 strategies you can use to do both.
1. Make Sure Your Practice and Physician Listings Are Claimed and Built Out
All of your patient reviews are connected to your practice or physician listings. Therefore, you must build listings for BOTH your practice and your individual physicians, which will provide more visibility overall for your practice — the only exception to this is when you have a single provider practice, where you can only have a single listing.
In addition, it's essential that in addition to reviews, you have the entire listings built out to be as complete as possible, outlining important information patients would want to know – services, insurance types accepted, photos, and more.
2. Don't Ask Everyone for a Review
The best strategies for building reviews are carefully designed. And one of the biggest mistakes that most practices make is asking EVERYONE for a review — you should only ask those who've had a great experience.
How to Ask for 5-Star Reviews
You use a review management system like the one we've built at RUNNER.
We first ask potential patients how likely they would be to recommend your practice on a 1-10 scale (this is called a net promoter score).
We then ONLY send invitations to write reviews on Google and other platforms to those rating us a 9 or 10.
All other ratings are sent back to you to respond, especially if you see a negative experience.
This ensures that you're proactively growing only the highest quality reviews.
Want to get more customer reviews, get found online, and attract more new patients? Learn how you can with RUNNER's online review management service here.
3. Proactively Ask For the Review In-Person When the Experience Is Great
Don't shy away from asking for reviews in-person when you know the patient experience has been great. Instead, take advantage of those moments in time to let the patient know how much it would mean.
4. Automate Your Review Requests
Physicians with the highest quantity of reviews don't just rely on in-person requests. Instead, they automate the process of collecting reviews. This ensures that you're continuously asking for, and receiving, good reviews.
The only way to do this is through doctors' online reputation management platform like we've built at RUNNER. Keep in mind that getting the timing right for your automation is vital.
For example, if you're a surgeon, you don't want to send a review request RIGHT after surgery – you want to wait until the patient has had time to recover and feels better.
5. Ask For Reviews Using Both Text Messaging and Email
Average email open rates are only around 20%. This means that if you only send review requests via email, many of your patients may not even see the request.
We recommend that practices use both SMS text messages and emails for review requests to ensure the highest possible volume.
More like this: How to Securely Text Message Patients in 2022 and Why Email is (Still) Your Single Greatest Determinant for Inbound Marketing Success
6. Be Responsive to Reviews
Respond to the reviews you receive on Google and elsewhere, not just the negative reviews. Being responsive will differentiate your practice and provide a window into the type of responsiveness and communication a potential patient can expect.
7. Reviews Are a Long-Term Effort
Lastly, it's important to note that building reviews take time. Just as it took time for you to build your reputation as a physician, it will take time to build your online reputation. Your goal is to have a steady stream of new reviews that, over time, will compound.
Conclusion
When a potential patient finds your practice reviews, you want to have higher quality reviews than any other physicians they may be researching. The strategy to reach that goal isn't rocket science, but you need both the strategy and technology platform to automate the process.
That's why we built our Reviews Manager service — that helps online reputation management for doctors:
A platform to help you collect more 5-star reviews
Help keep negative reviews off Google
Keep the feedback coming into the practice
Convenient dashboard to monitor and reply to new reviews
If you'd like to begin growing your reviews, request a consultation with a RUNNER expert to learn more about our reputation management service for doctors.
More like this: 43 Ways to Attract New Patients to Your Practice in 2023