Center for Neuro Pain Technology

Looking for Spinal Cord Stimulator Patients
The Center for Neuro Pain Technology came to RUNNER because previous advertising efforts had seen limited success, with many unqualified patients being driven to the pain management practice. In addition to driving more qualified pain management patients, the practice wanted to focus on driving more profitable spinal cord stimulator patients through targeted advertising.
The Right Strategy for Growth
RUNNER began by doing a comprehensive marketing strategy, analyzing the competitive landscape, including SCS device manufacturers, who outspend every practice. This strategy also included narrowing down our target, establishing key messaging and projecting the kind of paid advertising budget needed to acquire these very specific patients.
We built a custom website based on our extensive experience in spine marketing, including the condition and treatment pages necessary to target the highest priority patients for pain management and spinal cord stimulators. The site was also built to be optimized for SEO, driving long-term growth in unpaid traffic from search engines.
After launching the site, we launched our paid advertising campaign, which centered on Google Ads. RUNNER built a list of high-intent keywords that signal patients who may be candidates for spinal cord stimulators, such as failed back surgery keywords and CRPS.
In addition to the paid advertising, one of the keys to our success has been our Front Office Helper platform. It allows the front office at Center for Neuro Pain Technology to track and work leads, and includes automated lead nurturing through email and text messaging to help the front office better convert patients.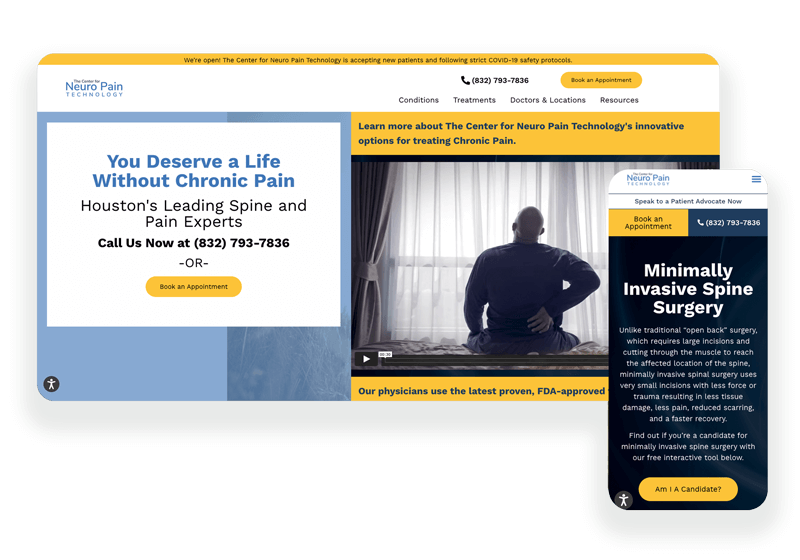 More than 2,300 leads generated
traffic to lead conversion rate