Digital Advertising
Local Listings
Reviews Manager
Social Media
Content Marketing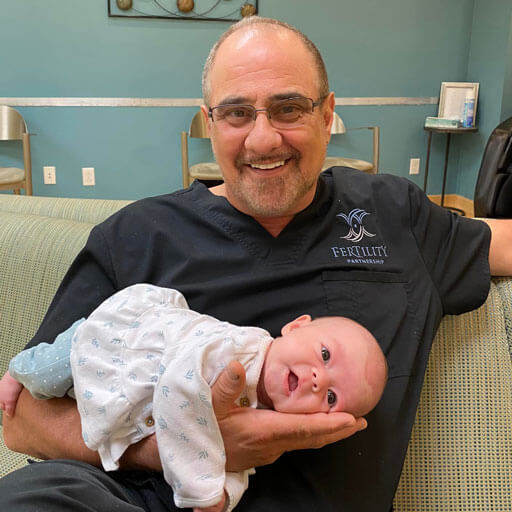 Increase New IVF Patients & Grow Revenue
Fertility Partnership is a renowned fertility practice in St. Louis. Founder and reproductive specialist Dr. Elan Simckes believes that fertility care should be more readily accessible to anyone. Instead of charging the rates of most other IVF clinics, Fertility Partnership charges roughly half of what many other practices charge.
When Fertility Partnership first came to RUNNER, they were looking for one thing – new patient leads that would turn into IVF cycles – letting more potential patients know about their affordable IVF offering. They also wanted to build a digital marketing plan that lived up to the reputation of Dr. Simckes.
Our first step was to audit the previous digital marketing campaigns another agency partner had been running. We found a campaign that was NOT optimized for results. While the cost-per-lead looked good on the surface, targeting for the campaign was national, resulting in very few actual patient OVs. In addition, we noticed that tracking was set up incorrectly to count actions like website visits as conversions, rather than focusing only on phone calls and form submissions.
Highly Targeted Advertising to Drive New Patient Leads
RUNNER first created a comprehensive plan for overhauling Fertility Partnership's advertising campaign. This included creating new campaigns that focus on high-intent keywords that drive patient OVs, like "IVF doctor near me" or "best IVF in St. Louis" and "affordable IVF doctors." We also tightened the targeting to eliminate waste and focus the budget on areas most likely to drive new patients.
In addition to our paid advertising strategy, we implemented key website optimizations to drive more leads, as well as a comprehensive effort to boost local SEO for Fertility Partnership through building out Google Business Profile listings, distributing them to other directories, and implementing a review management system that enable the practice to drive more high-star ratings.
Lastly, we included RUNNER's Front Office Helper, a HIPAA-compliant new patient CRM platform that allows Fertility Partnership a way to track and easily follow-up with new patient leads via calls, text and email. This system ensures not only that we can measure the impact of our digital marketing strategy, but that the practice can turn more of those lead inquiries into patients.