Institute for Robotic Surgery
Website Design
Paid Advertising
Front Office Helper

World-Class Website for an Internationally Recognized Hospital
Hudson Regional Hospital approached RUNNER to grow their internationally recognized Robotic Surgery center. This meant a desire to give it more prominence and create a separate website, rather than keeping the practice buried in the hospital site.
Once launched, they wanted to begin a performance marketing campaign that would build the brand reputation of the Institute, as well as drive qualified patient leads – beginning with the Spine & Orthopedic service line.
Making the Case for Robotic Surgery
RUNNER created a custom-built website for the Institute for Robotic Surgery brand. It showcased all 7 service lines at the Institute, going most deeply on spine condition and treatment content. The site also showcased the robotic surgical technologies and helped patients understand the benefits of choosing a provider at The Institute for Robotic surgery.
Our paid media campaigns centered on Google Ads, focusing on the high-intent keywords that we know drive potential patients that have the highest likelihood to result in surgeries. RUNNER developed key messaging in these ads to help patients understand the advantage of Robotic Surgery at Hudson Regional Hospital.
We optimized these ads based on location in the Tri-State area, to focus on geographies where we saw the best conversion rates, as advertising in the New York, New Jersey and Connecticut markets can be very competitive.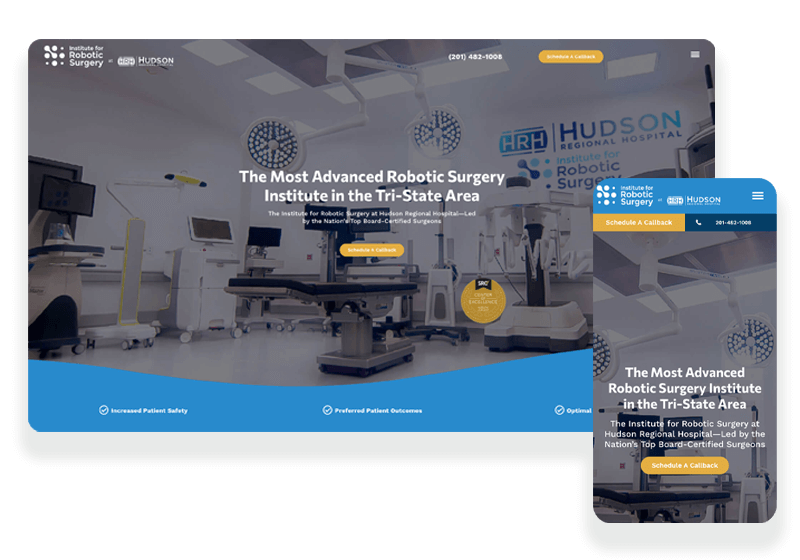 In the first 90 days of the campaign