Best Digital Marketing Agency Dallas 2018
We are pleased to announce that Clutch has recognized our hard work and dedication to the digital field once again, naming RUNNER alongside select other agencies as standouts in the following fields: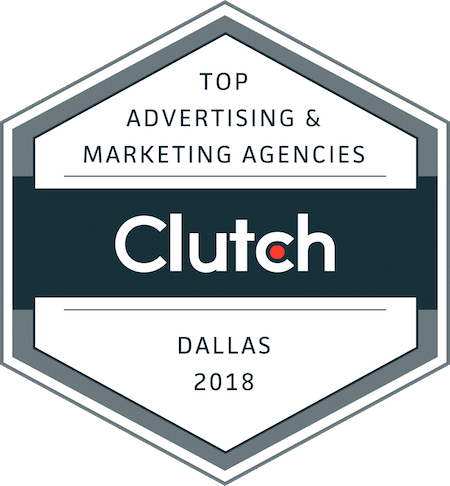 Top Full-Service Digital Agency – Dallas – 2018

Top Digital Strategy Agency – Dallas – 2018

Top Inbound Marketing Agency – Dallas – 2018

Top Content Marketing Agency – Dallas – 2018

Top Web Design Agency – Dallas – 2018
Our clients gave their candid and insightful remarks about their collaboration with RUNNER to Clutch, a B2B market research firm that evaluates marketing agencies, and their praise is getting publicized. We'd like to thank our clients for sharing their positive experiences to help get RUNNER named one of the premier digital agencies in Dallas!
Big Picture: Best Web Design, Best Content Marketing
Our comprehensive approach and business expertise have positioned us to excel in this exceedingly competitive industry. Success in this industry is no easy feat, but our team and clients see real results with inbound marketing as our primary focus supported by strategy and web development. We help define Key Performance Indicators and establish a Drive Traffic Strategy that includes advanced SEO techniques. In fact, we've also been recognized for our SEO services on Clutch's sister website, The Manifest. We feel fortunate to have these platforms as a way to feature our team's talent across branding, inbound marketing, and web development.

The CEO of a WiFi platform described the stellar working relationship between RUNNER and smaller firms:
"Their team was hard working and responsive. They created a very easy work environment, especially for a startup like us."
The owner of Fort Worth Fabric Studio, Jodie Heinold, celebrated RUNNER, as well:
"The communication was absolutely incredible with the guy they had working as my project manager. I really can't say enough good things about that side of it. We were in touch pretty much daily on the project. They sent ideas to troubleshoot things that needed to be fixed or improved. It was absolutely terrific."
For the past 13 years, RUNNER has established highly effective inbound marketing to better connect our clients with their customers. Subsequently, our clients have exponentially increased their profitability and built strong brand loyalty. As a Hubspot partner agency, we have a diverse range of capabilities and have applied those skills to numerous industries from healthcare to fine dining. With reviews on Clutch, we're excited to continue broadening our client reach and fine-tune our craft even further (always onward and upward)!
Ready to see what our award-winning team can do for you? drop us a line to learn more about how our expertise can make a tangible difference for your business.