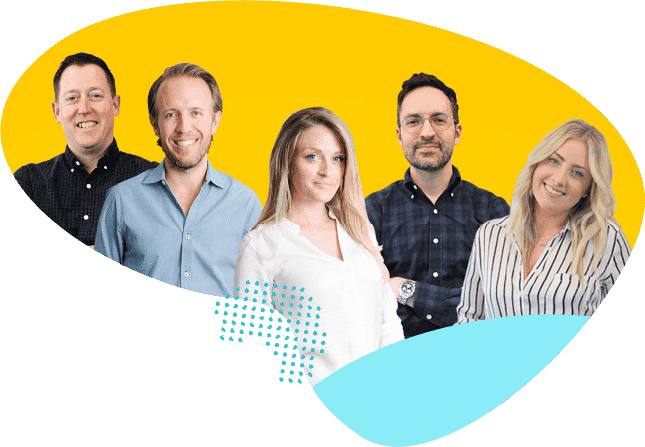 It's time to find a healthcare marketing agency when you're looking for growth, but don't have the internal resources or the marketing strategy to make it happen.
So how do you decide what healthcare marketing agency to work with? In this guide, we'll answer that question – giving you a framework to decide on what agency is the best fit.
What Are Your Marketing Goals?
The most important place to begin your agency search is by looking at your goals. This decision should primarily decide which agency is the best fit. Common marketing goals for medical practices or healthcare B2B businesses could include:
Increasing qualified leads
Increasing office visits
Increasing demos with a sales team
Increasing awareness of your healthcare brand
Increasing reputation for physicians
Increasing qualified organic search traffic from Google
Increasing online sales of a product or service
Understanding your goals is extremely important, as you'll want to understand how well your agency can impact your goal. You'll want an agency that has extensive experience driving the results you care about. 
If you don't have clear goals, you may want to go through a marketing strategy exercise to identify and prioritize your goals. This is a service we offer many of our clients.
Request a consultation to learn more.
How Sophisticated is Your Current Marketing?
Are you at the beginning of your marketing journey and looking to put a foundation in place? Or are you a sophisticated marketer looking to level up your marketing approach? This makes a huge difference. Some agencies offer services that primarily cater to healthcare marketers that are just beginning or "checking boxes" for foundational marketing, while other agencies are a better fit to offer the kind of strategic guidance that more sophisticated marketers may need.
Types of Marketing Agencies
Agencies come in all shapes and sizes, but one of the most common guiding principles for marketing agencies is the type of services they offer. Some agencies are "full-service", meaning they offer a wide range of services, while many other agencies may specialize in specific types of marketing services. The most common types of specialization will be around website development, search engine optimization (SEO), content marketing (blog creation), and paid advertising.
The question here is – do you want an agency that can provide multiple services and grow with you? Or are you able to manage multiple agency partners who specialize in different services?
It should be noted that in high-performing digital marketing strategies, there are often cost efficiencies and performance multipliers when marketing services are connected.
Healthcare Marketing Experience
Experience matters. We often work with medical practices and healthcare B2B companies that come to us because their current agency doesn't "understand" healthcare marketing.
A healthcare marketing agency like RUNNER that specializes in healthcare will be able to get you results much faster than a general marketing agency that's learning on the job and guessing at what will have the most impact.
We often see general marketing agencies calling themselves healthcare marketing specialists while at the same time catering to law offices, home services, and more.
Healthcare Marketing Agency Team Members
Talent makes up the core of any marketing agency. You're essentially buying the time and expertise of the agency's team members. It's important to understand the level of expertise of your partners. Agencies that cater to beginning marketers often have less experienced team members.
A few important questions to ask yourself are:
Who will be working on my business day-to-day? Often the people you talk to in new business aren't the people that will be on your account day-to-day
How long have they been at the agency?
How many other clients do they work on?
How well do they understand the problems my business faces?
Healthcare Marketing Agency Culture
The partnership you have with an agency is about the experience an agency has and the relationship you build with them. Company culture has a big role to play in that relationship.
What is the company culture of the agency? Do they share the same values? Doe the company culture attracts the kind of talent you want as partners? 
Reputation and Thought Leadership
Does the agency you're partnering with have a good reputation? Have they been successful with other clients? The best window into an agency's reputation are the business reviews you can find on their official Google My Business listing, or on specialized agency listing sites like Upcity.
In addition, the marketing landscape changes quickly. While the fundamentals of branding and messaging may not change, the tactics and methodologies must change based on this ever-evolving industry.
Check to see what kinds of insights the agency is sharing through their social media or blog. The strategic thinking you see reflected in agency content will give you a good sense of the kind of thought leadership they can provide.
Healthcare Marketing Agency Processes
Having proven processes is often the key to generating repeated results. Explore if the agencies you're working with have processes and methodologies that create trust they'll do a good job.
But beware of agencies that sell their process as the ONLY solution to your marketing challenges – there are always exceptions and a good agency should help you understand when that's the case.
Healthcare Marketing Agency Pricing
Find an agency that fits your budget, but make sure your budget is right. This means having a clear understanding of what you can afford, as well as what you should be investing in marketing. The average annual marketing budget should be around 8%, according to Deloitte's annual CMO survey – but the reality is that budget and pricing often revolve more around how valuable you view the work to be. When it comes to agency pricing, you get what you pay for – so if the pricing seems too good to be true, it probably is.
Red Flags to Avoid
There are some common red flags that I think all healthcare marketers should be aware of when picking an agency. These can often be signs that an agency isn't the right fit for you, or that their work may not result in the outcomes you want.
Bad Chemistry: This is a sign that either your agency doesn't have the right talent, culture, or you're just not a fit.
One-Size-Fits-All services: Beware of agencies that only sell cookie-cutter services. I see this most often with services like templated websites and in SEO. This is only done to make the agency more money or to get you a lower price point, NOT to get you the best results.
Absolutes: Experienced marketers know that "it depends." Beware of agencies that speak in absolutes – that a certain platform is "dead" or "never works." Those are signs that they either aren't as experienced as you think, or they're focused on selling you the services they want, not what's best for you.
The Right Healthcare Marketing Agency for You
The guidelines above should help make your agency decision a bit easier. If you're looking for a healthcare marketing agency that specializes in driving leads for medical practices and B2B healthcare, RUNNER Agency might be right for you. RUNNER is a Top 30 Healthcare Digital Marketing Agency that partners with you to help your business grow.
Request a consultation to speak with one of our healthcare marketing experts about what a partnership might look like.