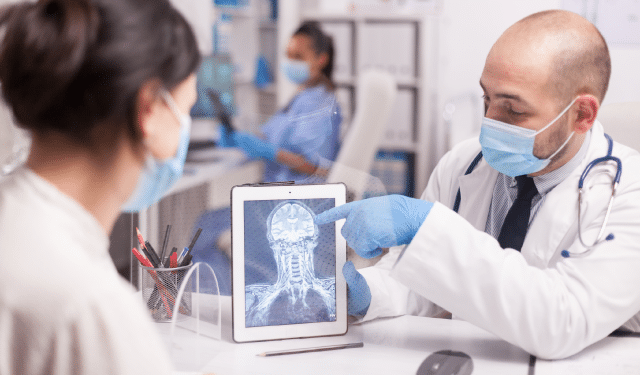 Did you know that 72% of patients say their first step in finding a new doctor is checking online reviews?
Yep, that's right.
Because of this, online reputations for doctors and medical providers have never been more important than they are today. While this has certainly been a rising trend for a long time now, COVID-19's impact on healthcare (and life in general) added fuel to the fire and online reputations are officially "mission critical."
In fact, according to BrightLocal's Local Consumer Review Survey 2020 medical/healthcare is now the #1 industry for which reviews are considered the most important. It is assumed that this is most likely due to the high stakes that come along with finding quality care.
We don't know about you, but this makes perfect sense to us.
The digital transformation in healthcare has placed a significant amount of power in the hands of the consumer—and that includes having a say in who is treating them (for elective and non-elective care, alike). Sure, there are plenty of instances in which patients don't necessarily have a say in their care providers (e.g. unplanned doctor visits), but for many people, they are doing their homework before booking.
And when it comes to making a choice, finding a provider (for both elective and non-elective) they can trust and appealing enough to actively seek out places the responsibility of developing (and maintaining) an impeccable online reputation squarely on the provider.
So how do you establish and grow an online reputation?
We'd be lying to you if we said it was "easy," but the good news is that there are 5 foundational things you can do starting now to get the ball rolling. Check them out below!
Say It With Us,"Consistency"
First things first. In order to grow an online reputation you must first establish an online presence. And when it comes to your online presence—consistency is the name of the game. For example:
Do you have business and/or provider listings across all medical and relevant consumer review sites? (If the answer is no, stop reading and contact us Immediately!)
If you already have multiple listings that have been verified, then you're off to a good start in terms of growing your online reputation.
Now, our question is this: Is all the information on your business and/or provider listings fully up to date and consistent across all platforms and your website?
If you're looking to grow your online reputation then the answer to that should be YES. The reason being, growing your online reputation first starts with increasing your visibility. But doing that isn't a one-and-done scenario. It requires all listings to be consistent with one another and your website. While that starts with name, address and phone number (aka NAP), it also flows into hours of operation, site links, services, photos, etc.
We know, we know. 
The thought of keeping all listings updated and consistent at all times seems like a time-consuming and can be a bit overwhelming, but it's one of the most crucial in developing an online reputation.
Request, Reply, Repeat
While some patients take it upon themselves to leave reviews on their own, it's not a very proactive approach to just sit back and wait for the reviews to come to you. In fact, if you're hoping to take control over your online reputation (in addition to growing it), you're going to have to put in a little leg work by going out there and asking for the reviews yourself.
Flat out asking for reviews seems a bit risky though, right?
Well, it certainly can be. But not when done using the right strategic approach, which starts with using processes and tools to know who, when and how to ask, it's a great way to engage with patients while growing your online reputation.
So you've got your request strategies in place and now the reviews are coming in. Excellent!
Now for the inevitable: Negative reviews are going to happen. Even to the best providers. This is where reputation management really comes into play. Immediately addressing bad reviews is an absolute must. This is where having a good system and tool setup is key.
With RUNNER's online review management service, you know exactly when reviews are posted to your listings so you can take action immediately. Which brings us to our next point… Think you only have to reply to the negative reviews?
Absolutely not.
You should be replying to any and all reviews when possible. After all, those positive ones are the ones you're really after, aren't they?
Also, patients like to see that you're active online and engaging with your patients. So replies are for everyone—good and bad.
Last but not least—REPEAT.
Review requests aren't a one-and-done deal. You're in it for the long haul. If possible, we recommend getting on a regular, but doable, cadence for these such as every month or quarter.
DO NOT Fake It 'Til You Make It
You've probably seen it. People generate a ton of awesome reviews… but some feel a little insincere, or perhaps, too good to be true. Heck, sometimes they may be blatantly fake.
"Fake" reviews are a huge no-no and it's extremely important to give your patients and prospective patients a little credit here. It's extremely evident when someone is reviewing someone or something online based on a real-life experience and the details that are provided prove that pretty easily—especially when it comes to people's healthcare.
So if you have the urge to review yourself or have anyone other than patients review you, opt for the legit route instead and find an agency partner like RUNNER that can do the hard work for you.
Keep it Professional
This one is pretty straightforward but unfortunately it needs to be said. People want a doctor and care team that are professional both in person and online.
So whether that means responding to critical feedback about your practice or service or keeping your personal views and opinions private, it's now more important than ever to be as professional as possible and leave the emotions, opinions and egos at the door (and away from your online reputation).
Integrate
So you've followed all the steps above and you're killin' it with your online reputation on business listings and review sites. Think you're done?
Nope!
Online reviews are just the first step. Literally.
The immediate next step after a prospective patient (or any consumer, really) reads an online review will be to visit your website. Form there, possibly your social channels. And, if you're doing it right, your remarketing ads won't be too far behind.
So take all that awesome patient feedback and scream it from the rooftops. Get the most out of them by integrating them into your website, organic social social content to digital ads where applicable. You earned those reviews and now it's time to utilize them by spreading them across all relevant channels.
While all of the above strategies will help you grow your online reputation, it can be difficult to get started and keep up with on your own. That's why RUNNER specializes in business listing and online review management for our medical and healthcare clients and has worked hard to develop a HIPAA-compliant marketing platform to house a comprehensive business listing and review management system (in addition to so much more!) to put the power of your online reputation right at your fingertips.
If you'd like to speak with a healthcare marketing expert about growing your online reputation, request a free consultation today.