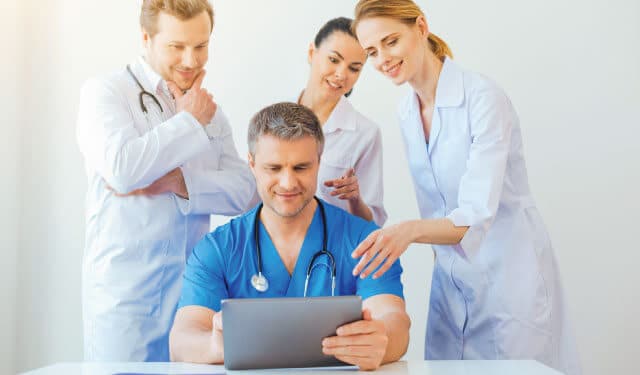 Social media is built for impulse buys. See it. Want it. Buy it.
But as social media has taken over our time spent online, having a social media strategy is now a necessity for almost all businesses, including medical practices.
Simply put – your medical practice needs to have a presence on social media because you need to be where patients are. Plus, social media has a critical influence on how your practice is perceived by current and prospective patients alike.
According to HealthcareFinanceNews.com, 40% of consumers say that information found on social media affects the way they deal with their health. 
This means patients are using social media both to research health information AND to gauge trust in the information they find.
4 of the Best Social Media Best Practices for Healthcare in 2022
So what does having a "best-in-class" social media strategy mean for modern medical practice in 2022? Here are 4 things all high-performing practices do well in social media.
1. Participate and Respond Quickly
For better or worse, social media provides a place for patients to ask questions, discuss issues, express concerns, and document complaints. It's important to remember that social media is a 2-way street; it's a platform for conversation.
If a patient takes the time to find your social media page and post a message or comment, it's not just a good opportunity to further your customer service and respond, they are expecting a response. A survey by Convince and Convert discovered that 42% of social media users expect a response within 1 hour or post their comment or message.
Furthermore, other social media users are watching (and waiting) for your response. In many situations, no response is an offense. Marketing giant HubSpot found that "consumers are 71% more likely to make a purchase based on social media referrals." 
Brands must:
Respond to comments
Respond to direct messages
Do the above fast
Enable notifications
Enable auto-responder for messages
Identify someone who's responsible for the above
2. Create Content That Provides Real Value
Providing educational content via social media is critical — and that content needs to inspire them to take action. You need to create and post helpful content that could motivate someone to engage with or create positive word-of-mouth for your practice.
It's important to understand that educating your audience doesn't just happen on your profile page or the posts you publish.
Facebook Groups has allowed users to create communities around specific conditions and treatments. For example, there are more than 20 groups dedicated to people who suffer from sciatica. You can request to join these groups and offer valuable, educational, and altruistic content that helps answer their questions and concerns (but don't spam about your services, that's a huge turn-off and will get you kicked out of the group).
Educating and inspiring on social media begins with, you guessed it, the right content. But does "the right content" even mean? How do you know it's "right?"
Start by identifying the pain points, literally and figuratively, that is of interest or concern to your desired audience. Think about your current patients. What do they ask you? What do they talk about during appointments? Then brainstorm. Answer their question. Think about how you can educate your audience in ways that are easy to digest and informative without being overly clinical. Here are some examples of educational yet inspirational content by healthcare brands.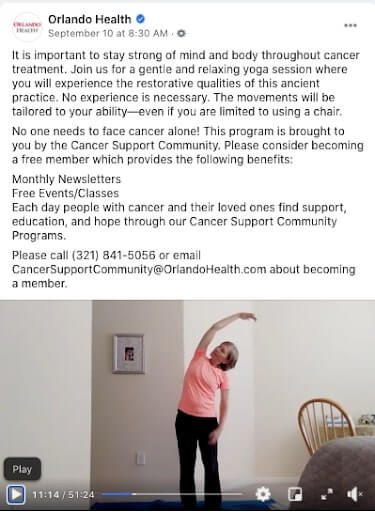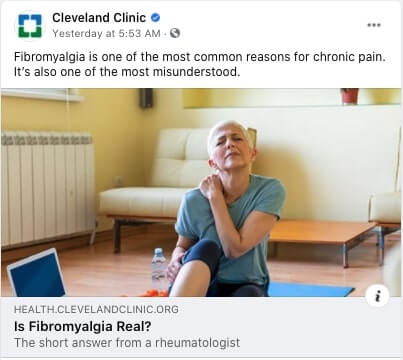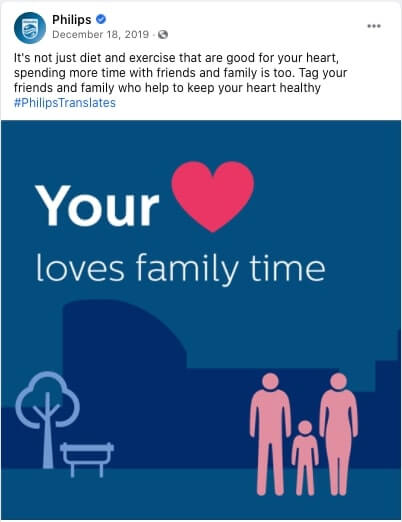 Your content doesn't have to be "one and done." Repurpose it into new formats. For example, one video can be turned into a blog post to gain SEO traction, social media posts to reach more people, a podcast to offer variety, and an infographic for quick consumption. Repurposing your content can ease the pressure of creating a new masterpiece every week while getting more out of the work you have already done.
3. Be Authentic and Confident
If you want people to trust you with their healthcare, to trust you to find solutions for their pain, you need to humanize your presence on social media. Human conversations between your brand and your audience are key to building a foundation of trust. This trust can grow into patients, office visits, and loyal patients' ultimate goal.
So, what does it mean to be human on social media? Being human on social media can be likened to authenticity, being genuine, and being true to your brand — then being consistent in that. People naturally respond better to brands that are perceived as "real."
Here are a few of our favorite tips to humanize your social media:
Use every day, easy to understand language language
Use first-person in your post cost. Speak directly to your prospective patients
Engage in conversation
Stay true to the tone/voice of your brand
Balance personality and professionalism – be authentic AND confident
Show, don't tell. Go behind the scenes. Show what is actually happening
Use video to tell a story
4. Pay for Targeted Reach
Facebook gives posts that "spark conversations and meaningful interactions" more visibility. Essentially, this means the Facebook algorithm prioritizes posts from family and friends. Your chance of having an organic post prioritized over a post from friends or family is slim.
For the average brand, only 6.5% of their Facebook followers will get a chance to see their organic posts.
That. Is. Rough.
You have to adjust your expectations for how organic posts will perform, and if you want 'reach', you have to pay for it through advertising.
Here are a few tips for how to get started with paid social advertising:
Allocate a small budget to paid social to start
See what performs well organically, then promote those that perform the best
Establish a remarketing budget targeting those who visit your site but don't convert (this is the most important spend you can have)
When you're ready to scale patient acquisition, you need to invest more, test different audience segments and creative assets. (If this sounds like a lot, we can help.)
Conclusion
It can be a challenge to find the time to execute a social media marketing strategy for a medical practice, but it's no longer a "nice to have." You need to reach patients where they spend the most time.
If social media marketing isn't your thing, or you're not staffed to deliver a best-in-class approach, RUNNER Agency can do it for you.
Set up a free consultation to learn how we can help.