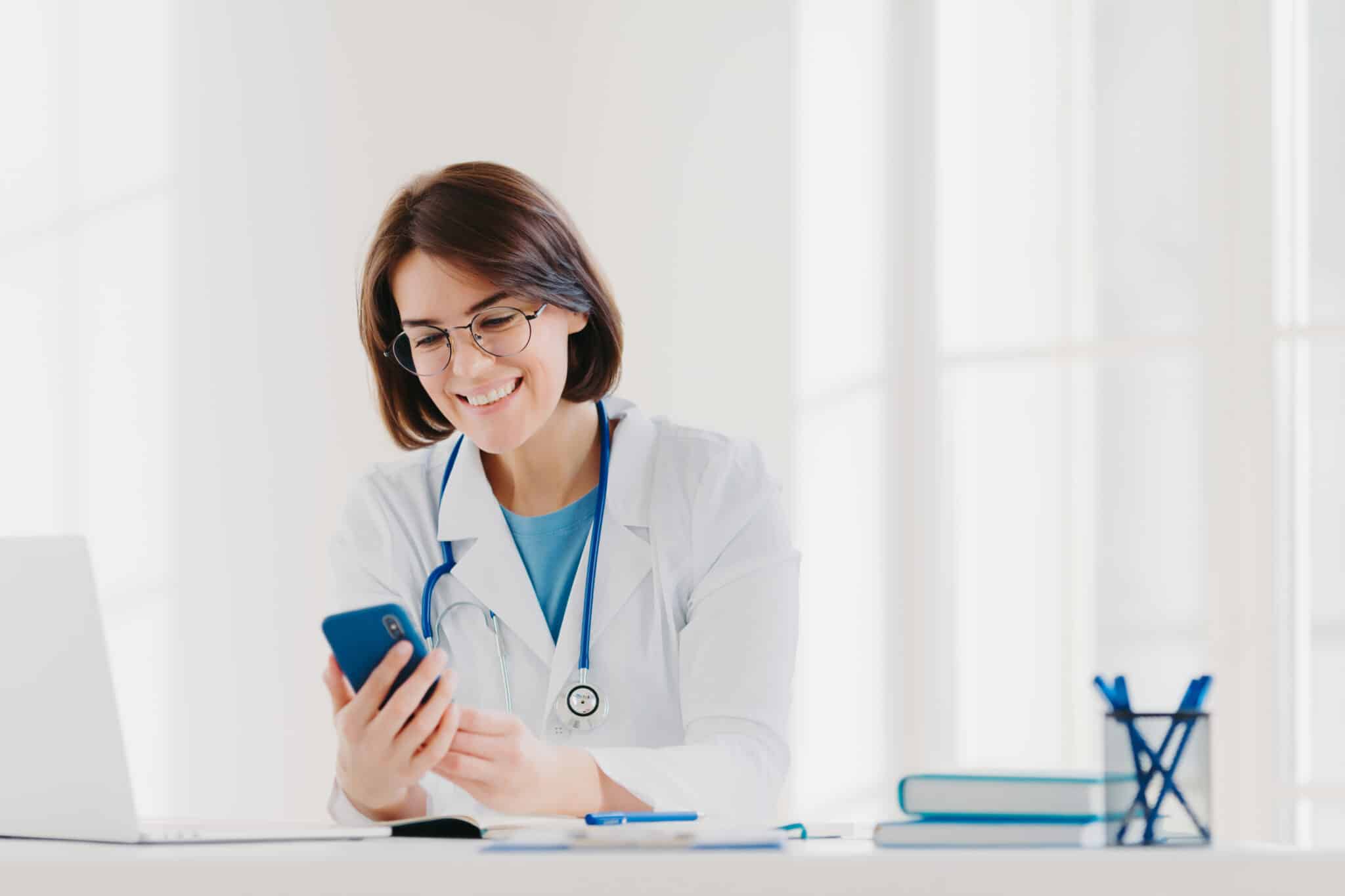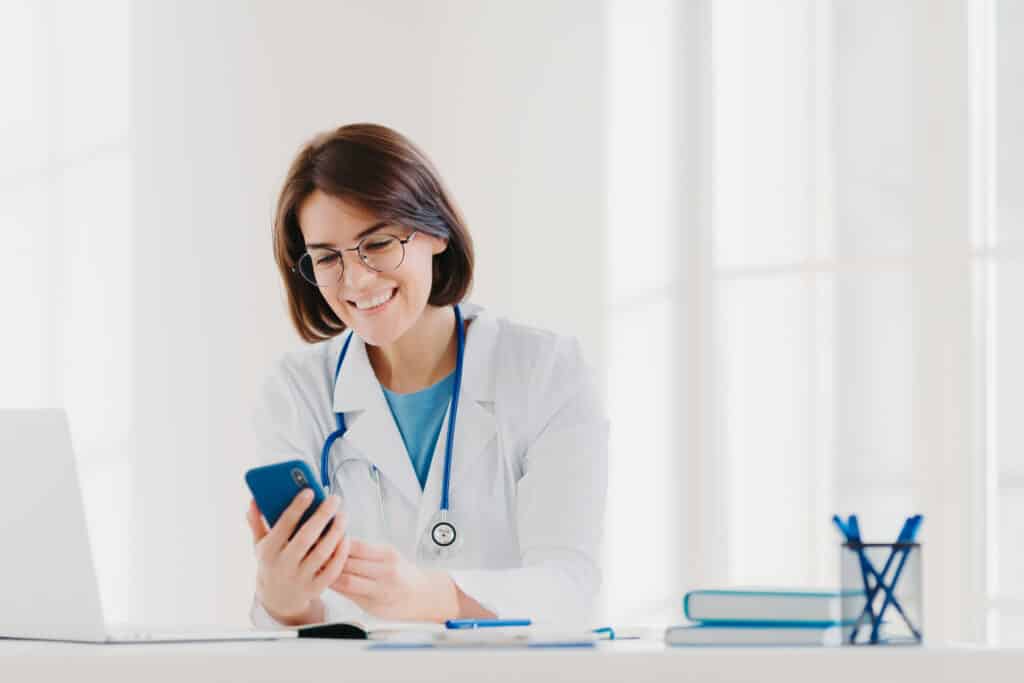 TikTok has quickly taken it's place in the top 5 social media platforms globally, with more than 1 billion active users worldwide.
More importantly, it is by FAR, the most engaging social app, with users spending much more time than other platforms. In fact, TikTok users spend almost twice as much time per session than Facebook.
In marketing we say you need to "follow the eyeballs" to reach potential customs where they spend time – so we must take a close look at the marketing opportunity we have with TikTok advertising.
This is true for Healthcare marketers as well, and we've already been driving qualified, low-cost leads through TikTok advertising for our healthcare clients.
Ready to Get More Patients
Request a consultation with a RUNNER medical marketing expert and get a FREE practice marketing plan.
TikTok Advertising for Healthcare
In this guide, we'll provide an overview of how TikTok advertising works, as well as specific considerations and strategies for Healthcare brands like medical practices.
TikTok Ads – Healthcare Restrictions
First and foremost, like other social media ad platforms, there are a number of restrictions in place for medical practice marketing.
There are three categories of healthcare marketers that aren't allowed to advertising on TikTok
Weight Loss
Invasive Aesthetics
Illegal Drugs – ie, addiction treatment
What this essentially means is that if your ads, or potentially the landing page you send people to references any of the above, your ads may stop running.
It's worth noting that TikTok is still a fairly young advertising platform, so enforcement of these prohibitions are still inconsistent for medical marketing. We've seen ads that are clearly weight loss being allowed to run. View the entire list of medical marketing guidelines for TikTok ads.
In addition to the above prohibited categories, pharmaceutical advertising is "restricted", meaning that advertisers may be able to run ads with third-party certification such as Legitscript – however this does not extend to Legitscript's addiction treatment certification.
Now that we've established which kinds of healthcare brands can run ads, let's explore the ads themselves.
TikTok Ads – Creative Formats
TikTok supports both image and video ad types. Videos can be between 5-60 seconds, although TikTok recommends ads that are about 15 seconds.
In addition to the image or video, you can add a short description of up to 100 characters that accompanies your ads. You can see an example of a few frames of a TikTok ad below, as it appears in a user's feed.
The "objective" you select for your ad will have an impact on how the ad works.
Reach Objective: Not about click-through, just about getting as much reach as possible
Video Views: Like reach ads, the goal is just to get as many views as possible, not to send traffic to your site.
Website Visits: Ads click-through to your website.
Website Conversions: Ads click-through to your site, but optimize towards a website "conversion" you've identified on the site, such as a form submission or a purchase.
Community Interaction: Increasing your followers on TikTok or visits to your TikTok profile.
Lead Generation: Capturing lead form submissions directly from TikTok.
This last TikTok ad objective, Lead Generation, is what we recommend for medical practices that are trying to drive new patient office visits through TikTok ads.
Best Examples of TikTok Advertising for Healthcare
One of the great tools that TikTok provides for advertisers is a creative center that showcases top performing ads on TikTok.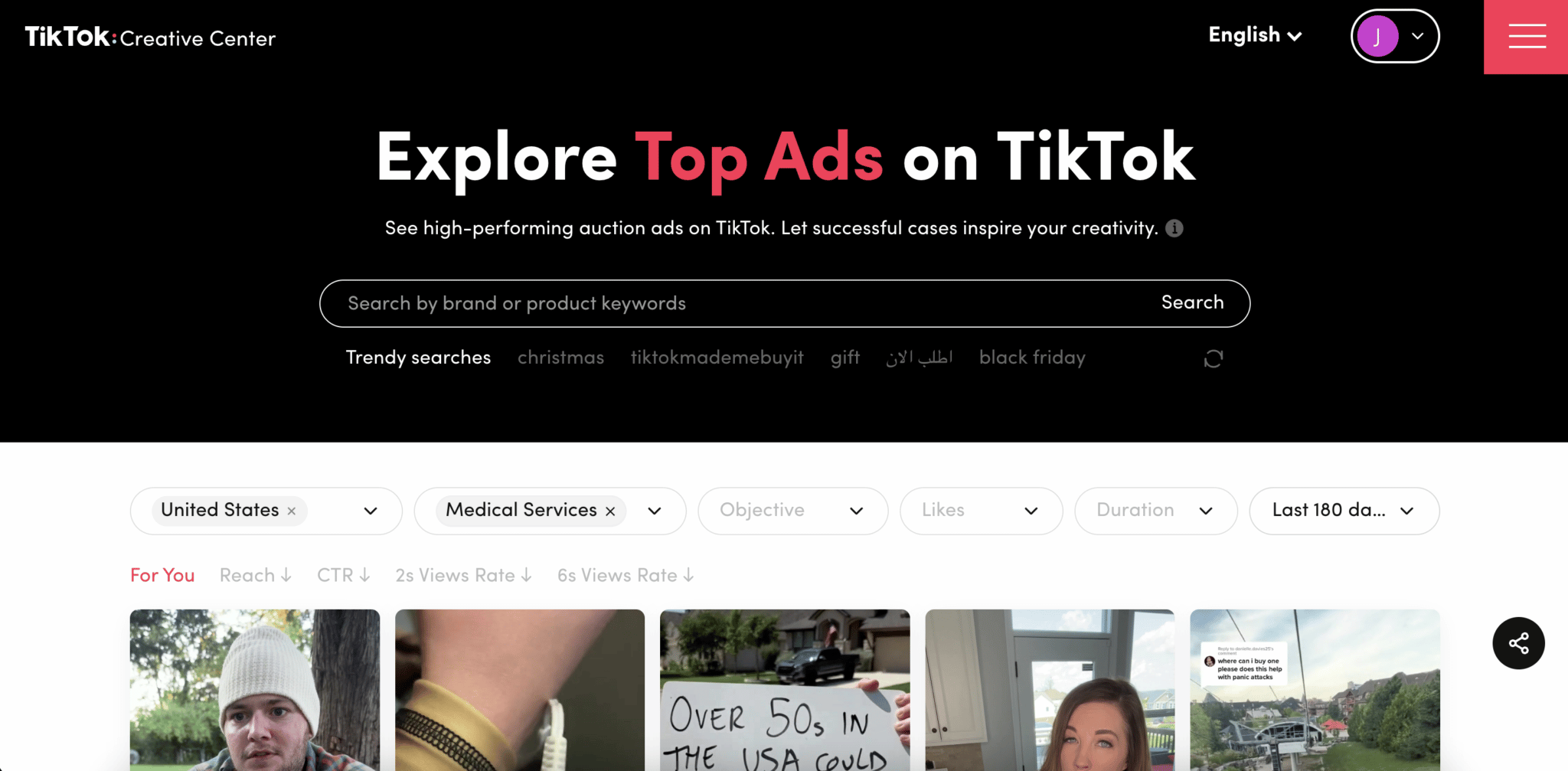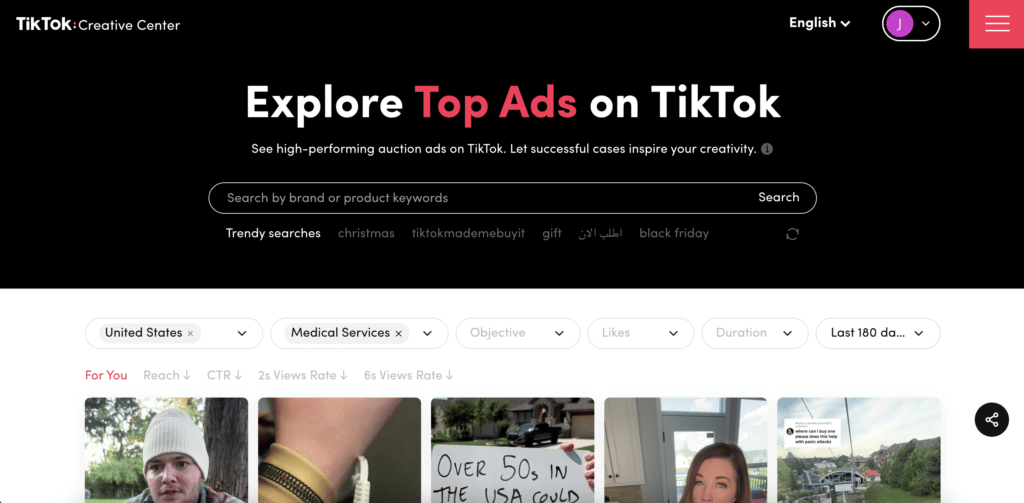 It's also a great way to research what other healthcare brands and medical practices are doing with their TikTok ads.
First, we can filter down our industry results to Healthcare, and are offered the following "sub-categories":
Dietary supplements
Medicine
Medical Information
Other Health
Medical Services
Most medical practice TikTok ads will show up under the "medical services" sub-categories.
Right now, the most common types of medical practice advertisers we see on TikTok ads are:
Audiologists
Mental Health
Chiropractors
Pain Management
Overall, there's a huge opportunity for other medical specialties – as not many practices are advertising yet.
TikTok Ads – Creative Best Practices for Healthcare
First and foremost, the ads you create should look native to the platform. As you'll notice when you look through the TikTok Creative Center, the highest performing ads are not overly produced like TV ads. Rather, they feel like they're organic, non-paid videos. This is the key to creative success on TikTok for healthcare marketers. One common strategy we see for medical practice marketers is to understand the creative trends happening organically on the platform and mimic those formats.
Another very important strategy with TikTok ads for healthcare is to be singular in your message. Since most ads are only 15 seconds, you should focus on the one call-to-action or takeaway you want a potential patient to hear. Too many messages and none of them will be remembered.
You also need to align your messaging and creative with your targeting. You only have a few seconds when someone swipes up and sees your ad for them to determine if they're going to stick around, so the more targeted you can be, the better.
Finally, you need to create multiple versions of ad creative to test. Bad creative can tank your overall performance – and sometimes it takes a few iterations to get it right.
TikTok Advertising – Targeting for Healthcare.
There are a few options healthcare marketers or medical practices have for ad targeting. They include:
Interests & Behaviors: This is the most commonly used targeting, and is based on the content topics that users engage with or signal they're interested in. Medical examples include things like: health insurance, skin health, gut health, etc.
Hashtags: Sometimes, targeting that's not included in interests may appear in hashtags. Medical examples include: #backpain, #ivfbaby, etc.
Geographic Targeting: One BIG issue to be aware of is that TikTok ads can only be geographically targeted at the city level. This means no zip-code level of detailed targeting. Something to keep in mind, especially if you're advertising in a large market where patients might not be willing to drive across town.
Lookalike or Custom Audiences: These are based on lists of existing patients. The platform can seek out others that are similar to your current patients.
Demographic: Of course, there is basic demographic targeting that allows you the ability to target by age and gender. Income targeting is also included, but only for the top 25% of household income.
Retargeting: One often overlooked targeting is the ability to retarget to those who've already watched your organic TikTok content. This is great for medical practices that may already be producing organic videos.
We've found that some medical specialities will have a harder time than others with targeting, based on the interests, behaviors and hashtags that are available. It's important to do some initial investigation into your specialty before you attempt to run ads.
Building a TikTok Advertising Strategy for Your Healthcare Brand
So you're ready to get started running ads? Here are a few tips we have for Healthcare brands.
Allocate a budget and give yourself at least 6 months to test. Creative testing will take time.

Get to know the TikTok platform before you advertise – especially the commonly used creative formats.
Do research on competitors and other Healthcare marketers that are running TikTok ads through the TikTok Creative Center.

Set up your TikTok ads account and c

heck available targeting to see if there's a large enough audience for you to target.
If you're looking for an agency to handle TikTok advertising for your Healthcare brand of medical practice, request a consultation with a RUNNER digital marketing expert and learn what a TikTok advertising strategy would look like.
Ready to Get More Patients
Request a consultation with a RUNNER medical marketing expert and get a FREE practice marketing plan.