Google's Update to Expanded Text Ads Will Help You Crush Your Next PPC Campaign
Google announced recently that it's giving advertisers and marketers even more opportunity (and space) to target the right audience.
In the last few years, Google has slowly introduced improvements to text ads. You might remember Google's previous update to Adwords in 2016: Expanded Text Ads (ETAs) offering marketers a new ad format, specifically designed for mobile placements. The 2016 rollout saw great success, increasing CTR for marketers by 20% on average.
In August 2018, they added even more ad space for advertisers to craft the perfect message.
After running and testing a few of our own campaigns, we wanted to share a few of our findings so advertisers like you can get your next PPC campaign up and launched today.
(Note: Google AdWords is now known as Google Ads.)
There's Almost Double The Space
Google launched Expanded Text Ads (ETA) in 2016, giving advertisers more text space to work with and more control over their messaging.
This most recent update (Google Ads Editor 12.5) offers advertisers nearly twice the text space in ads — from 170 characters to 300.
With the expanded text ad format, you now can take advantage of THREE headlines at 30 characters each and even longer 90-character descriptions.

Start Testing The Increased Character Limits Now
Your Google Ads account already includes a full rollout of the updated Editor, so get ahead of your competitors and take advantage of the extra copy space. (Don't worry, your old ads won't go away.)
The Editor also displays a preview of your ad in both desktop and mobile format, so you can easily see what you'll be working with.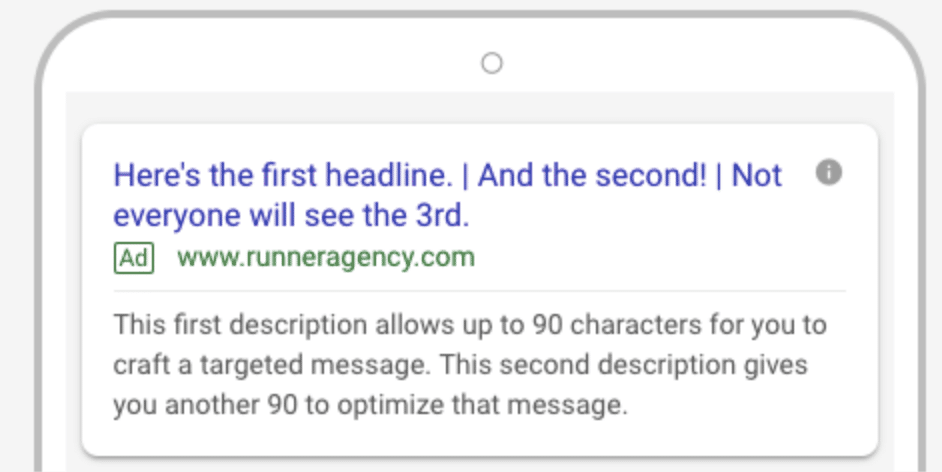 Quality Check: Everyone loves extra ad space. But remember to keep your copy concise and solid — not all screens are large enough to fit 300-characters. Some mobile users won't see that third headline or second description, so keep any essential messaging in the first headlines and description.
Ad Extensions Continue to Deliver
Automatic and manual ad extensions are still fully compatible with Google's ETA.
Plus you'll be thrilled to know that including ad extensions can deliver up to 15% higher clickthrough rates.
Our favorite part? By using ad extensions along with the expanded text format, a first position ad could take up almost all of the space on a mobile screen.
While you're testing the new Editor update and the extra ad space, update the copy in your ad extensions in the meantime. (Note: Google won't run the ad extension if it's just a repeat of the ad's main copy.)
These are just a few of RUNNER's own takeaways, but you can check out Google's announcement for an inside look at how it all works.
Want more information on our tailored-to-you PPC management process? Schedule a consultation with us today for insights on how your ad campaigns can deliver better results and higher-quality leads.