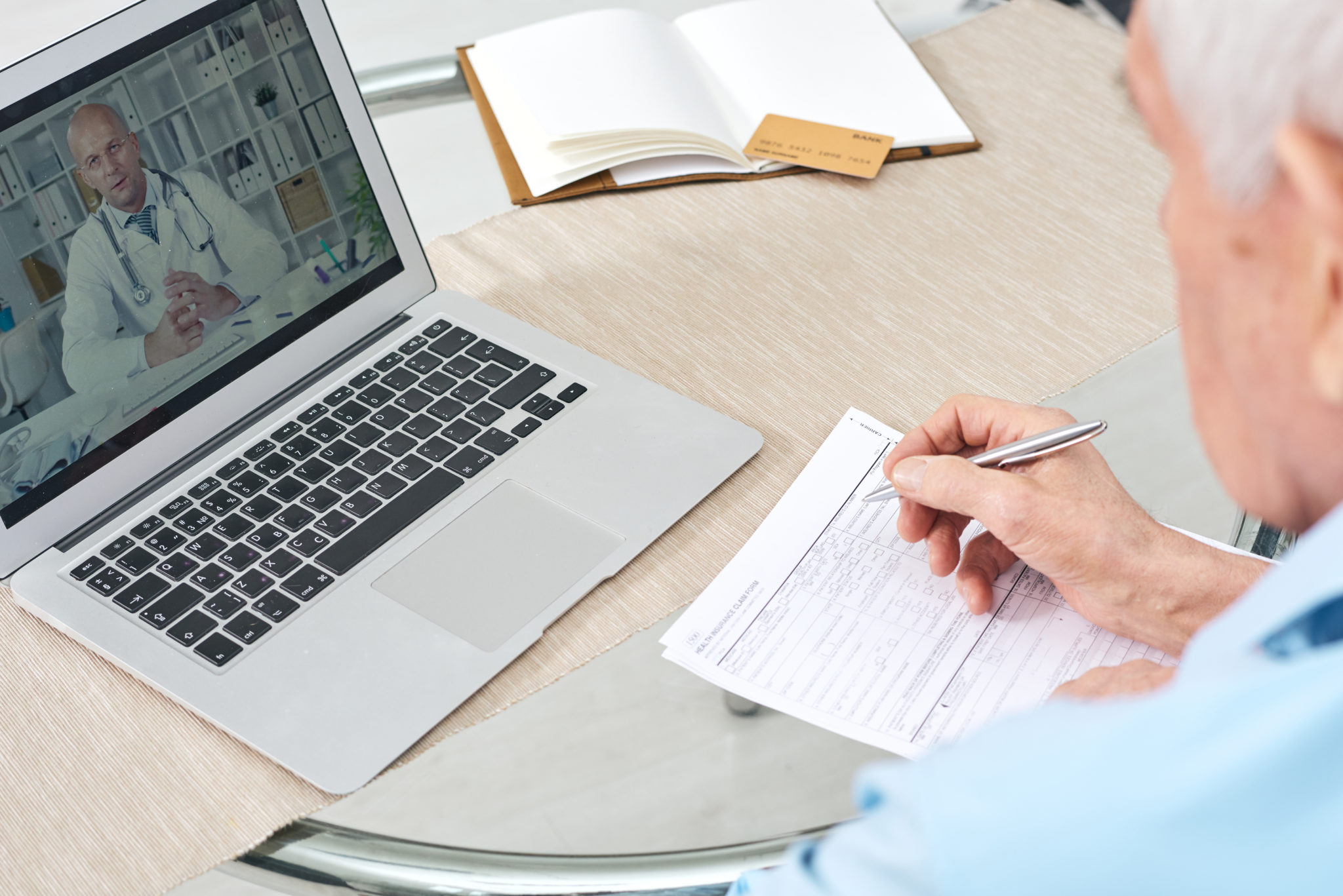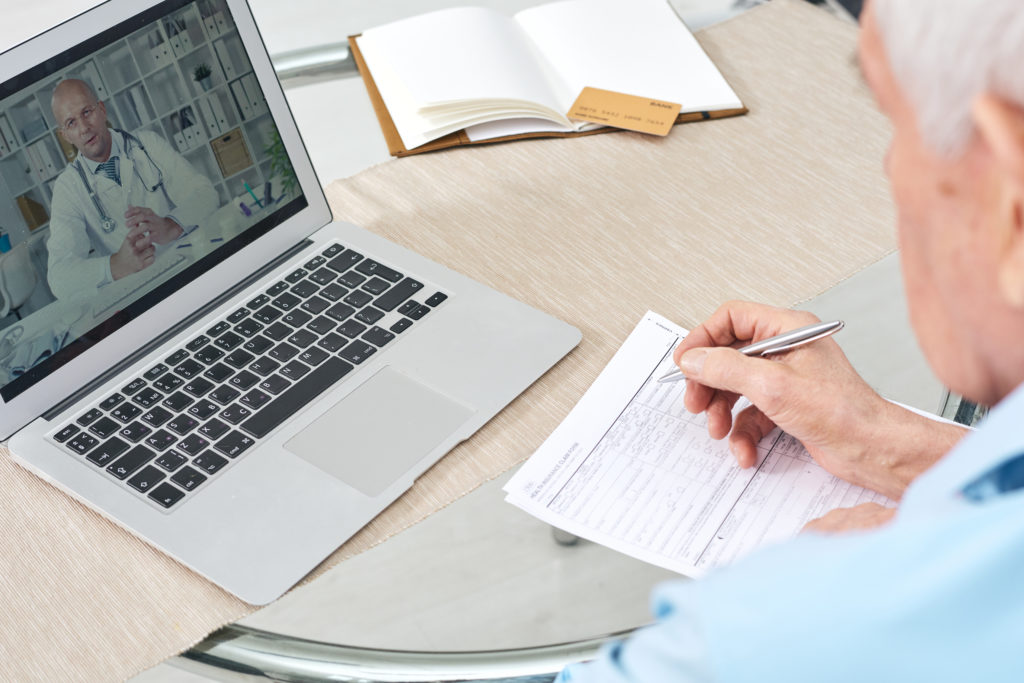 Healthcare providers and patients in the United States are about to become very familiar with telehealth strategies and platforms. On Tuesday, March 17th, the President and The Department of Health and Human Services announced that in order to better provide patients in the US access to healthcare during the COVID-19 outbreak, HIPAA restrictions would be waived for telehealth and Medicare coverage for telehealth would be expanded. While this is crucial for flattening the curve of infections, telehealth platforms provide a crucial way for medical practices to keep both their patients and businesses healthy during this difficult time.
Recently, we shared five essential digital marketing strategies for medical practices during COVID-19. One of those strategies was about finding ways to innovate. Telehealth can be an innovative, transformative strategy for your practice, and it's easier than you might think. It's also quickly being sought out by patients – both those looking for remote screening, but also those who need medical treatment and aren't comfortable scheduling an in-person visit.
This demand is growing FAST, as pictured in the above data from Google Trends. You can see that search volume has climbed rapidly since early March and continues to rise.
How Should I Get Started With Telehealth for My Practice?
You may believe that telehealth is both expensive and difficult to implement into your practice – finding the right software, training your people how to use it, changing your process and billing, potentially even adding new remote diagnostic equipment.
But there are simple ways to get started with telehealth that don't require much time and energy and provide a powerful way to differentiate your practice, mitigate risks to your business and position yourself for growth this year and beyond.
Here are two basic telehealth strategies we're recommending to our clients. We're already seeing promising results.
1. Offer Potential Patients a Virtual Consultation
An easy way to begin using telehealth is to start using telehealth is to screen potential patients. Most often, it will mean a video chat between the potential patient and your front office. Remember, this is before they become a patient. Your goal here is to answer potential patient questions, as well as screen the patient before an in-person or virtual meeting with a physician is set.
Here's an example of how we're doing this with one of our clients, a Spine & Orthopedic practice.
Potential patient fills out a lead form – pain assessment
At the end of the lead form process, they are given the ability to schedule a time and day to speak with a patient advocate. In this case, our patient contact center is handling all of these patient engagements.
If the patient has a previous MRI, we are scheduling a virtual consultation that includes an MRI review (free of charge) with a physician on staff at our patient contact center.
Every practice is unique, so the process may look different for your medical practice specialty. What you gain with this strategy is the ability to differentiate your practice from competitors by offering virtual consultations without it having a huge impact on your practicing physicians.
Some key questions to think about are you're considering a virtual consultation:
What platform should I use? We'll touch on this later in the post
Is my staff ready and able to provide a virtual consultation?
Would we be able to handle the volume of video chat requests in addition to our current phone calls?
If you're overwhelmed with how to get started and run virtual consultations for your prace, we can help. We can not only help you get a software in place, adjust your processes and train your staff, but you can outsource handling these virtual consultations to our Patient Contact Center.
Once you have a physician that's ready to start scheduling time for virtual office visits, it's time to take the next step.
2. Schedule Virtual Office Visits With a Physician
Allowing patients to schedule virtual office visits with a physician can be the key to keeping your patients and practice healthy during the COVID-19 outbeak. If your practice isn't able to see patients in person, you have an alternative to shutting down the office by seeing patients virtually.
This strategy is pretty straightforward and relies primarily on physician availability, your staff, minor tweaks to your site and lead process, and the technology platform you choose to implement. Here are a few key questions you'll want to think through:
What platform should I use? We'll explore this in the next section.
Have you updated your website to let current and potential patients know they can schedule virtual office visits?
Are you providing the ability for patients to self-schedule?
Have you worked with your physician to outline a clear schedule for virtual office visits?
What kind of communication do you need to send out to patients prior to these visits?
Are you able to bill patients? This will depend largely on both individual patient insurance coverage, as well as your speciality. For expanded Medicare coverage, we'd recommend checking with your specific medical associations.
Telehealth Platforms to utilize
The decision that practices are often most intimidated by is selecting a platform to conduct virtual consultations and virtual office visits.
Historically, HIPAA compliance has been a primary consideration factor. But with HIPAA restrictions removed, there are quite a few more options for practices, some of which require no additional technology fee. Here are a few key questions every practice should be asking as they evaluate telehealth platforms:
Is the patient experience easy? Does it require them to download an app? Our preference would be systems that don't require an app download, but some do.
Is it HIPAA compliant? If you're planning on continuing telehealth services in the long-term, even though the restriction is waived, we'd strongly consider choosing a compliant platform.
Can it record and save videos? For legal reasons, we recommend to clients that the ideal platform would provide the ability to record sessions.
Right now, there are essentially three categories of platforms that will allow you to have face-to-face virtual online conversations:
True Telehealth Platforms
These are platforms built specifically for medical practices and healthcare businesses with telehealth in mind. They're also more affordable than you might think!
Examples: Doxy, Theraplatform, Theranest, On Call
Pros: The most robust feature set and are built with the use cases of medicine in mind. They are, of course, HIPAA compliant, but they also include more features than just the video chat – including features like patient to provider messaging, EHR integrations, fee-for-service payment processing and the necessary scheduling and communication systems to support telemedicine.
Cons: In many cases, telehealth platforms are a part of larger practice management or communications platforms, so you may be paying for more features than you need. In addition, some of these platforms rely on app downloads, which can complicate the patient experience or provide more "technical support" from your practice to help patients overcome issues with their devices and account setup.
Video Conferencing Services
These platforms are built primarily for business communication, both internal and external. While they aren't purpose-built for healthcare, they can be an easy for practices to begin offering telehealth solutions. They can check the boxes for the primary features and functionality that a practice might need.
Examples: Zoom, Goto Meeting, Webex, Join.me, Google Hangouts
Pros: These platforms have been in use for a long time, so they work really well at what they do. Many of these can now be joined in a browser rather than through an app, so they'll work across browsers and platforms.
Cons: These platforms aren't purpose-built for healthcare, so you'll be limited to basic video conferencing capabilities. Some have "healthcare" plans that are HIPAA compliant, integrations or APIs for your EHR and some basic annotation/communication features. While these are a passable short-term solution, I'd argue they won't be a long-term solution for your practice needs. In addition, some can be more expensive than telehealth platforms.
Video Messaging Apps
Of course, there are always video messaging platforms that are easily accessible via mobile, like Facetime, Skype or even video inside of messaging platforms like Messenger, Whatsapp, etc. These options really are last resort, but HHS and OCR have both confirmed that these kinds of apps would also be included in those HIPAA exemptions.
So What Telehealth Platform Type Is Right for My Practice?
Overall, we'd recommend to most medical practices that they should be utilizing one of the telehealth platforms. Many of them offer pricing that's comparable to video conferencing platforms, but are much more robust in terms of features. They can also be set up quickly.
If you're concerned about a telehealth platform having too many features, or requiring you to use their associated practice management features, then our next recommendation would be to use a video conferencing platform. As an example, Zoom has a healthcare plan that's HIPAA compliant.
Marketing Your Telehealth Services
Practices that embrace telehealth are well positioned to stand and not just survive, but thrive in the months ahead. It's important that if you begin to offer virtual consultations or virtual office visits that you include that messaging front and center in your marketing. Here are a few ideas we have for how to make it happen:
Create an announcement on your website, and make it prominent
Update your digital ad copy to reflect telehealth options (see example below)
Email communication and marketing to current patients about telehealth options
Update your Google My Business listing
If you're not already advertising, it's important that you invest some ad budget to create awareness of your new telehealth options. It's not enough to simply add the capability and not make anyone aware.
While these aren't the circumstances any of us wanted to see telehealth grow, we're looking forward to seeing how many opportunities it opens up for practices to digital transform to provide the best possible care for patients. The practices that embrace telehealth during this difficult time will be the best positioned to mitigate risk in the short-term and grow in the long-term.
It's important to remember that a platform alone isn't going to solve everything.
This isn't just another service offering but a transformation of how your practice operates, and how you market your practice to patients. If you'd like some expert guidance on how to spin up telehealth for your practice, request a consultation or schedule a call.