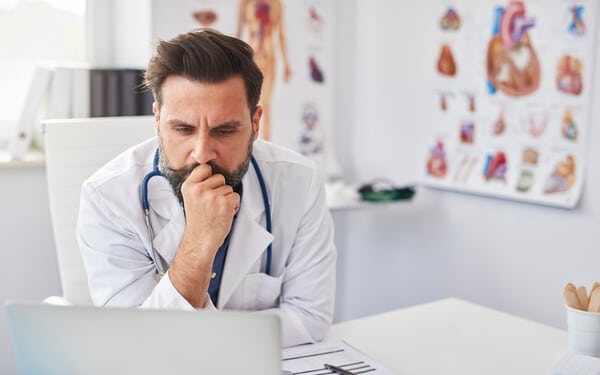 In recent years, more medical practices have been the target of lawsuits because their websites are not ADA compliant.  The American with Disabilities Act (ADA) calls for people with disabilities to not be discriminated against in any way. This includes having the same website viewing experience as everyone else. Simply put, medical practices must make accommodations on their website for existing and potential patients with disabilities. 
According to the CDC, 61 million people in the U.S. (1 in 4) have a disability. This includes not only visual impairment, but cognitive disabilities, epilepsy and even ADHD. With millions living with a disability, it's shocking that 98% of websites in the U.S. aren't compliant – that is, they are built with limitations that don't allow a visitor with a disability to fully access information or use the site.
This lack of accommodation is now catching up with the healthcare industry. 
An Increase in Medical Practice Lawsuits
In the last 3 years, there has been a 300% increase in ADA lawsuits, and now around 1 in 5 lawsuits are specifically related to website accessibility.
It's not just large healthcare organizations like Tenet and Anthem that are being sued. We're now seeing small medical practices being targeted too. Most recently, the California Medical Association sent out an alert of a "surge" in medical practice ADA lawsuitstargeting small practices and solo practitioners.
Why ADA Compliance is Important to the Healthcare Sector
We recently wrote a post about 5 reasons why your medical practice website should be compliant.
It boils down to two main reasons. 
It's the law. When your website is compliant, it means that you are abiding by the law and following all the necessary guidelines to ensure everyone has the same online experience.
It's the right thing to do. Ensuring your website is accessible allows for a fair playing field for users to be treated equally online. When people are treated fairly and have a good online experience with you, they're more likely to want to do business with you.
As a physician or healthcare organization, it's important to ensure that existing and potential patients are able to browse your site and find what they need. When they aren't able to do so, they aren't receiving the same experience as someone who doesn't have a disability. Your practice could be losing out on business and opening itself up for hefty fines.
The Hefty Cost of Non-Compliance
If your medical practice is found to not comply, you can face a fine of up to $75,000 for the first violation, and additional violation fees of $150,000. The cost of not being compliant can add up very fast. Many organizations have learned this the hard way. When weighing the pros and cons of making your website accessible, it's better to be safe than sorry. Making your website accessible upfront could save you a lot of headache and money in the long run. 
What Can I Do To Avoid ADA Compliant Lawsuits?
Now more than ever, it's critical to make sure your healthcare website is accessible. In addition to ADA compliance, following the WCAG guidelines (Website Content Accessibility Guidelines) is critical to being compliant as well. 
Accessibility used to be an expensive, manual process. Now, it's easier to ensure your website is compliant through the use of technology and AI. At RUNNER, we offer an AI-based website accessibility add-on that provides an affordable way to certify your website is accessible and follows the compliance guidelines for both ADA and WCAG. This can all be set up in a matter of minutes.
Is Your Medical Practice Site Compliant?
If you're not sure if your website is ADA compliant, we recommend using our free website accessibility tool to check.
If you're ready to get your healthcare website up to ADA accessibility standards, contact an accessibility expert at RUNNER. A member of our team will review your report results and talk you through the process.