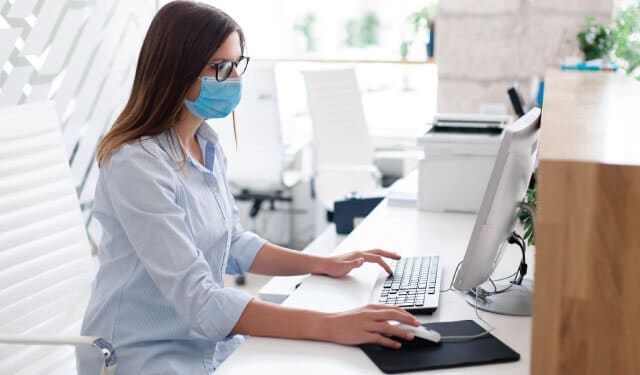 At this point in 2020, it's clear COVID-19 has permanently changed how healthcare practices conduct marketing. From the tone of creative to paid media tactics, your medical practice marketing probably looks pretty different now, compared to just a year ago.
While a significant amount of medical marketing needed a full reset, some channels were less affected. One of these areas is paid search advertising.
Patient search behavior has absolutely shifted since COVID-19 began. But this shift doesn't mean legacy Google search campaigns have become obsolete. On the contrary, your old campaigns and text ads are likely still very important drivers of traffic and revenue.
Ultimately, advertisers shouldn't feel compelled to address COVID-19 in every single piece of digital creative. The tried and true stuff still has its place.
3 Principles for Paid Search Advertising During COVID-19
When it comes to deciding whether or not to make changes to a paid search campaign, we suggest following 3 important principles. These principles have guided RUNNER these past few months and have helped us continue to drive results for practices across the country.
Principle #1: Follow the Data Before Making Changes
RUNNER reviewed metrics for hundreds of legacy text ads across multiple Google search campaigns (by "legacy ads", we mean ads that were created prior to COVID-19). These campaigns focused on various specialties within the healthcare landscape. The campaign legacy ads did not have headlines or descriptions that emphasized telehealth, COVID-19 patient safety, COVID-19 cleaning protocols, etc.
In fact, the ads focused on core pain points that existed well before COVID-19. In other words, the core pain points that prompted people to seek help in the first place.
The data showed that legacy ad click-through rates have not been permanently dented by COVID-19. Numerous legacy ads continue to effectively drive site visitors. Moreover, they continue to drive solid conversion activity as well. 
The legacy ads' quick return to steady performance told us to stay the course. Sure, we wanted to flex our digital marketing muscles and experiment with new paid search strategies. But the data didn't always point us in that direction.
RUNNER chose to keep numerous legacy ads running as they were and optimize the dedicated landing pages instead of making campaigns even more effective.
RUNNER has created various ads that DO address specific COVID-19 concerns on a case-by-case basis. In these cases, the winning formula has been to run new ads in conjunction with existing legacy ads.
The most important thing about the Follow the Data Principle is to look at your data objectively. You may be tempted to change everything about your paid search campaigns (perhaps because other advertisers are changing their campaigns); resist that temptation. What does the data tell you?
Principle #2: Solve Patient Problems In Your Messaging
At the end of the day, Google text ads should always reflect how a medical practice can solve patient problems, backed up by confidently highlighting the reasons why your practice is the right choice.
But there's another element at play — staying true to how your practice solves problems. Be honest with yourself about what you promise based on your internal strengths and weaknesses.
Take telemedicine for instance. If your medical practice offers telemedicine and the process is efficient and helpful for patients, then you should absolutely highlight the service in your search ads. However, if you're still working on issues with telemedicine, wait until it's ready.
Lastly, create messaging that specifically and directly addresses a patient's problem. Here are some examples:
Effectively treating chronic back pain
Back pain relief you deserve
Comfortable, outpatient addiction treatment
While COVID-19 undoubtedly adds another layer of complexity, the problem someone faces remains the same. And they still need someone or something to fix that problem.
That's why legacy ads can continue to resonate.
Principle #3: Educate On Your Site
Now, while we do continue to run legacy text ads, we also work with medical practices to make COVID-19 information accessible on their websites.
Medical practices shouldn't skimp on providing ample information about patient safety. In fact, many potential patients will expect details about a clinic's preparedness when it comes to safety. If a potential patient can't find this information, they may assume you are not taking any COVID-19 precautions.
Our agency has created a unique approach to both messaging and visual branding to help medical practices convey COVID-19 preparedness. You can read more about that approach here in our blog post: COVID-19 Safety Messaging for Medical Practices.
Bring It All Together
Here's something important we've realized throughout COVID-19 — people's chronic back pain hasn't suddenly gone away. Their blurred vision hasn't fixed itself. Their need for quality addiction treatment hasn't disappeared. Millions of people have the same healthcare needs they had before the pandemic.
Abrupt changes to your paid media strategy could be risky. Take advantage of the insights we've discovered and follow these 3 principles. Look at your data, make sure you're solving a patient's problem, and let patients know what you are doing to keep them safe during the coronavirus pandemic.
If you'd like some expert guidance on how to address your paid media amidst COVID-19, we can help. Our journey-aligned approach to paid media is a proven process that has generated thousands of new patients and millions in revenue because it organizes around the experience of potential patients. Request a consultation or schedule a call.