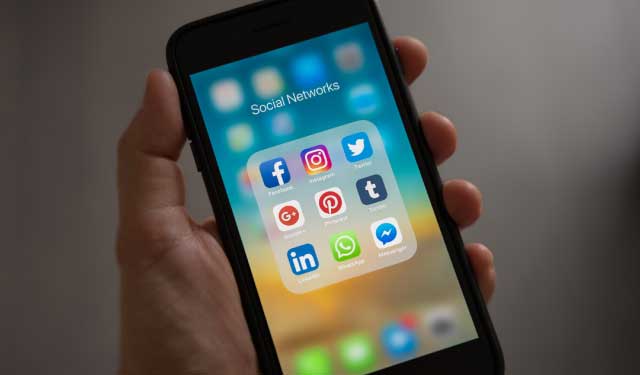 Announced last summer and met with some confusion, Apple is introducing new app store privacy guidelines as a part of their iOS 14 rollout in early 2021. Here we are in early 2021, and there are still plenty of unanswered questions on how this change will impact advertising, specifically, Facebook Ads.
In this article, we outline the changes happening due to Apple's iOS 14 AppTrackingTransparency policy, what they mean for your business, and finally what this means for our social media advertising strategies moving forward. 
What is Apple's iOS 14 Privacy Update?
We all know how, after searching or reading about a product, we then later get targeted online by ads to buy that exact product. 
In order to collect user data so that advertisers can deliver these customized ads to to sell their products to relevant users, Apple uses a device identifier called IDFA — "Identifier For Advertisers" — to collect this information from all active devices. Think of it like a website browser cookie, except for an entire device. Advertisers who rely on Apple's IDFA are able to advertise with greater certainty about who they're targeting and how successful their marketing efforts are.
Similarly, Google has their own Android equivalent to the Apple IDFA called GPS ADID — "Google Play Services ID for Android" – which advertisers can also use to help improve their advertising effectiveness. 
To date, Google and Apple have taken an "opt-out" approach to privacy, meaning that advertisers can collect data by default, but users are allowed to change those settings to limit what advertisers can track if they choose.
This new iOS update from Apple moves to an "opt-in" approach by default, meaning that all apps on iOS must disclose what data they collect and that ALL Apple iOS users will be required to make a choice about sharing any data with advertisers. 
Apple is positioning this change as something similar to the Nutrition Facts label on your food: A standardized format and language that users can use to understand, identify and act based on how they want their personal information handled by a specific app.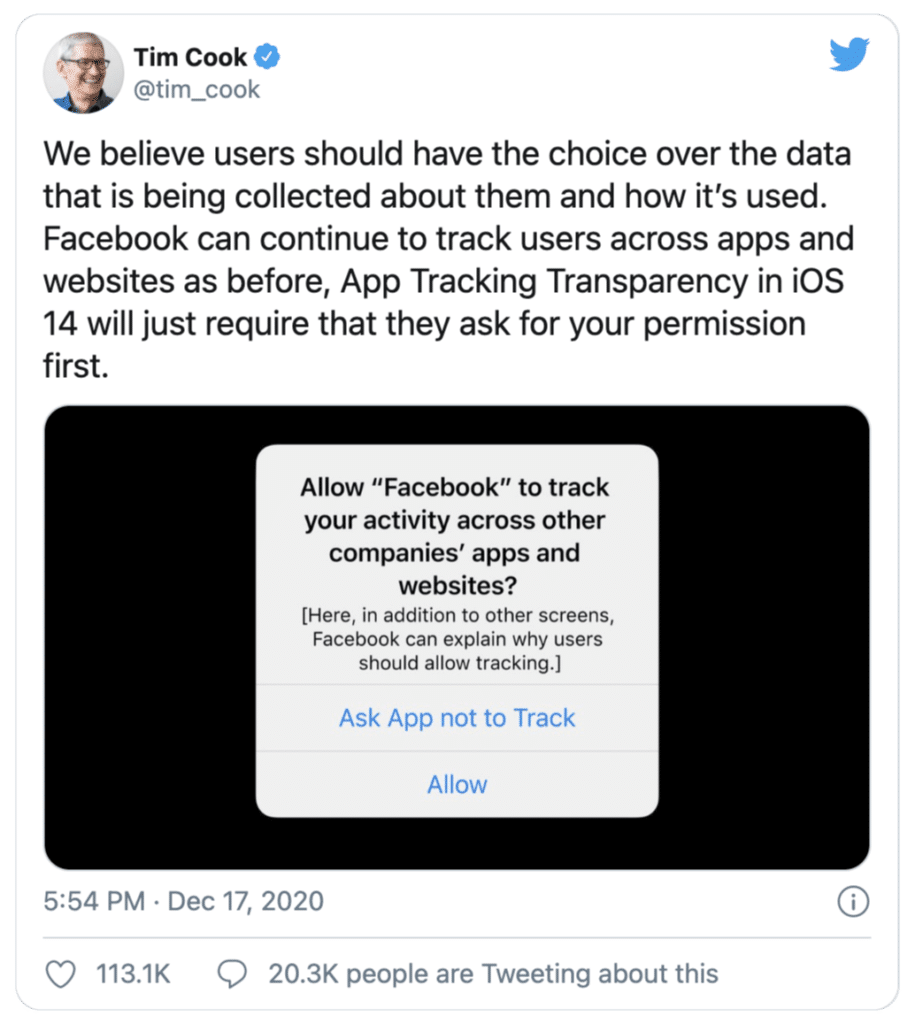 Yet many in the industry are criticizing Apple for what they see as anti-competitive behavior.
Many app developers provide apps for free and monetize them through advertising. Much of that advertising revenue is split with networks like Facebook, not Apple.
Facebook has accused Apple of making this change to drive more app developers to monetize through subscription revenue (which benefits Apple) or drive them into Apple's new personalized ad platform, which is exempt from the same privacy prompt that all developers are subject to.
What Are the Implications for Facebook Ads?
While this change impacts more than just Facebook advertising, Facebook is by far the largest single ad platform, so it will see the biggest impact. 
Facebook heavily relies on collecting and using its data information to help advertisers target specific audiences. With this new update from Apple, users have an easy way to decide if they would like Facebook to continue collecting their data — something many users will opt-out of. How many is not clear. Although this isn't the first time that users will be able to stop sharing their data on Facebook, it is notable in that it's the first time the option to stop sharing personal data has been so aggressively put in front of consumers and been so easy to stop sharing with the click of a button.
While there's still quite a bit of uncertainty around the long-term effects, there's consensus in these areas:
Facebook's ability to track iPhone user activity will decrease

— the industry predicts a high percentage of users will "opt-out" of tracking when prompted. Brace yourself to watch an increased dropoff in traffic and conversion metrics across the board. 

The decrease in tracked user behavior, particularly in regard to website pixels, will impact Facebook's ability to report conversions, optimize campaigns and serve retargeting ads — especially for iPhone users.




We may see retargeting audiences decrease as more and more users opt-out of sharing their data, but the amount is unclear.

Overall, and this is important,

the Audience Network placement, in particular, will be the most impacted

– The Audience Network placements heavily rely on ad placements within apps, which apps use as a revenue stream. The good news is that this is where the biggest impact will be felt – not in the primary feed ads. 
"Ultimately, despite our best efforts, Apple's updates may render Audience Network so ineffective on iOS 14 that it may not make sense to offer it on iOS 14," Facebook states on their website. "We expect less impact to our own advertising business, and we're committed to supporting advertisers and publishers through these updates." 
What Actions Should You Take On Behalf of Your Business?
In order to help mitigate the negative effects of Apple's iOS 14 rollout on your business and to continue using Facebook advertising to successfully promote your business, we recommend the following:
Focus more on owned and operated placements, such as News Feeds and Stories on Facebook, Instagram & Messenger. Anticipate the Audience Network placement to become exponentially less effective compared to pre-iOS 14. 

Continue to leverage data Facebook itself collects for targeting — notably, geographic location and age. With offsite data becoming less reliable, it's important to take advantage of the data Facebook collects when users sign up and voluntarily enter their information. 

Utilize uploading your own custom audiences to Facebook where possible using lists with user information that you collected first-hand (i.e. CRM) to develop lookalike audience targeting when possible.
More like this: Facebook Ads for Medical Practices [14 Best Examples]
Conclusion
Lastly, it's important to see how this plays out. While it's big enough to warrant a discussion, it's still unclear the degree to which this will impact the numbers. It's also unclear how Apple will adjust based on the user experience, app developers, industry conversations, and legal issues.
There undoubtedly will be an impact – we'll keep you updated as we see it unfold.
If you'd like some expert guidance on how to update your Facebook advertising strategy for your business, call us at (214) 396-8500 or schedule a free consultation.