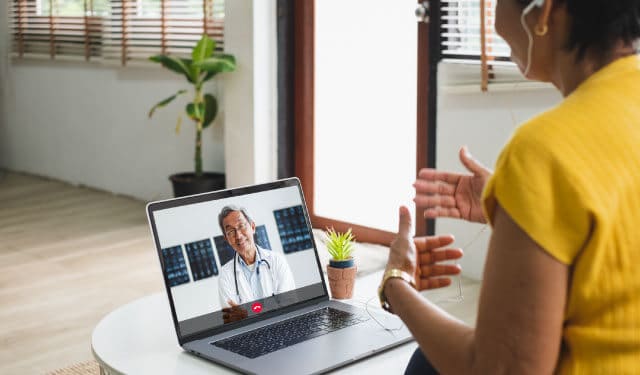 The calls began to trickle in around May this year. What started as a few leads here and there has grown into a steady stream of physicians and entrepreneurs looking to start telehealth businesses across many different specialties.
I began to notice some common themes around patient acquisition in these conversations. In many cases, there was a false expectation that the current groundswell of patient and industry enthusiasm was enough. What we could observe, as marketing experts, was increased competition, investment and exploration in a rapidly growing industry. Without an unlimited budget, the way to win in this climate is to market smarter.
So here are six key strategies I'd recommend for someone starting a new telehealth business.
1. Understand Your New Competition
Telehealth does level the playing field. If you're a medical practice, you're no longer competing against just the other specialists and physician groups in your city.
Established Telehealth Companies
Factor in the telehealth companies dominating the current telehealth landscape — companies like Teladoc, Amwell, and PlushCare have been active in telehealth well before the pandemic. They have built solid brands and in many cases are already spending significant marketing budgets.
Practices In Other Locations
If a fertility practice in Florida can now offer telehealth services to a patient in Texas, then you are now competing against any other practice that wants to provide telehealth services. This practice-to-practice competition will likely grow.
More like this:
At-Home Testing
One category that's also getting a boost from the recent telehealth boom is remote diagnostics. Many of these are supported by telehealth or competing against both virtual and in-person office visits. Examples include at-home testing for sleep apnea and at-home fertility testing.
2. Differentiate Your Model And Messaging
The rise of so many new telehealth companies means there are a lot of different business models out there. Make sure to do your research to understand the positioning and messaging you're competing with.
Here's an example. In a simple search for "online doctor visit," I found each of the following messages:
$15 per month membership
$39 for an online consultation
$39 for non-members ($25 for members via phone or video, or a $19 chat and subscription $2.50 per month)
$49 virtual visits
Free 30-day trial
$20 copay with insurance accepted
Imagine how difficult it will be for potential patients to sort between these options. Make sure the business model and messaging you choose will stand out in this competitive environment.
3. Show, Don't Tell, The Patient Experience
For traditional practices, telehealth reviews are already beginning to show up for these practices in places like Google My Business reviews. Bad reviews come from places where the patient expectations didn't meet the experience. Complicated account creation processes and excessive virtual wait times both can impact how a telehealth offering is perceived.
Clearly show how the process works upfront. Help people understand if there will be a correlating app, if their system is compatible and what happens before and after a virtual appointment.
A great telehealth experience could be your key differentiator — in fact, a patient may be willing to pay a bit more out of pocket for the peace of mind and clarity you provide on the experience.
4. Make Sure Physicians Are Front And Center
You may want to build a brand, but the patient wants to see a doctor.
Many new telehealth brands are making a mistake by not providing visibility into the quality of their physicians. As a patient, I don't need to know the exact physician I'm going to see, but if you're going to ask me to try an appointment or sign up for a subscription, I need to know you have competent docs.
Until you build awareness and trust for the brand, build confidence in your physicians.
5. Be Prepared To Spend On Advertising
As a telehealth brand, you have no geographic restrictions. While this can be an advantage, it now also means that your total potential market is huge. While you may have advertised in only a single city or state, you're now essentially a national advertiser, which means you need a larger budget to reach that very large audience.
Remember that established telehealth competitors are already spending heavily. Amwell, one of the largest telehealth providers, disclosed in their recent IPO filing that in 2019 they spent $47 million on marketing and advertising.
6. Start With Low-Hanging Fruit
Unless you have a huge budget to spend on advertising, start by targeting those most likely to convert — patients specifically looking for telehealth.
Once you're able to consistently reach and convert those patients, you can then expand to convert those who are looking for treatment but not specifically telehealth. Remember, while many more patients have experience with telehealth in the last six months, there are still many who haven't or those who don't yet realize that telehealth is an option for a particular specialty.
A strong marketing campaign will include budget and messaging for both.
Whatever Your Approach — Test, Test, Test
I recommend adopting a testing mentality for marketing any new telehealth business. The variety of pricing models alone warrants experimentation.
• Don't have the budget to advertise nationally? Start with a single city or state.
• Providing acute care? Should you target sprains, blood pressure issues, or insect bites? Divide them each up into tests and see what kind of return you can get.
A well-designed test will start with an educated guess of the two or three areas you believe you can attract the most patients or compete for the best.
We're still early in the telehealth boom. The businesses created now will chart the path ahead. By following the few strategies above, you can build a patient acquisition strategy to introduce your brand to the world and begin to grow patient revenue.
This article originally appeared in Forbes.