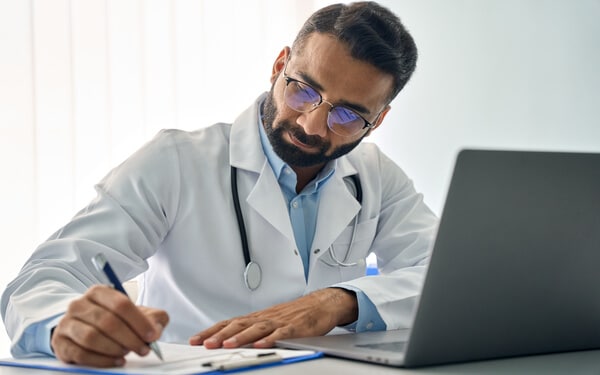 Our clients often ask us – "how much should we be spending on advertising?"
Our answer is always the same, "it depends."
Before recommending a budget or advertising platform to any medical practice, there are a few crucial variables to consider. That's because each practice is unique and has different objectives. To help achieve your marketing and advertising goals, we ask a series of questions to help us figure out what your investment should be.
1. How Much Brand Awareness Does Your Practice Currently Have?
Have you been around for a while?
Do you need to establish awareness of your practice?
Newly established or rebranded practices are often harder to market than established practices.
Why?
Because established practices can convert patients more easily. They often have the brand recognition, practice reviews, and testimonials that many patients look for before choosing a provider. You will need to spend more or build credibility over a period of time if you want to build brand awareness.
More like this: Make Your Messaging Stand Out With Empathy [Video]
2. What Is Your Average Revenue per Patient?
Higher revenue per patient practice also generally has a higher cost per acquisition.
For example, if your revenue per patient is $2,000 – you should be willing to pay $100 to acquire them. However, if your revenue per patient is only $150, you would be hard-pressed to pay the same cost per patient.
More like this: Boost Revenues with a Proactive Approach to Online Review Management
3. What Are Your Goals?
You must be specific.
Do you want to fill up your schedule, add a new physician to the practice, open a new location, or simply check the box that you're doing digital marketing?
Do you know exactly how many new patients you'd like to see each month?
Each of these requires a different kind of budget, as well as different advertising platforms.
4. How Many Locations Are You Advertising?
Locations have a big impact on budgets. The number of potential patients and competitors in each local market can drive costs up or down. It's an industry best practice to have a separate budget for each location, so you can allocate appropriately.
5. What Kind of Creative Assets Do You Have?
Creative assets such as videos, photography, and patient testimonials help us understand what kind of platforms you can run on. If you don't have great medical practice video assets, then you can't run a campaign on Youtube, for example.
6. Lastly, What Is Your Ballpark Budget for Ad Spend?
If you do have some sense of what you're prepared to spend, it's important to share this – as it may take some options off the table.
We know this isn't always the easiest question to answer if you don't know what you should be spending, and we often have to adjust expectations in our discussions about practice advertising. This is why we often structure our conversations as "good, better, and best" budget levels.
Conclusion
It's okay if you don't know the answers to these questions – we can help you think through it. The more we understand how your practice operates and stays profitable, the better we can lead you in the right direction towards ROI.
If you'd like us to put together a no-obligation "good, better, best" budget recommendation to advertise your practice, request a consultation to speak with a RUNNER marketing expert.
More like this: 3 Search Advertising Challenges for Medical Practices