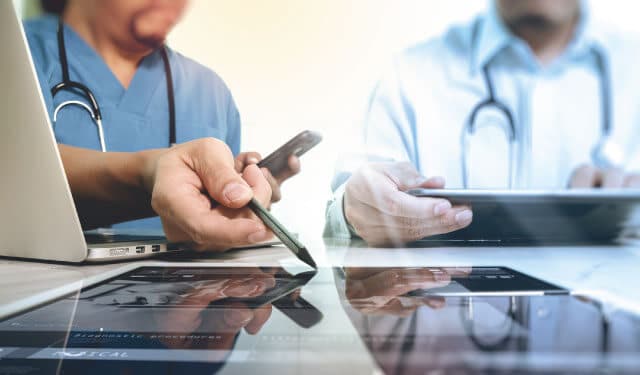 For many medical practices, marketing technology has become a growing expense. As more budget is spent on digital marketing, more tools are needed.
What Is a Marketing Technology Stack?
Your marketing technology stack is the collection of technologies a practice uses to plan, execute, optimize, and report on patient acquisition. Many of these tools are simply the cost of doing business for a medical practice in 2020. However, the tools utilized by practice have become a huge factor in how well their digital marketing performs.
We've included below what we believe is an ideal marketing technology stack, as well as some thoughts on how to streamline and reduce costs without sacrificing performance.
Paid Advertising Stack
Paid advertising is the primary way that practices scale new patient growth. These platforms are responsible for reaching and converting leads.
1. Ad Platforms
Perhaps the most important technology partnerships in your marketing technology stack are the ad platforms you run ads through. The foundational platforms will be Google Search Ads and Facebook Remarketing for almost every medical practice.
However, high-performing medical practices will also include additional ad platforms like native advertising and programmatic advertising.
2. Landing Page Builder
In order to get the most performance out of your paid advertising, having custom landing pages that are personalized based on your ad campaigns is key, as well as the ability to A/B test messaging and design. This leads to better lead conversion rates and higher ad quality scores in Google Search Ads, for example. Yet many medical practices do not build custom landing pages for their campaigns. Best-in-class landing page builders include platforms like Unbounce, Optimizely, and VWO.
Website Stack
Your medical practice website is the backbone of your marketing efforts.
3. Website Platform (Content Management System)
In addition to your ads, the platform your website is built on is extremely important. It's where patients can get the most in-depth understanding of your practice and where your primary objective is to build trust and motivate them to reach out.
We believe the only platform to consider here is WordPress. It's the single largest site platform, powering 38% of websites. Most importantly, it's an open-source platform, meaning it has the largest community of designers, developers, and other marketing professionals to support your marketing efforts. You'll own your site and always have someone to help you keep it updated or redesign it when you need it.
The biggest mistake you can make here is getting convinced by a marketing company that you need a proprietary website builder platform. This often means locking you into contracts where you'll lose your website if you leave them, or you have to rely on that company to make all updates for you.
The other challenge many practices face when building a website is getting sold a cookie-cutter template website rather than building something custom. You'll see this as the most common negative review for medical website "platform" providers.
If you want to avoid the most common pitfalls medical practices face when building websites, follow these best practices for high-performing medical practice websites.
4. Form Builder
Your forms are a primary way that lead information is collected. If you're using WordPress, you're likely using a plugin to build your forms. However, there are also standalone vendors like Gravity Forms you can use to build and embed forms on your site. The most important aspect of form building for medical practices is that you pass all lead data to a HIPAA-compliant CRM (more on that below).
5. Blogging Platform
Creating targeted content for SEO is a way to invest in long-term organic site traffic growth. Your website builder should have the capability to also publish a blog. As with your website, we believe the gold standard here is WordPress.
6. HIPAA-Compliant Hosting Provider & Website Care Plan
While hosting is usually considered a very minor decision, many practices do not consider if their hosting provider is HIPAA-compliant. Since you are potentially liable for how your host is handling compliance, it's important to be confident in your hosting provider. Our preferred provider is Liquid Web.
Remember, it's not enough to just have hosting. You must also make sure your site is maintained, that plugins and updates are made to your website builder, for example. That's why we also offer managed website care plans alongside hosting.
7. Practice & Physician Listing Management
In addition to your website, it's important that your practice and physician listings have the correct information and are distributed to the right directories. It's not just Google My Business that you need to appear on, but other directories like Apple Maps, Bing, Yelp, and provider directories like Vitals and Care Dash.
These directories are responsible for driving calls and appointments that may never visit your website. If you're not represented well in them, you're missing out on a significant source of new patient growth.
Rather than manually submitting and updating all this information, you'll want to use a combination of a tool to help you manage the listings and an agency to do the updating and build out the listings. These services are sometimes referred to as "citation management" or "reputation management" platforms and services.
Buyer beware: There are some services that attempt to lock medical practices into their service by deleting listings if they no longer pay the monthly fee. Steer clear of providers that take down listings.
8. Review Management
In addition to your practice listings above, the reviews in those listings are important to build trust with potential patients, as well as a signal to search engines about the quality of your practice or physicians.
Practices must strive to increase their total number of positive reviews. This is done through the use of a review management process that allows them to solicit feedback and invite the most positive patient experiences to leave a review. Platforms allow them to automate this collection and prioritization process.
Lead Handling
How your phone calls and form submissions are handled is truly what separates the average medical practice from a high-performing practice. This is because so many practices invest very little in the automation and optimization of converting leads into patients – missed calls, no sustained follow-up and a lack of technology are often the norm.
9. Call Tracking & Recording
The frontline for how your medical practice handles leads is the phone. Most practices still generate many more phone calls than form submissions. All medical practices need to understand the volume of calls and what's happening on them.
This can be achieved through call tracking systems like CallTrackingMetrics, and CallRail. These platforms will tell you how many calls are coming in, they help you understand the source of the calls and provide call recordings so you can listen to conversations.
10. Booking & Appointment Scheduling
Many practices are now beginning to allow direct booking and scheduling rather than standard contact us forms. For this, you'll need to leverage a scheduling system that connects to practice calendars so there are no issues with availability.
This scheduling is typically provided by practice management systems, although there are standalone platforms like Calendly that specialize in scheduling and booking.
11. Text Messaging
Interacting with patients via text message has the potential to significantly boost conversion rates with prospects from the point of lead submission through the lead conversion process. Why? Because text messages are opened 98% of the time, while email messages are only opened on average 33% of the time. Yet very few practices are utilizing text messaging. In order to leverage text messaging, you'll need to use a service that allows you to deliver text messages. Standalone providers include platforms like SlickText, SimpleTexting, and Twilio. Ideally, you'll want a service that integrates into the CRM you use, so you can track communication across multiple channels.
12. Email Marketing
While texting may get better open rates, some people prefer email communication. It's important to still have email marketing in place not only for standard practice marketing communication but also for things like re-engaging patients you haven't seen.
Your email marketing platform is important because when you start sending large email campaigns, you want to send through a platform that allows you more control over personalization, a/b testing, and optimization of your emails across multiple devices.
13. HIPAA-Compliant CRM & Pipeline Management
Your CRM is one of the most important marketing technology investments in addition to your website. All leads that come into your medical practice should be stored and worked in a secure CRM, where you can clearly understand all the channels a lead is engaging with and move them through stages as they become a patient.
One of the biggest challenges with CRM systems is that best-in-class systems like HubSpot are expensive and aren't HIPAA compliant. In addition, some practices get sold on using "Practice Management Systems" that are great for EHR, but terrible at the kinds of features a CRM should have. At RUNNER, we offer a HIPAA-compliant CRM at a fraction of the cost of other practice management systems and expensive non-healthcare CRM systems.
Reporting
14. Website Analytics
Tracking overall site activity through a website analytics tool is a must. Google Analytics is the preferred platform. The common challenge most medical practices have with website analytics is properly setting up goals to ensure it provides the insights you need.
15. Marketing Dashboard
In addition to reporting on your website, a marketing dashboard is something all high-performing practices will have in place. You must first define KPIs for your website, paid advertising, and key lead conversion metrics. We've defined 6 essential KPIs for medical practice growth.
These dashboards can be created through a variety of platforms, such as free platforms like Google Data Studio. We recommend creating a custom dashboard, as you'll need to be able to pull in data from many different platforms.
Streamlining the Ideal Practice Marketing Tech Stack
The reality is that most medical practices are operating with an incomplete marketing tech stack. If they were, implementing all of the above technologies could be quite expensive. A conservative estimate of all the above features would be well over $1,400/month.
You should be able to build an ideal marketing technology infrastructure without breaking the bank, which is why we offer a practice marketing platform that checks all the boxes above and starts at only $249/month. Request a consultation to talk to a RUNNER strategist to learn more.