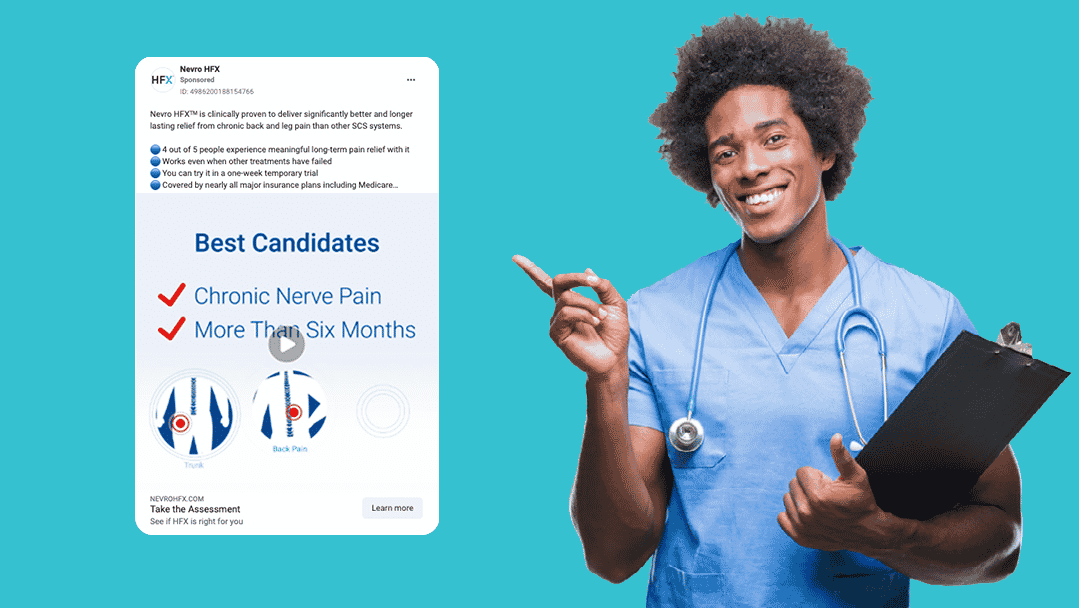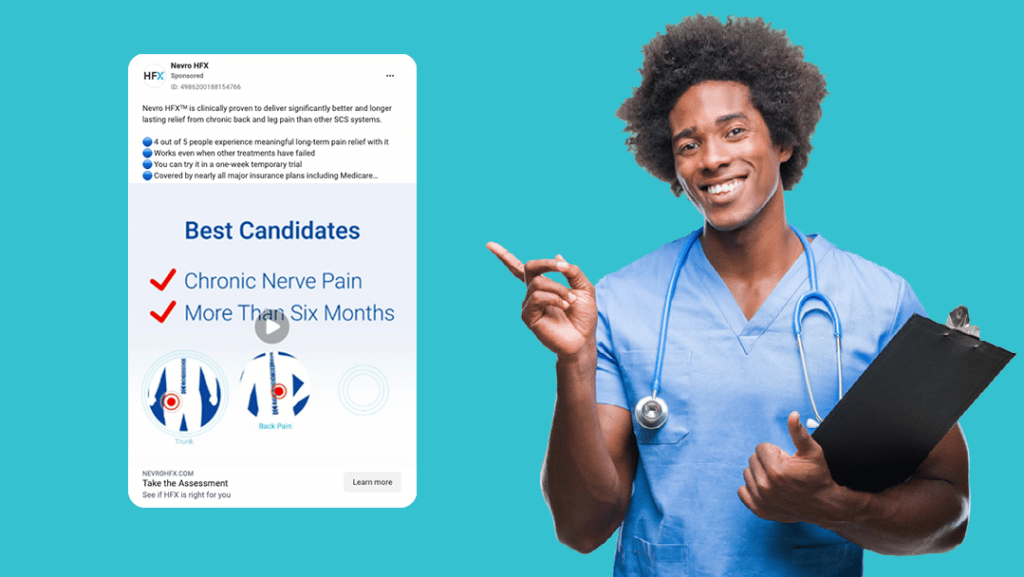 Introduction
Ads can be a powerful tool for pain management practices to drive more new patients. However, we know that the creative in your pain management ads can differentiate between success and failure.
In this article, we'll explore the 8 types of pain management ads that we've seen drive the best results for pain management clinics.
More like this:
8 Best Examples of Pain Management Ads
We'll use Facebook Ads to showcase the most successful creative types we've seen used.
More like this: Facebook Ads for Medical Practices [14 Best Examples]
1. Practice Introduction
This is the most straightforward ad type for a pain management practice. You're introducing the practice, and there are a few essential pieces of information to include. First, make the location clear – address the city for your local market. Next, showcase the wide variety of services you offer and your philosophy of care.
More like this: The Power Of Empathy In Medical Marketing in 2022
2. Doctor or Provider Introduction
Another take on introducing your practice is highlighting specific doctors or other providers. But, we've found that video often works best – it creates the most empathy and trust between potential patients and providers, especially when the video is in the physician's own words.
More like this:
3. Education around Conditions and Pain Management Treatments
Education can be a great motivator to help patients decide to get treatment. It's essential for pain management clinics as you can help educate patients about pain and describe treatments to them in more detail so they know what to expect.
More like this: 4 Must-Haves in a Healthcare Content Marketing Strategy
4. Pain Management Patient Testimonials
Testimonials from patients you've treated are the social proof often needed before scheduling an appointment. Of course, the best patient testimonials will be videos, but even if you don't have videos, images and quotes pulled from reviews can work well.
More like this:
5. Educational Events (Webinars, Seminars)
Educational events are a high-performing tactic we've seen pain management use to generate new patient leads. This usually means online webinars or in-person seminars to provide more profound education on complex topics.
For example, spinal cord stimulation is a difficult topic to create new patient leads without significant education on who's a candidate and the process. But we've seen practices use educational events to generate leads from interested patients. These patients still interested after the event are generally highly qualified and much more likely to become patients.
6. Offers & Promotions
It's common for many pain management practices to market "free consultations." However, we've found that patient show rates can be less than stellar unless there's a tangible, easily understood offer. For pain management ads, this can mean providing clear services and price points, so patients understand what to expect.
7. Leverage Partner Assets
Partners such as medical device companies often create their own assets that pain management clinics can utilize for ads. One example is spinal cord stimulator companies that make educational videos, even patient testimonials that practices in their marketing plans can use.
8. Remarketing Call-To-Action
Lastly, remarketing is one of the most critical types of pain management ads. Remarketing ads are shown to potential patients that have visited your website but haven't yet called or submitted a form. This is arguably the most crucial first type of ad to run as it targets your most qualified lead.
More like this: Medical Practice Website Design: 5 Must-Have Features for 2022
Ready to Run Pain Management Ads?
These 8 types of ads are a great place to start. But your ad creative is only one factor in building ads that convert. Several other pieces of the puzzle must be there to create high-performing digital advertising campaigns, including:
The advertising platforms you choose: Google Search, Display, Facebook, Instagram, etc.
Your ad targeting: age, income, location, interests, search terms, etc.
The ad campaign objectives you choose: impressions, traffic, leads, etc.
Your ad budget settings, including spend limits
More like this: Google Ads Benchmarks for Medical Practices (with Real Data!)
Your best chance for success is to work with an experienced marketer who not only understands how to grow medical practices but one that's worked with other pain management clinics. If you'd like to talk about what a pain management ad campaign would look like for your clinic, request a consultation and speak with one of our pain management practice marketing experts.
More like this: What's A Good Conversion Rate for Medical Practices?