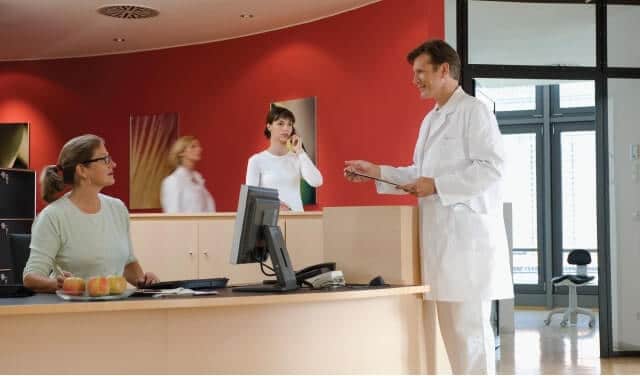 There's a significant opportunity in 2021 to grow your medical practice if you have the right strategy in place. Some practices are positioned better than others to take advantage of this moment in time to acquire more patients.
5 Questions to Grow Your Medical Practice in 2021
Growing your practice requires the right mindset. You must question the status quo of how you're currently marketing and ask tough questions about what it will take, and if your practice is prepared.
1. Am I Too Reliant on Physician Referrals? 
Physician referrals are an important source of referrals, but they're also one of the most unpredictable forms of new patient acquisition. What happens when referrals dry up? Or a referral exits their practice?
It's possible to drive the majority of your new patients from digital marketing in predictable, scalable ways that provide significant ROI. Many of the practices we work with use digital marketing to drive more than 50% of new patient volume.
Taking a more active role in patient acquisition outside of referrals allows you to be more targeted. You can focus on the specific conditions you'd prefer to treat, as well as ideal patient characteristics like insurance. This results in a more profitable and fulfilling practice.
Read more about exactly how to become less dependent on referrals in our blog post: Growing Beyond Physician Referrals for Your Medical Practice.
Or, learn how to diversify your marketing efforts with 35 ways to acquire new patients – many of which may be surprising.
2. Am I Investing Enough in Marketing?
What's your average revenue-per-patient, and your volume of patients per month? The higher your revenue and larger your patient volume, the more you should be willing to spend on marketing in order to see a return.
If you're a surgeon making $10,000 in revenue off of a single procedure, shouldn't you be willing to spend at least that much on marketing?
The reality is that most practices aren't spending enough, or have unrealistic expectations about the return they'll get from marketing. You cannot expect to see patient growth if you're only investing in a great website. Long-term efforts like SEO or short-term strategies like paid advertising are essential to creating real, sustainable growth.
Here are three ways to determine a digital marketing budget for your practice.
3. What Does It Cost Me to Acquire a Lead or a New Patient?
Understanding your marketing costs is key to understanding your investment needs to scale.
Yet most practices will have trouble even answering the question. The answer will be different depending on the marketing channel you use. Some channels will be better than others. In order to answer this question, you need to have the tracking in place to measure the KPIs that matter.
In addition to your cost-per-lead and new patient, we've outlined the 6 essential KPIs you need to understand for your medical practice. Understanding these is the key to creating a path to growth.
4. How Good Is My Practice and Handling and Converting Leads?
Before you invest in paid advertising or other means of scaling new patient leads, it's important that you're handling calls and website form submissions well.
Since most practices have a front desk juggling multiple roles, it's common to have missed calls, delayed responses to form submissions, or staff that aren't really trained in converting leads into patients.
Just as you need to quantify your costs to acquire a customer, you need to understand what your call and form submission volume looks like, how many calls you're missing, and overall patient conversion rates.
Identify and fix any lead handling challenges before you invest in growth. This is a hard problem to fix. That's why we provide a patient contact center for clients to ensure all incoming leads are handled so your staff can focus on what they do best.
5. Do I Have the Right Technology Systems in Place to Enable Growth?
Your practice "marketing technology stack" is one of the most important decisions you can make. The right tools will make handling leads easier and enable you to quickly scale.
We've outlined what the ideal practice marketing technology stack looks like, as it includes some platforms that are likely not a part of your current toolset. In addition, we offer our own HIPAA-compliant marketing technology platform.
Conclusion 
Asking and answering these questions will allow you to understand how well your practice is positioned for growth in 2021.
Many of these questions are not easily answered. Request a consultation and speak with a practice marketing expert from RUNNER to talk through your challenges and get a growth plan for the coming year.