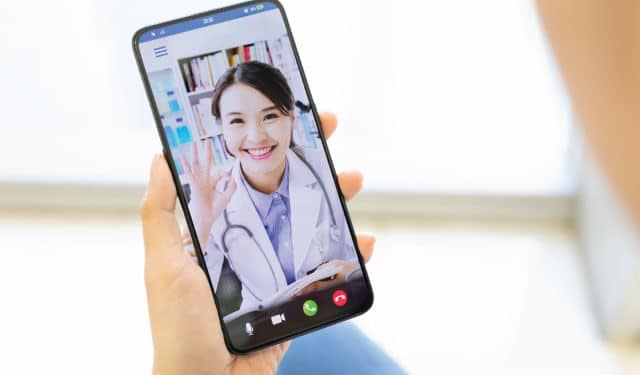 The COVID-19 pandemic has revealed one of the most important elements of a practice's value to its patients: trust. 
Online, the currency of trust is medical practice reviews. With our many years of experience managing patient acquisition, we know that online reviews are one of the most trusted and frequently consulted sources for patients making an appointment with a new provider.
How Medical Practice Reviews Have Been Impacted by COVID-19
COVID-19 has also changed the way that patients are making and researching reviews for medical practices. Here are just a few of the ways we've seen reviews changing:
1. Hospitals Are Getting a Lot More Reviews
It's an axiom of medicine, but it's really true: patients don't receive medical care from buildings, brand names, or equipment — they receive care from doctors. In the past, patients would generally leave reviews for specific physicians but not as much for the facility or practice.
COVID-19 has changed this. Patients have all new (very understandable) concerns with the facility itself — is it being cleaned and managed well? Does the check-in process reflect best social distancing practices? Is the allied and auxiliary staff taking necessary precautions?
All of this means that the hospital or business operations have become more visible, and more importantly, to patients than ever before. And that's being reflected in the number and types of reviews that patients are leaving.
For example, compare these two reviews of the same facility. Can you tell which one was left in May 2020 and left in October 2019? Notice what the patients are focused on during each different time.
"I had a great visit experience. Everyone was professional, made sure we had sanitized pens to fill out forms with. They worked effectively to get you in and out, making [you] feel like they care. High five to them, essential workers. God bless everyone of them. I recommend this [place] to anyone needing medical attention."
"Dr. W. is the best doctor I have ever had in my adult life. His bedside manner is unmatched. It is so hard to find a provider that you are comfortable with and that doesn't just treat you like another patient to get [through] and then on to the next one. He is genuinely caring and always treats my family and me with kindness. I am so blessed to have found his office."
Cleanliness, organization, process, not keeping people waiting and exposed — these are the things that patients are going to be looking for in reviews right now. 
Do the latest reviews of your practice reflect this commitment to patient safety? 
(If you answered "no," here is how you can get started. )
2. Telehealth Experiences Drive Reviews
As practices increasingly offer telemedicine services, we are also seeing a lot of new mentions of virtual consultations and visits come up in the patient reviews. Again, this is to be expected, as patients will always focus their review on the most notable parts of the visit.
Here is an example of a review of telehealth services:
"Best Thing to Happen to Medicine (Besides Penicillin). This was my first experience with telehealth services, and my expectations were completely exceeded. I'm an RN but between jobs and have no insurance, and I found HeyDoctor in my search to find somewhere I could get a prescription without much hassle/having to find a doctor that would give me a reasonable rate w/o insurance. Knowing the paperwork/red tape involved in medicine, I was skeptical of it really being as easy as they advertised. . . but it really was. In fact, it was easier than the process I had to go through when I did have insurance. No exaggeration — within ten minutes of submitting my ingo, the medical team responded back saying they had sent my script to my pharmacy, and even sent me a coupon which allowed me to get the script half off. I am still blown away. This is how streamlined basic medicine should be, and I will be coming back and also telling everyone I know about the service. Can't say thanks enough!!!"
It's important to see what the patients find to be the qualities of a good visit — speed and efficiency being at the very top, and then the quality of care and the demeanor of the physician below that. 
In order to generate positive reviews, practices must treat the telehealth patient experience with the same level of care as the in-person visit. Are directions clear and easy? Are physicians on-time? Are patients struggling at all with the technology?
3. Patients are Shopping for Doctors More Than Ever
Because of COVID-19, so much of everyone's daily life and routine has gone online. Grandparents learned to Zoom for the very first time, schools shifted learning online. No one would have expected these changes at the beginning of the year.
The way that patients find doctors has changed as well. There are fewer opportunities for physician referrals, traditional advertising, or driving by the practice. The process for doctor shopping has shifted almost completely to online — even before someone looks to their insurance provider, they are searching, reading reviews, and comparing benefits and processes.
A single negative review about your practice's telehealth procedures or in-person cleanliness could be seen by hundreds, even thousands of prospective patients. Likewise, those practices with only glowing reviews but none that are recent will be less appealing to a patient — reviews made pre-pandemic will be considered outdated and less relevant.
Conclusion 
So, what does all of this mean for you and your medical practice? You need current, positive reviews that highlight the great service and safety you are providing to your patients. There are simple ways to generate these reviews — through email, through text, through even simply asking patients — and these are truly one of the most important parts of your practice marketing right now.
The practices that embrace the impact of coronavirus on patient reviews will be better positioned to attract and maintain patients as we hit our stride living in the "new normal."
It's important to remember that COVID-19 has brought on a change in patient expectations, especially when it comes to mitigating the transmission of coronavirus.
If you'd like some expert guidance on how to leverage patient reviews on your practice, request a consultation today.