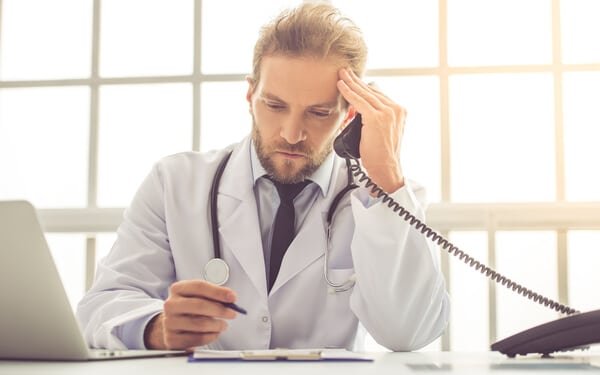 In the past 15 years of our work marketing for medical practices, we've seen some common patterns for success. I wanted to share with you the 3 common steps that the most successful medical practices take that predictably drive new patients to their practice.
3 Steps to Build Your Medical Practice Marketing Strategy
Step 1: Establish Your Medical Practice Marketing Foundation
Where to start? You need a solid foundation for patients to learn about who you are, what you offer, and make a decision.
Three channels form the foundation of this strategy:
1. Your website
2. Business listings for your practice
3. Doctors on sites like Google, and reviews and testimonials from existing patients.
Each one of these is ESSENTIAL. You cannot begin to succeed in marketing your practice without ALL of these elements. If you have a great website, but no practice listings — you'll be difficult to find. If you have listings, but no reviews – you won't build enough trust for patients to reach out.
Let's explore each in a bit more depth.
Your Practice Website
A great medical practice website should look good, but it should also build trust, express empathy, and educate the patient. Most importantly, it should also have clear calls to action that turn visitors into leads. This point is key. Make sure you're working with a marketing partner with deep healthcare experience and know-how to build a site that will drive leads, not just look pretty. The messaging should be clear, the site should be easy to navigate and it should be optimized for SEO.
You can read more about the 5 elements of a high-performing medical practice website.
Practice & Physician Listings
Of course, one of the most important listings for your practice is your Google My Business listings. This is because 92% of the search market is controlled by Google. So if you want to get found in search results, you need to have these listings. If you have multiple physicians at a single location, you can also create physician listings in Google My Business.
But for medical practices, you also need to think beyond Google and claim listings across many other directories. Navigation listings on places like Apple Maps, and healthcare directories like Healthgrades are key. Your practice and physician listings establish a home outside of your site where potential patients are looking for a provider.
Suggested Read: Online Reputation Management for Doctors Your 2022 Guide
Reviews
You want to have a high number of good reviews. Reviews are social proof that helps reinforce to potential patients that seeing you is a good decision. The path to lots of good reviews is implementing a system to handle it. If you're asking for reviews manually, or only occasionally, or you just have a sign in the waiting room, you do not have a system. Our reviews platform creates a system to automate the process of requesting reviews and screening to only proactively request reviews from those who are most likely to recommend you.
Suggested Read: How To Grow Your Patient Reviews
Step 2: Attract The Patients You Want. Stop Relying on Referrals.
Once you've established your marketing foundation, you need to begin attracting patients instead of relying on physician referrals. In fact, self-referral is becoming more important as patients have become more active in researching physicians and insurance companies are allowing more self-referrals.
Most physicians don't realize how much you can rely on marketing to drive new patients. We helped a recent client of ours drive 70% of all new patients through digital marketing. There are two primary strategies that will attract new patients to your practice.
Suggested Read: 3 Steps To Build Your Medical Practice Marketing Strategy
SEO
Organic traffic from search engines can be extremely valuable to a practice. But local SEO is what really matters for medical practices. Yet some marketing agencies use cookie-cutter SEO strategies like blogging that are great at driving traffic, but not great at targeting local traffic. You can write the world's best blog post for "plantar fasciitis", but a visitor from Canada will never set foot in your office.
Local SEO uses strategies like localized content, local listings, and local link building. Like all SEO, it's a long-term strategy that can pay off with patience and persistence.
Paid Advertising
While SEO is slow and has no guarantees, targeted paid advertising is the best way to attract ideal patients to your practice. Paid advertising is also the quickest way to see an immediate impact on getting office visits scheduled.
Google Search ads are a primary strategy for most medical practices. You can actively find patients in a clearly defined geography who are looking for the treatments and conditions you specify, and you only pay when they click. We also recommend all medical practices have at a minimum a Facebook remarketing campaign, targeting those who've already been to your site but didn't become a lead. There are plenty of other digital marketing channels to acquire new patients from, such as Youtube, display, and native advertising.
The most important thing to understand is that your results are impacted by your ad spend. Some medical specialties are more competitive, so your investment must be higher. Other medical specialties are more challenging to target. It's important to work with medical marketing experts like RUNNER so you don't waste your time figuring out what channels to use and how much you should be spending.
Suggested Reads: Google Ads Benchmarks for Medical Practices (with Real Data!) and How to Get More Patients With Facebook Ads
Step 3: Better Engagement & Closing Of New Patient Leads
One of the biggest challenges we see with most medical practices is how new patient leads are handled Most practices miss around 20-30% of calls, and are terrible at quickly following up with leads that are submitted via contact forms on the site.
As other businesses do, practices should be relying on technology to help automate the process of handling new patient leads to increase engagement and do a better job of converting them into office visits and procedures.
Suggested Read: Marketing Frameworks To Help You Get More Patients
Front Office Automation
Our front office automation platform focuses on a few key areas that we've seen have the biggest impact on new patients.
Call & Form Tracking: tracking the number of inbound calls and form fills, including understanding what marketing effort they originated from and how they're handled.
Form Response Automation: you're much more likely to reach someone who submits a form if you can reach them within the first hour after they submit. Automated responses via email and text message after a form submission help increase the likelihood you'll get in touch.
Text Messaging: we're seeing many patients prefer text messaging. This has become particularly important as more calls from unknown numbers are being automatically silenced. We can automate text message responses, even use AI to create triggered responses, or even text patients when we miss their calls
These are just a few elements of the platform. One additional feature some clients utilize is our appointment setting service, which can free up your front office to focus on the patient experience while we help you handle the leads.
More like this: 3 Easy Ways to Automate Your Medical Practice Front Office
Conclusion
Putting all these steps together will ensure that you're covering all your bases to get the most out of your medical marketing strategy. Each step you take is one step closer to your goal.
If you're ready to take that first step, reach out to schedule a free consultation with a RUNNER marketing expert.