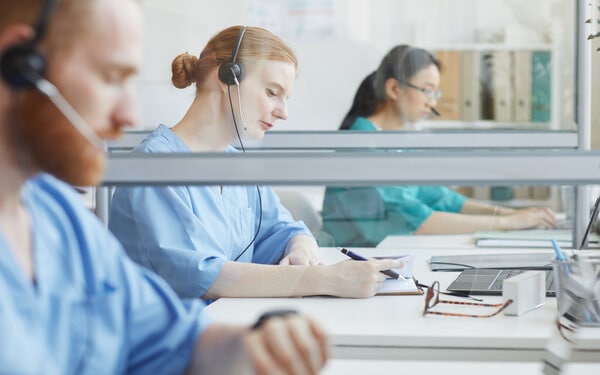 As the majority of patient research is now happening online, many of the patients that reach out to your practice will do so after-hours when it's most convenient.
In fact, in a recent client audit, we found that 27% of new patient leads (more than 1 in 4) were being generated outside of clinic hours. For most practices, the chances of reaching and converting these after-hours leads into patients are much lower than those who reach out during business hours. 
We've already posted about how fixing the way your front office handles new patient leads is essential. But in this post, we'll cover a few ways you can improve your medical practice's chances of reaching after-hours leads.
How to Handle After-Hours Patient Leads
1. Provide Form Submission Options
One of the most important options you can offer your patients, especially those researching after-hours, are form submissions.
The best practices offer more than just a generic "contact us." Driving more leads is often about better meeting the needs of the potential patient.
If they're ready to book, add an "Appointment Request" form submission.
If they still have questions, a more educational or diagnostic form submission might work best.
For example, with spine & orthopedics practices, we use a "Pain Assessment" form submission.
More like this: Beyond Default Forms: Better Lead Generation Tactics [Video] 
2. Rethink Your "Thank You" Confirmation Pages
Handling leads submitted after-hours is often about setting expectations. You set the first expectation on the "thank you" page after a potential lead submits a form. Don't take the default approach, which is a generic "thank you, someone will get back to you."
Instead, include the following on your thank you pages:
Make a promise about WHEN you'll get back to them (within 24 hours, in the AM on the next business day, etc.)
Information about your practice office hours and how they can contact you if they choose to proactively call instead of wait for a call.
Educational information – consider adding a video from a physician with a personal message a bit more about your practice. This can go a long way towards building trust for patients that still have questions or aren't ready to book yet.
More like this: Building A High-Performing Medical Practice Website
3. Form Submission Auto-Responders
In addition to your "thank you" pages, you want to send confirmation emails letting patients know you've received their form submission and covering much of the information listed above.
Sending an email provides an extra layer of assurance that the form did indeed get submitted, but it also keeps the information accessible in the inbox after they've left your website. In fact, automation can be a powerful medical marketing tool for practices.
More like this:
4. Text Message Automation
We're seeing more patients prefer communication via text message over phone calls or email.
Think about it — most calls from unknown numbers are going straight to voicemail, so text messaging provides a better way to coordinate a time to talk or to get information to a potential patient in a method that's more convenient for a quick response. 
For after-hours lead submissions, offering the ability to communicate via text message can be made more engaging by using text message automation.
Our marketing platform, for example, can provide automated responses to provide answers to common questions or schedule appropriate times to speak with potential patient leads. This makes it far more likely you'll continue to reach and convert leads outside of business hours.
More like this: How to Securely Text Message Patients
5. Website Chatbot
Adding chat functionality to your website will add incremental leads to your patient pipeline. Website chat allows potential patients an easy way to get basic information or ask questions without having to dig on your website or wait on hold to speak to a person. This is accomplished through a "bot" that provides canned questions and responses.
More like this: Building A High-Performing Medical Practice Website
6. Answer the Phones Earlier
Rather than late nights or weekends, one of the most common times for leads to be generated is in the early morning hours.
It's one of the most convenient times for many patients to reach out to a physician before the bustle of the day begins. Simply answering your phones earlier can have a HUGE impact on the number of patient leads you're able to convert. Start small — answer them an hour earlier and see what kind of results you get.
7. 7 Day Phone Coverage
As we mentioned earlier, the chances of converting after-hours leads is lower. So coverage on the weekend can also improve your results. Even if you don't have full 8-hour coverage on Saturday and Sunday, adding weekend coverage will increase your chances. Again, you can start small — add one weekend day with limited hours and grow from there.
8. Implement Call & Form Tracking
Lastly, you will have little insight into how many leads you're getting after-hours unless you're tracking it all. I am still surprised how many medical practices do not have call tracking in place to see WHEN calls are coming in, or a CRM system to track patient leads being submitted via forms. This is why we built a HIPAA compliant marketing platform to track new patient leads from calls and submissions through scheduled appointments.
More like this: HIPAA Compliant CRM: Why Your Medical Practice Needs This
9. Outsourcing New Patient Lead Handling
Lastly, you can outsource the handling of new patient leads. There are a number of outsourced call center options to help your front office field more calls. And make sure you've set up a HIPAA-compliant marketing platform that allows them to decrease missed opportunities.
Conclusion 
If you'd like to learn more about how RUNNER can help you get more new patient leads and handle them better, request a consultation with a RUNNER marketing expert.