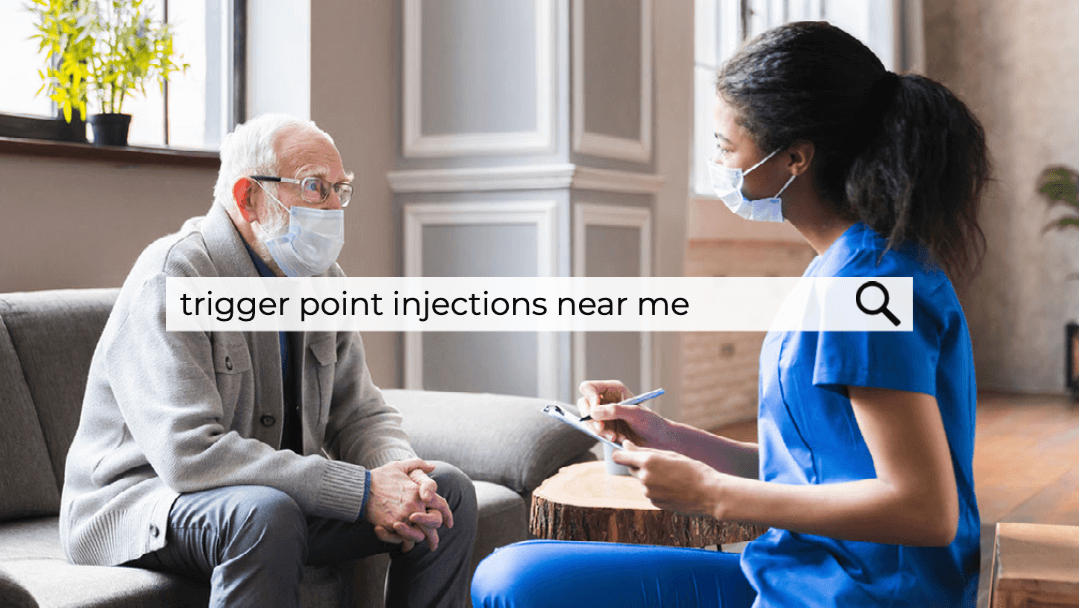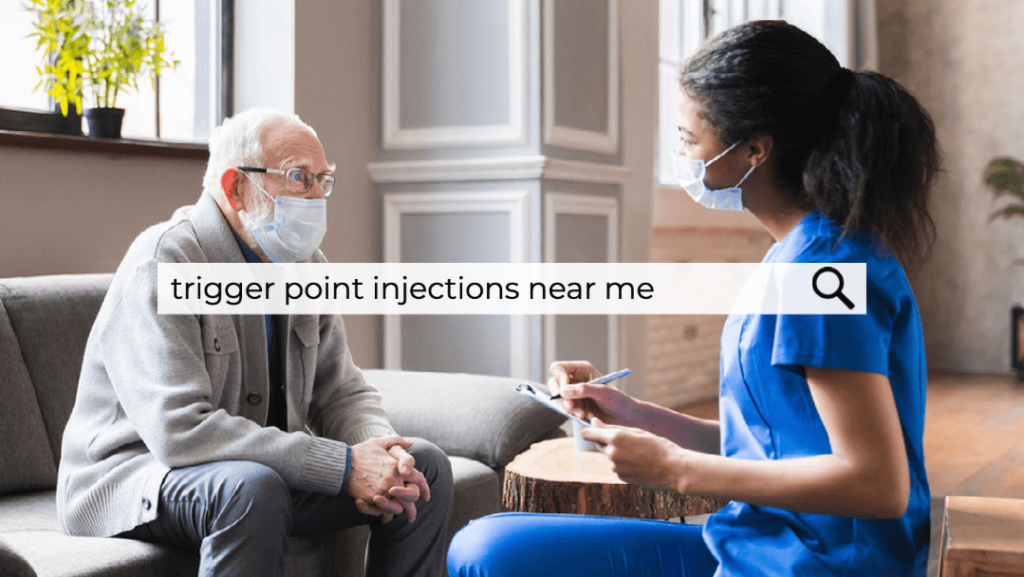 Introduction
Search Engine Optimization (SEO) has become an essential part of any modern medical practice marketing strategy. When done right, SEO can drive qualified patients to your site for years to come.
Why Is SEO Important for Pain Management Clinics?
SEO is vital for pain management practices. Pain management clinics provide many conditions and treatments that have become increasingly difficult to target through tactics like paid advertising.
One such example is regenerative medicine, which Google has banned using in all paid advertising in Google Ads. So simply put, SEO becomes one of the only ways to promote these services.
More important, however, is the fact that Google has become the primary destination for pain management patients researching symptoms, conditions, treatments, and physicians.
In fact, according to Google, more than 7% of daily searches on the platform are health-related, making it one of the largest search categories. That's more than 1 billion healthcare-related searches a day.
More like this: How To Market a Pain Management Clinic in 2022
How Can Pain Management Clinics Do SEO?
For pain management clinics, SEO should be considered a long-term strategy. Like your practice reputation, building traffic and seeing results takes time. However, more than any other marketing strategy, consistency over the long term is the best predictor of success. Whether you partner with a pain management marketing agency or do it yourself, the strategies below will help drive more qualified patients to search for your services.
1. Prioritize the Pain Management Services You Want to Market
Good SEO for pain management starts with figuring out where to focus. This means figuring out the conditions and treatments you want to invest in. Of course, this will be different for every pain management practice. Still, we recommend narrowing it down to a few conditions and treatments.
Here are a few questions to ask:
What treatments are you good at?
Are there any conditions or treatments that are unique from competitors?
Where do you see both good volume and practice revenue per procedure?
For example, we've worked with pain management practices that went all-in on spinal cord stimulation or practices that focused on chronic pain conditions rather than back pain. Whatever the case, prioritize. If you take on too much, you'll not get traction for anything.
2. Map Out SEO Keywords for Your Pain Management Practice
Once you've selected the areas of focus for your pain management clinic, you need to define the exact search keywords used by patients. So, we recommend using an SEO tool like Semrush or Ahrefs. Here's an example of "trigger point injections" search terms from Semrush.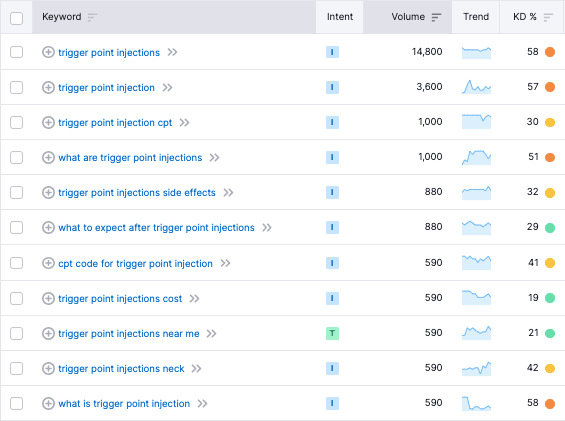 For each keyword, you can see monthly search volume and Keyword Difficulty (KD%), a guess at how difficult it would be for you to rank on the top page of results.
You might think volume is the most important thing, but what matters to attract patients is understanding "intent." This means which search keywords are more likely to result not just in a website visit. Still, a potential patient is requesting an appointment.
In the above example, someone searching for "trigger point injections near me" is FAR more likely to become a patient than someone searching for "what are trigger point injections." And even more important – the person searching for "trigger point injection cpt" is likely not a patient.
3. Create Focused Pain Management Content
Once you've created a list of keywords to focus on, you must begin creating content tailored to those searches. Here are a few rules of thumb for content creation:
Answer relevant questions to the search keyword. One of the best places to find ideas is in the "people also ask" section in Google when searching for your keyword.
Make sure your content provides some depth and value. A good rule of thumb for blog content is 1,500 words. A study from 2020 found that the average first-page result in Google had 1,447 words.
Push beyond just blog posts. In fact, according to Moz, video is now being shown in 30% of Google Search results, up from 14% just at the beginning of the year.
Include video in your blog posts and on website pages. Video can increase the "dwell time" on your content, an important signal to Google about the page's quality.
Consistency is key – so keep publishing!
We recommend at least a once-monthly blog posting cadence, to begin with. And remember that most websites don't see a page 1 ranking in the first year. But those who stick with and have quality content will see results in the long term.
More like this: 4 Must-Haves in a Healthcare Content Marketing Strategy
4. Distribute Your Pain Management Content
There are 2 primary places we recommend all practices distribute content.
1. Social Media Profiles
The first is to distribute through your social media profiles – especially Facebook. It is more common than seeing practices utilize other social platforms like Instagram, Youtube, and TikTok. Have a plan to share that content across multiple platforms.
More like this: Six Social Media Tips For Medical Practices
2. Practice and Physician Listings
The second essential platform to distribute your content to is your practice and physician listings. This is an underutilized platform for content that we see many pain management practices overlook. A "post" feature in Google Business Profile listings allows you to share content that shows up in the listing – as pictured below.
5. Build Our Your Pain Clinic Local Listings
One critical pain management SEO strategy is claiming and building out your practice and physician listings. These listings are, in some cases, more essential than your website to drive the highest intent of potential patients to your pain management practice.
The most built-out listings will stick out amongst competitors. Still, they will provide more information for patients to decide to contact you and essential SEO signals for your local SEO rankings. Therefore, you want to ensure your descriptions are complete; you provide as many photos and videos as possible and more.
6. Automate & Scale Your Pain Clinic Reviews
Reviews are critical when patients compare you with other providers or look for social proof from other patients. The common strategy behind all pain management practices with a high number of 5-star reviews is that they have an automated system to gather positive reviews.
For example, the reviews system we provide our pain management clients sends automated review requests and only asks those patients with a positive experience to give a public review. This is how practices generate hundreds of 5-star ratings.
Knowing WHEN to send these reviews is also crucial. For example, for pain management practices, you wouldn't want to send the review request the day a patient receives injections.
More like this: Online Reputation Management for Doctors Your 2022 Guide
7. Optimize Your Pain Management Site for Speed & Mobile
Lastly, you must have a high-performing pain management website to do SEO well. One of the most important elements for SEO is Google's "Core Web Vitals," a series of measurements that look at the speed and mobile-friendliness of your website. Simply put, a website that's too slow or poorly designed for mobile will be seriously penalized in SEO. Therefore, it would be hard for such a pain management practice site to rank well in SEO.
More like this: Pain Management Website Design – 10 Best Practices for 2022
Get More Patients for Your Pain Management Practice With SEO
These 7 pain management SEO strategies provide a solid blueprint for getting more patients. Unfortunately, many pain management practices struggle with executing an SEO strategy on their own. If you're interested in what it would be like to partner with RUNNER on SEO for your pain management clinic, request a consultation and speak with one of our medical marketing experts. We'll do a quick free analysis of your practice and provide you with a proposal.
More like this: 41 Ways to Attract New Patients to Your Practice in 2022