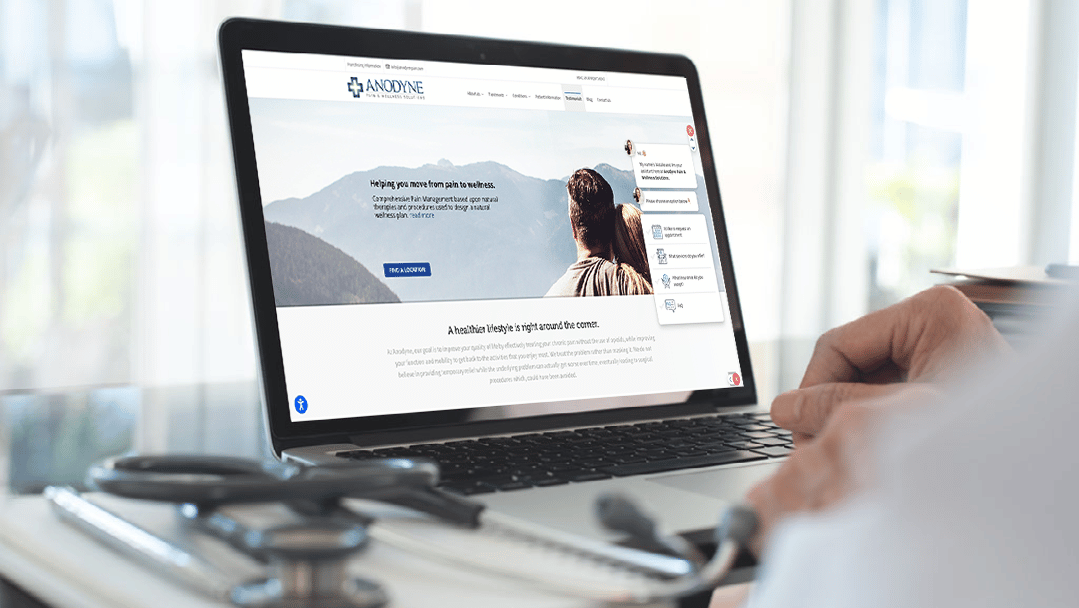 Introduction
Creating or redesigning a website is something most medical practices don't often do. It can be an intensive process that includes getting the visual design right and the content. More importantly, your website design is an exercise in functionality. A great website can increase how many new patient leads your receive, and the wrong website design can impact your performance.
There are some unique considerations for pain management practice websites. This blog post will provide a comprehensive overview of pain management website design, including best practices we've seen from our 15+ years of experience growing medical practices and our insights from pain management clinics we've helped.
More like this: How To Market a Pain Management Clinic in 2022
The Unique Challenges of Pain Management Website Design
Pain Management is a unique medical specialty. As a result, we've found that pain management practices face some distinctive challenges when creating a pain management marketing plan. These are all important considerations when building your pain management practice website.
1. Patients Often Seek Out Treatments, Not Pain Management Practices
This means you must have strong "campaigns" for the different conditions and treatments you're going after. General "pain" messaging doesn't perform as well as more specific language that speaks to the solutions patients are looking for.
More like this: 4 Must-Haves in a Healthcare Content Marketing Strategy
2. High Competition
You're effectively competing across many categories, including spine and orthopedic practices that offer pain management, standalone pain clinics, chiropractors, physical therapists, etc.
3. Some Patients Are Only Looking For Pain Medication
This can be a challenge for some pain practices.
11 Pain Management Website Design Best Practices
Based on these unique considerations and our experience with pain clinics, we've put together the following 11 best practices to ensure you build a high-performing pain management site.
#1 Position Your Philosophy of Pain Management in Messaging
Because pain management practices treat such a wide variety of conditions, patients can sometimes be confused about what you offer for pain management. If you're a pain management practice that focuses heavily on spine conditions, say so – it will help you attract more of the right patients and cause less confusion.
#2 Provide In-Depth Content for Conditions and Pain Treatments
This is perhaps the most crucial element of your pain management website. And it's where you need to get very specific about the conditions you're targeting and the treatments you provide.
This is THE information most patients are looking for.
These pages will also be vital for growing patients. Additionally, they impact SEO and should be used as landing pages for your digital marketing efforts.
It would be best to make sure the content you build out is ROBUST. These patients have already been to WebMD to do research. Showcase your expertise and any unique point of view you have on these conditions or treatments.
More like this: Make Your Messaging Stand Out With Empathy [Video]
#3 Include Educational Videos of Physician Expertise in Treating Pain
Trust is built more quickly with video, and it's a great educational tool. Often, seeing a doctor or nurse practitioner makes the difference between a patient booking an appointment rather than continuing to research. Video still is a great way to make your pain practice stick out.
More like this:
#4 Provide Social Proof Through Patient Testimonials for Key Treatments
Patient testimonials are one of the most persuasive marketing assets you can build, especially for pain management. Hearing real stories about patients solving their pain issues is highly motivating. The more patient testimonials, the better. But make sure, at a minimum, you have patient testimonials for the highest priority conditions and treatments you offer.
More like this: How To Grow Your Patient Reviews in 2022
#5 Make It Fast and Mobile-Friendly
Modern pain management practice websites must be fast and work well on mobile. There are two reasons why these are so important.
Page speed and a mobile-friendly experience are KEY ways that Google measures your website's search engine friendly. A slow or poorly designed website will drive less traffic and rank lower.
Fast and mobile-friendly websites see higher conversion rates. There's been quite a bit of research on the subject. Google found that for every additional second of load time, conversion rates dropped by 20%.
We've seen this with medical practices as well. We've been able to increase the % of potential patients that became leads by ONLY increasing site speed.
More like this: Medical Practice Website Design: 5 Must-Have Features for 2022
#6 Make It Accessible
In addition to being mobile-friendly, you need to think about accessibility. This can be particularly important for pain management practices. For example, older patients with chronic pain issues are more likely to have vision and other impairments.
At RUNNER, we recommend our clients include our accessibility add-on to ensure the site complies with national accessibility legislation. In addition, there has been a rise in lawsuits against medical practices.
More like this:
#7 Build Out Your Pain Clinic Location Pages
You've got to make your location pages more than just a map with directions. These pages often rank well in SEO, so they may be the first page a potential patient lands on when they visit your pain management website.
You will want these pages to include:
These are also much more likely to be pages from which patients call your practice or submit appointment requests. Therefore, treat them like crucial conversion pages.
More like this: Beyond Default Forms: Better Lead Generation Tactics [Video]
#8 Build Pain Management Content for Local SEO
One of the biggest mistakes we see pain management practices make is creating blog content that's general and not localized. You can create the world's best blog post on Peripheral Neuropathy. Still, the SEO traffic is only valuable if they're located within traveling distance to your clinic. Rethink your content calendar and how you can localize blog posts for relevant search terms.
More like this:
#9 Set Up Tracking Across Your Pain Management Website
What gets measured gets managed. But unfortunately, medical practices don't have adequate tracking too often see. Without the proper tracking, it's hard to decide what's working or what to invest in.
Therefore, a few key tracking elements MUST be set up on your site.
1. Phone Call Tracking
This is the biggest miss we see practices make on tracking. Many new patients still prefer calling. Using a third-party call tracking software, you can generate a unique tracking number for your website that will tell you EXACTLY how many new patients are calling from your site.
2. Set Up Goals in Google Analytics
It's an easy first step, but you want to set up goals. This will include form submissions for most medical practices, like contact us and requesting an appointment. If you've set up call tracking, you can also add this. Setting up these goals will allow you to see what channels those leads came from and do other website performance analyses filtered through the lens of your most important KPIs.
#10 HIPAA Lead Capture and Hosting
If the form submissions on your pain management website are just being emailed to you – that's definitely NOT HIPAA compliant.
You need to use a HIPAA compliant CRM system that will store new patient leads (as well as send you an email notification). As a bonus, these CRM systems should allow you to also nurture these leads through automated email sequences and even text messages.
Lastly, website hosting should also be HIPAA compliant. This small, often overlooked decision is the key to HIPAA compliance for your pain management website.
More like this: HIPAA Compliant CRM: Why Your Medical Practice Needs This
How Do I Create a Pain Management Website?
There are a few options you have when designing your pain management website.
1. DIY Website Builder
While this is the cheapest way to build a website for your pain management practice, it has limitations. You can't customize much, and the templates and themes are created for non-medical sites. In addition, these DIY builders are often bloated with unnecessary code, making them less SEO friendly. In short, you get what you pay for.
2. Custom-Built Website
This is the most involved and costly option for building a site. In this scenario, you're betting the partner you work with knows enough about pain management practices that your heavy investment will perform. While this is worthwhile with the right partner, you must have a large budget. We've seen practices pay $50-$100,000 for custom websites.
3. RUNNER's "Practice Right Website."
Our website offering gives you the best of both worlds. We've built customizable "themes" based on our 15+ years of experience with medical website design. We've built in the best practices we know to help you get more patients at a much more affordable price than building a custom website. Here's an example of a recent website we built for Anodyne Pain & Wellness.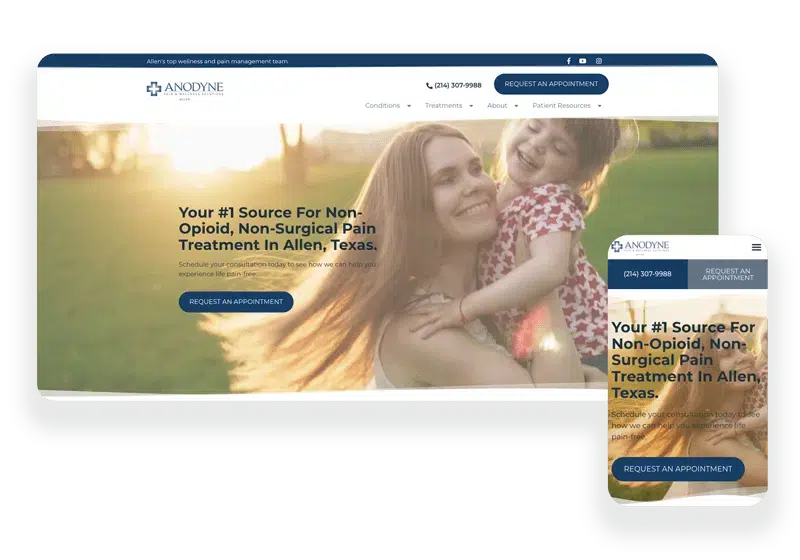 Conclusion
If you're ready to get more qualified patients through the door to your pain management practice, request a consultation with a RUNNER medical marketing expert. We'll send you a proposal to design your pain management clinic site.
More like this: 43 Ways to Attract New Patients to Your Practice in 2023