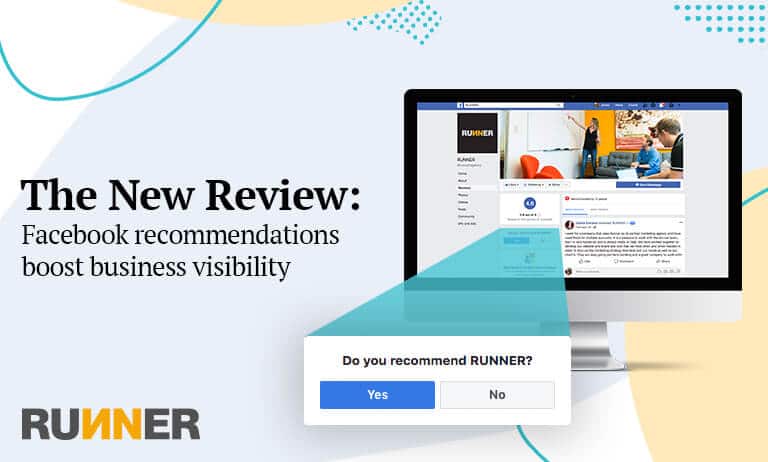 Re-Think Reviews for Facebook Business Pages
For the majority of businesses, managing a Facebook Business Page is another key element to online presence and marketing efforts. Known as Pages (the business or brand equivalent of a personal Facebook account), 80 million small businesses use Pages and over 1.6 billion people around the world are connected to a small business through Facebook Business Pages.
Facebook Business Pages previously featured Reviews where users could give a rating from 1-5 stars and optionally write in feedback. But that has changed. The old review system has been updated to the new Facebook Recommendations for Pages. Now, users have the opportunity to share richer content to the Business Page and with more Recommendations, the Page has the opportunity to appear in more searches.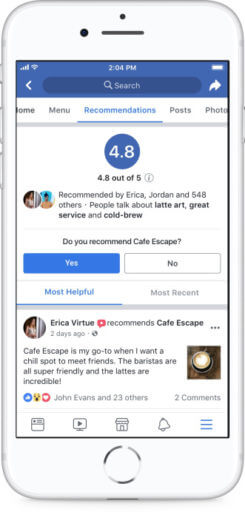 Source: Facebook
Reviews vs. Recommendations: What's New?
The update from Review to Recommendations is more than just a shift from leaving 5 stars to say Yes or No on recommending a business. This update is more of an evolution for Facebook's business review system to make the process easier and more engaging for the user. Starting with the simple Yes or No question (Would you recommend this business?) if they select Yes, users are given more rich content options, like text, photos, and tags, to add to their Recommendation. This streamlined process gives encouraging prompts to complete a more robust and unique version of a business review.
What are the new elements of the Recommendation feature?
Tags become a feedback option when a user marks Yes to the initial Recommendation question and appear as a series of popular aspects representing a positive user experience with the business. Tags make it easier for people to see what your business is known for.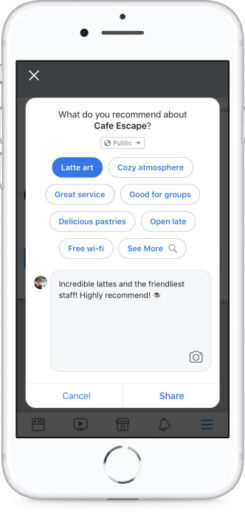 Source: Facebook
Photos or GIFs can now be added within the Recommendation feature.
Report fake reviews through a simple process to flag fraudulent, spam, or paid content that goes against its community standards.
The shift to Recommendations also brought other adjustments to make the experience on Business Pages better for both users and administrators.
Admins can turn off Recommendations at any time
A new mobile design for Business Pages makes it easier for users to interact and find what they are looking for on the Page, like making a reservation at a restaurant, booking appointments, finding upcoming events or offers.
Along with Recommendations, users will find more local Facebook Business Pages and Events through the Facebook Local feature loaded with recommendations and recent check-ins by friends, upcoming events, and local guides.
How Recommendations Impact Your Business
This new update is an opportunity for businesses to reach more local users through Recommendations. When a Facebook user searches for a type of store or service, businesses featuring these Recommendations will surface more prominently through Facebook algorithms. When a user searches, Recommendations from closest friends appear first in the search. The Facebook algorithm gives businesses the opportunity to build trust from the Recommendations of the individual user's closest friends in a local area.
With more positive Recommendations, your Business Page can rise to a new visibility for local Facebook users. Providing products and services worthy of a Recommendation is always the first step, but if you're ready to take your business to the next level and turn customer praise into user Recommendations, contact RUNNER to learn about how Online Reputation Management can be a key success factor for your marketing strategy.