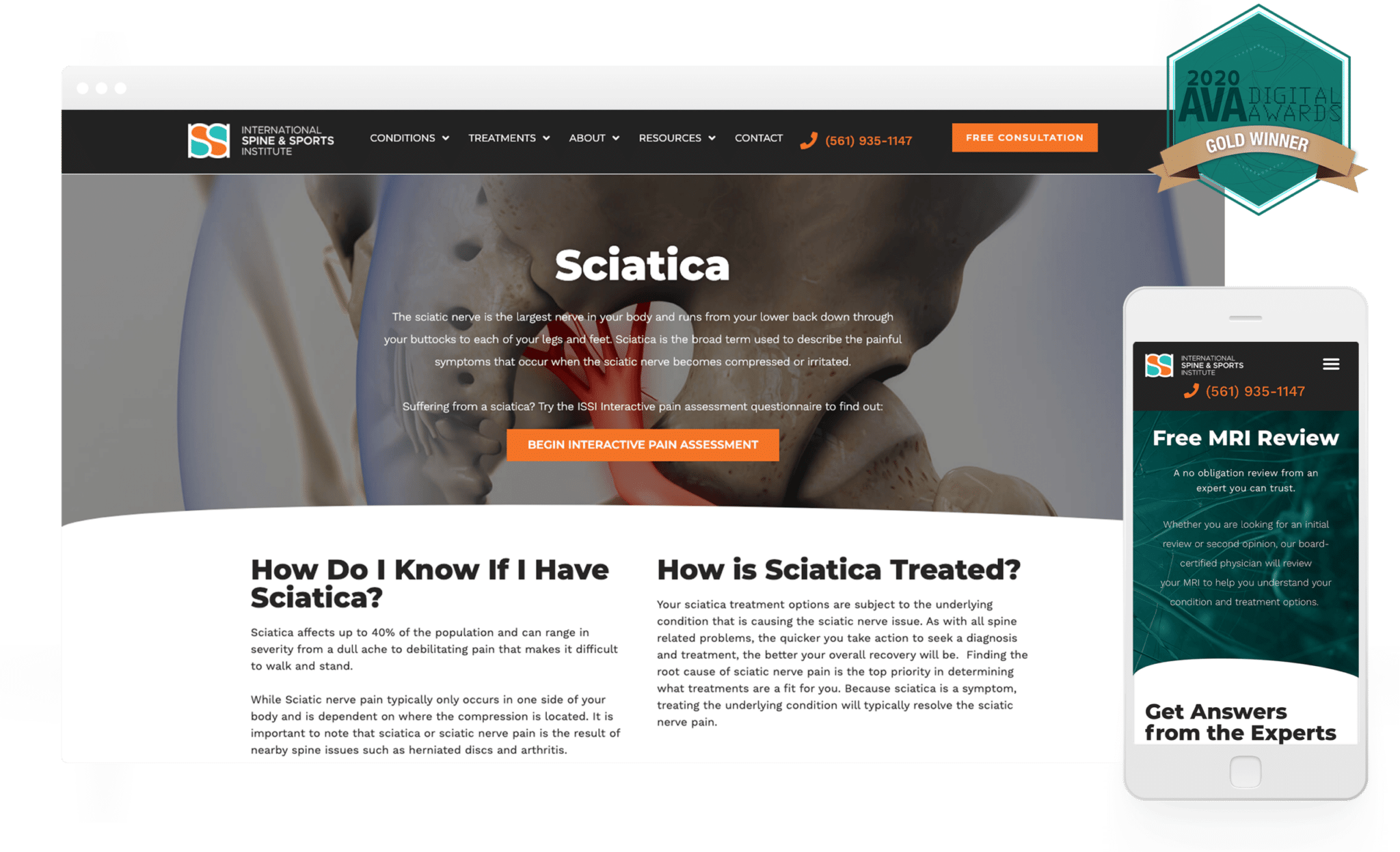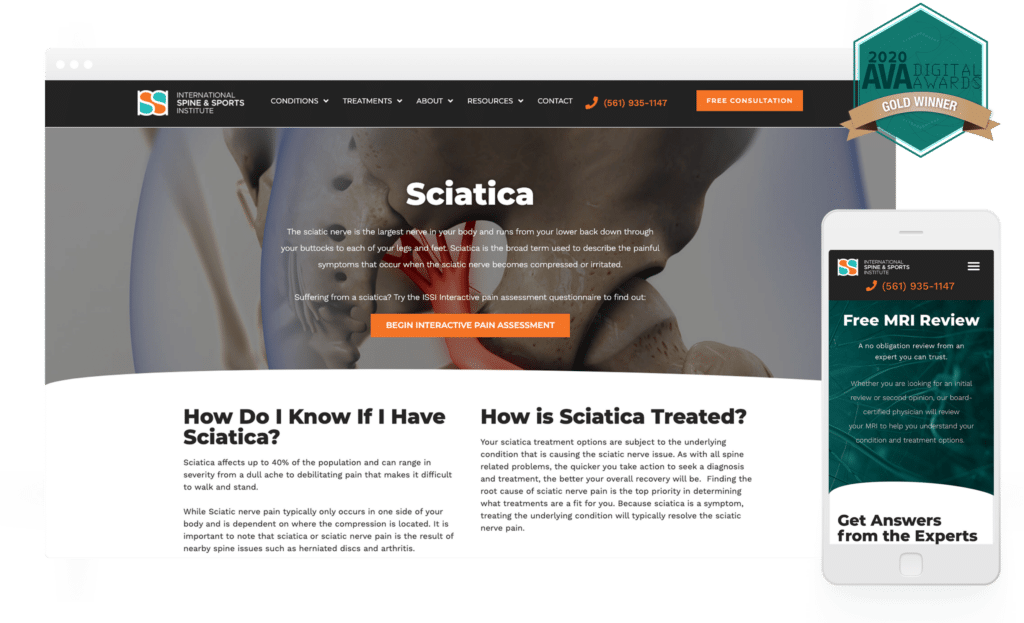 In the highly competitive landscape of today's healthcare industry, the flow of patient visits can make or break a practice. Within the orthopedic surgery industry, spine surgery is one of the most competitive areas in which the number of new office visits and surgeries is essential to the growth of any practice.
International Spine and Sports Institute (ISSI), a multi-location spine care practice and surgery center with nationally recognized surgeons and locations throughout New Jersey and Florida, recognized the importance of putting a medical marketing agency experienced in spine care marketing in charge of growing their business to reach more patients in need of quality, long-term solutions to their back pain.
The Challenge
International Spine and Sports Institute came to RUNNER with a challenge:
"Help us grow our practice! We want to increase our patient lead volume while maintaining high lead quality so we can provide more patients with high-quality, minimally invasive procedures."
ISSI didn't want a cookie-cutter marketing plan that might work – they wanted a proven, long-term medical marketing strategy unique to their practice. 
RUNNER believed ISSI deserved a patient acquisition strategy they could be confident in. We wanted to empower ISSI with a marketing plan that would help them put the patient first. 
More like this: Marketing Frameworks To Help You Get More Patients
The Objective
International Spine and Sports Institute's goals went beyond securing a simple office visit. The ultimate goal was to increase the number of spine surgeries through those visits in order to reach more patients to provide the best in quality spine care.
Our objective was to:
More like this: 41 Ways to Attract New Patients to Your Practice
Our Evaluation and Resulting Marketing Plan
To accurately gauge the challenges presented and execute a winning orthopedic and spine marketing strategy, we observed and analyzed current patient coordination processes, pinpointed holes in lead generation tactics, and evaluated issues negatively affecting website patient conversion rates (the percentage of online visitors who become leads by completing a form on the website).
Given the client's business growth objectives, it was clear to us that we would recommend our complete High-Velocity Patient Acquisition Program – our unique medical marketing + patient contact center approach to Spine and Ortho practice marketing.
More like this:
Our Patient Acquisition Strategy
A long-term marketing solution that would continuously reap results over time was equally important for achieving growth in patient care and quality procedures.
Organic traffic is imperative to a long-term growth solution, which is why in a highly regulated industry such as healthcare, we focused on creating brand differentiation and awareness with website design improvements, a logo redesign, and a reworking of on-page SEO (search engine optimization).
Understanding what "quality" traffic sent to the website meant for International Spine and Sports Institute was key to achieving a higher ratio of on-site conversions. We distinguished every possible type of online user that might visit the website and identified which stage in the marketing funnel they would fall under to more accurately gauge their needs for the Patient Advocates. We then applied our knowledge to marketing initiatives to ensure a solid digital strategy.
More like this: SEO for Medical Practices: 12 Strategies for 2022
Our Tactics
Here is a detailed look into our tactics implemented over a span of 12 weeks:
1. Integrate our Patient Contact Center with the Practice
To truly improve the efficiency of this spine and ortho practice, and to capitalize on every patient lead opportunity, we implemented our Patient Contact Center, which included experienced Patient Advocates, an MRI reviewing physician, and appointment-setting services for the practice.
Our goal was to deliver timely feedback and care to patients while increasing the number of surgical consults. 
2. Patient-Centric Spine Website Development 
We identified and implemented conversion-based website changes that needed to be made to increase lead generation through a website overhaul and redesign with a key focus on on-site conversions.
Our focus was to increase conversions through these three tactics:
Landing page improvements (a landing page is a web page specifically designed to attract potential leads with the key purpose of converting the user).
Develop relevant calls-to-action like patient Pain Assessments, quizzes, MRI Review offers, and Treatment Check tools to engage site visitors and help them self-diagnose their back pain symptoms, which had a drastic and direct result on the conversion rate increase.
Better lead allocation system with International Spine and Sports Institute's website that improved the marketing-to-patient coordinator handoff process and contributed to higher rates of providing quality spine care to patients.
More like this:
3. Medical Paid Search Advertising
We implemented paid search campaigns using our proven system for spine and ortho practice marketing to generate traffic and sent that traffic to specific landing pages relevant to that user's search query to generate leads that could result in increased patient care opportunities.
The outcome? We boosted lead volume and enhanced the quality of those leads by merging paid search efforts with our website conversion and SEO tactics to amplify results. 
ISSI also benefited from RUNNER's expertise in paid search advertising for medical practices because we are highly experienced in working with the industry-specific regulations for health care businesses. It is critical that whoever executes your digital advertising be aware of the rules and regulations for medical advertising so you don't face the exorbitant fines associated with HIPAA and other governing bodies.
More like this: 3 Search Advertising Challenges for Medical Practices in 2021
Search Engine Optimization 
Our search engine optimization efforts started with on-page optimization and local SEO for the practice. We reworked the website's content and meta tags to align with the keywords typically used by International Spine and Sports Institute's target audience. Our work here would be measured by an increase in time spent on the website, and a decrease in bounce rate (when users leave your website almost immediately to view the main search engine results page again to find a more qualified match to their query), and new patient leads of course.
More like this: SEO for Medical Practices: 12 Strategies for 2022
Revised Practice Branding and Messaging
Marketing your medical practice in a meaningful and personal way helps patients seek out your practice over the competition. ISSI needed branding and messaging that helped to create a connection with potential patients.
We designed a new logo that embodied a modern & sleek feel to emulate International Spine and Sports Institute's deep experience and advancements in the spine surgery industry.
More like this: Actionable Branding: StoryBrand [Video]
Content Marketing
We employed a strategic content marketing plan that included blog posts, website content, and articles published on reputable websites within the medical industry, which resulted in organic traffic growth and lead generation.
More like this: 4 Must-Haves in a Healthcare Content Marketing Strategy
Social Media Advertising
We capitalized on remarketing campaigns on social media channels like Facebook to stay in front of previous visitors to our website, which resulted in high conversion rates and significant lead generation at a relatively low cost.
More like this: How to Get More Patients With Facebook Ads
Traditional Marketing
We issued press releases and published articles in both local and national media, recognizing that local patients have a higher probability of scheduling an office visit. Direct success was seen from this tactic – through analytics and establishing lead allocation metrics to online channels, we saw tangible leads from media coverage.
The Results
Through our work in brand identity, paid search marketing, digital conversion-based marketing, website design, and optimization, we were able to:  
Increase organic traffic by 67%
Reduce the landing page bounce rate by 19%
Increase overall conversion rate by 157% within an 8 week period
Increase lead volume up by 125%
Decrease cost per lead by 45%
Despite a competitive industry landscape and ambitious spine care growth goals, RUNNER was able to guide International Spine and Sports Institute to success through clearly identifying the objective, creating a sensible yet innovative solution to a challenge, and executing a smart, cohesive marketing strategy.
More like this: What's A Good Conversion Rate for Medical Practices?
Choose Growth for Your Medical Practice
Marketing for health care and medical practices is unique. No other industry faces elements (both good and bad). At RUNNER, we believe that every medical practice deserves access to an advanced digital marketing strategy that takes these unique elements into consideration. We specialize in exactly this. 
We want to help you grow your medical practice in a way that sets you up for long-term success using a patient-centric approach. If you are choosing growth for your medical practice, give us a shout. We offer commitment-free marketing consultations to explore solutions that are right for you.
Call us at (214) 396-8500 or schedule your free consultation here.