An updated look for an updated lead gen strategy.
DSS Research reached out to RUNNER because they were looking to grow leads beyond their historical customer base. This meant they had to both rethink their approach to generating leads and update their brand and website, which looked outdated when compared to competitors in these new industries.
We began by taking DSS Research through a comprehensive digital strategy to understand their business goals and generated a short-term and long-term marketing roadmap.
Our first initiative was to update their logo to appear less antiquated and redesign and rearchitect their website to help them better compete in these new industry verticals they intended to target (and it was award-winning). 
In addition, we worked closely with DSS to migrate from Salesforce into Hubspot. We then set up the new software to integrate with their existing sales and marketing processes and trained their teams on how to use it.
Finally, we designed and created inbound marketing campaigns utilizing content offers and paid media to drive leads.
Full-funnel lead generation consulting.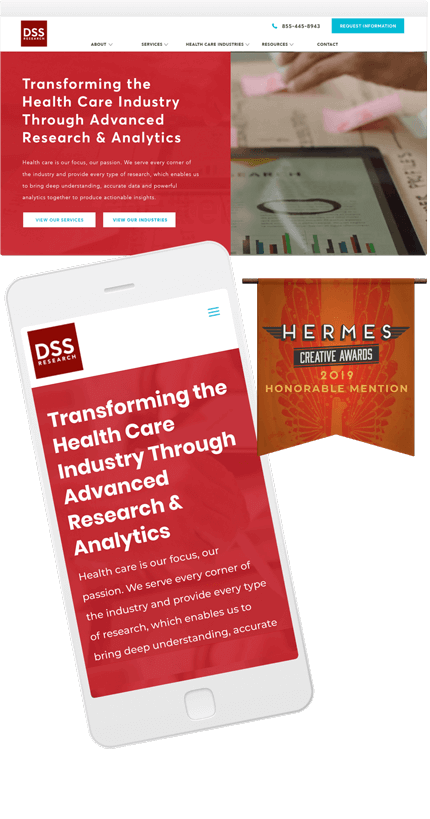 Traffic increased by 22% within the first 30 days of the launch of the new website.
Marketing success contributed to a full acquisition.
The new website design was awarded Honorable Mention from Hermés Web Awards.
Website traffic increased by 22% within the first 30 days of the launch, and the new site design was recognized by the Hermes Creative Awards.
In addition, the downloadable content offer we created became the largest source of online leads, overtaking phone calls and contact us forms, proving the potential of content-driven inbound marketing.
DSS Research was acquired by SPH Analytics in the summer of 2019.